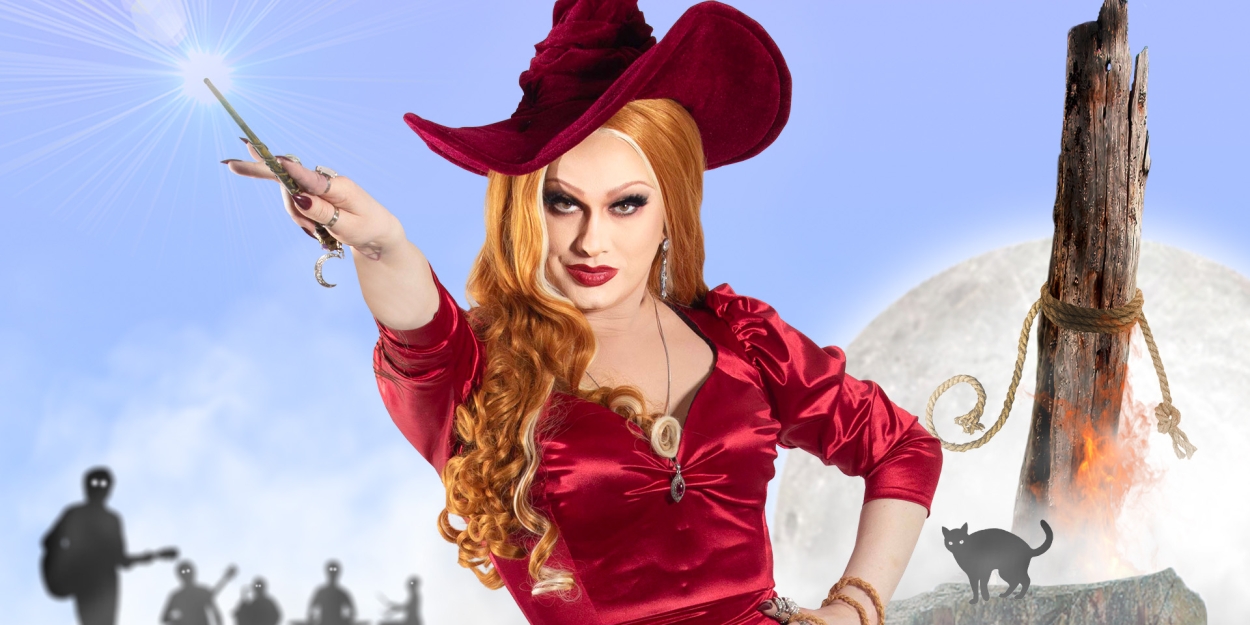 Jinkx Monsoon Announces 'Everything at Stake' Tour Dates
The public on-sale will take place Friday, February 24 at 9 a.m. local time.
The Queen of all Queens is ready to cast her next great spell! Two-time RuPaul's Drag Race winner and Broadway breakout star Jinkx Monsoon will launch her biggest tour to date with Jinkx Monsoon: Everything at Stake.
After Monsoon finishes up her run as Matron 'Mama' Morton in Chicago on Broadway on March 12, her summer tour will perform in 44 cities across the U.S. and Canada from June 12 - August 14.
For the first time ever, Jinkx and her musical main squeeze Major Scales will tour with a full rock band performing a decades' worth of covers and original music from her critically-acclaimed albums (The Ginger Snapped, The Inevitable Album), along with new songs from her upcoming 3-part album The Virgo Odyssey.
Known for her electric and eclectic performance style, "Everything at Stake" shows Jinkx weaving together tales from her enigmatic life in a show where music, comedy, witchy magic, and camp-fantasy collide. At a time where literally everything is at stake, get ready for a spellbinding, bombastic, and revolutionary experience straight from the heart of this "internationally tolerated" superstar.
Registration for the "Everything at Stake" Artist Presale begins at 9 a.m. PST here, and registered users will receive presale codes on Wednesday, February 22nd at 12 p.m. PST. The public on-sale will take place Friday, February 24 at 9 a.m. local time here.
Monsoon says, "It's all been building to this! 'Everything at Stake' marks my biggest concert tour ever- where I get to flex every one of my performance muscles with my musical partner in crime, Major Scales. What's most exciting is, we're coming to over 40 cities across North America, many of which will be for the FIRST TIME! I know, crazy, right? In these tumultuous times, it's important to unapologetically claim our space as queer and trans people; to celebrate the revolutionary act of drag and living one's truth. I'm getting my broom ready, I can't wait to see you soon. Mama loves you."
The tour announcement comes during a whirlwind year for Monsoon. In January, she made her Broadway debut (a lifelong goal since she began doing drag at 15) in one of the longest running shows on Broadway-Chicago-playing Matron "Mama" Morton.
She kicked off her press tour for Chicago by becoming the first RuPaul's Drag Race queen to guest on Late Night with Seth Meyers, which quickly went viral when it hit online for her celebrity impressions. She's also recently appeared on CBS Mornings, Good Morning America.
Last summer, Jinkx competed on RuPaul's Drag Race All Stars 7, becoming the first drag queen in Drag Race "herstory" to win the crown twice, earning the coveted title "Queen of All Queens" in a competition against previous winners. Her most recent tour was the critically-acclaimed theatrical spectacular, "The Jinkx & DeLa Holiday Show" (Produced by BenDeLaCreme Presents) co-starring with her best friend and fellow drag superstar, BenDeLaCreme.
The 2022 tour became their highest grossing holiday tour to date and is expected to return for its 6th year this holiday season. Jinkx also released her latest studio EP, The Virgo Odyssey: Prologue (PEG Records), spawning cult hits like "Know-It-All" and her dazzling cover of "Strange Magic" by Electric Light Orchestra.
The "Jinkx Monsoon: Everything at Stake" tour is produced by the AEG Presents Comedy Division in association with the Producer Entertainment Group (PEG).
Jinkx Monsoon Tour Dates
June 12 - Victoria, BC (Royal Theatre)
June 13 - Vancouver, BC (Orpheum Theatre)
June 16 - Calgary, AB (Southern Jubilee Auditorium)
June 18 - Edmonton, AB (Northern Jubilee Auditorium)
June 20 - Regina, SK (Conexus Art Center)
June 21 - Winnipeg, MB (Burton Cummings Theatre)
June 23 - Toronto, ON (Massey Hall)
June 24 - Kitchener, ON (Centre in the Square)
June 25 - Ottawa, ON (Southam Hall)
June 26 - Montreal, QC (Olympia De Montreal)
June 28 - Albany, NY (The Egg)
June 29 - New Haven, CT (College Street Music Hall)
June 30 - Boston, MA (Shubert Theatre)
July 1 - Brooklyn, NY (Kings Theatre)
July 5 - Durham, NC (Carolina Theatre)
July 6 - Tysons, VA (Capital One Hall)
July 7 - Glenside, PA (Keswick Theatre)
July 8 - Cleveland, OH (The Agora)
July 9 - Pittsburgh, PA (Stage AE)
July 11 - Columbus, OH (KEMBA Live!)
July 12 - Royal Oak, MI (Royal Oak Music Hall)
July 14 - Chicago, IL (Chicago Theatre)
July 15 - Milwaukee, Wi (Pabst Theater)
July 16 - St. Paul, MN (The Fitzgerald Theater)
July 18 - Newport, KY (MegaCorp Pavillion)
July 19 - Charlotte, NC (Knight Theater at Levine Center for the Arts)
July 20 - Atlanta, GA (The Eastern)
July 22 - Tampa, FL (Tampa Theatre)
July 23 - Orlando, FL (Hard Rock Live)
July 24 - Coral Springs, FL (Coral Springs Center)
July 26 - New Orleans, LA (The Orpheum)
July 27 - Austin, TX (Paramount Theatre)
July 28 - Dallas, TX (Majestic Theater)
July 29 - Kansas City, MO (Folly Theater)
July 30 - Midwest City, OK (Rose State College Hudiberg Chevrolet Center)
August 1 - Denver, CO (Ellie Caulkins Opera House)
August 2 - Salt Lake City, UT (Eccles Theater)
August 6 - San Diego, CA (The Balboa Theatre)
August 8 - Los Angeles, CA (The Orpheum Theatre)
August 9 - San Jose, CA (California Theatre)
August 10 - San Francisco, CA (Warfield Theatre)
August 12 - Seattle, WA (Paramount Theatre)
August 13 - Spokane, WA (Martin Woldson Theater at the Fox)
August 14 - Portland, OR (Keller Auditorium)
About Jinkx Monsoon
Two-time RuPaul's Drag Race winner and Broadway breakout star Jinkx Monsoon (she/her) is the "internationally tolerated" drag icon who's taken over the entertainment industry as an award-winning stage actress, acclaimed vocalist, stand-up comic, and theatre sensation.
Jinkx has garnered an international fan base following her win on RuPaul's Drag Race Season 5 (2013), and continued her winning streak on RuPaul's Drag Race All Stars 7 (2022) where she was crowned "Queen of All Queens", competing against previous winners. In 2023, Jinkx made her highly-anticipated Broadway debut as Matron "Mama" Morton in Broadway's longest-running show, Chicago.
She has toured the world performing her original cabaret shows with music partner Major Scales, including highly-acclaimed shows like The Ginger Snapped, The Vaudevillians (which became a hit off-broadway sensation) and their most recent production, Together Again, Again (2022). As a recording artist, Jinkx has released three critically-hailed albums of original music written by Major Scales including her most recent The Virgo Odyssey (2022), The Inevitable Album and The Ginger Snapped.
In 2018, she partnered with best friend and fellow RuPaul's Drag Race star, BenDeLaCreme for their first major holiday tour To Jesus, Thanks for Everything! - Jinkx and DeLa. Jinkx and DeLa's co-written holiday productions have grown into a worldwide phenomenon, spawning the 2019 tour, All I Want for Christmas is Attention, a Hulu holiday hit, The Jinkx & DeLa Holiday Special (2020), and The Return of the Jinkx & DeLa Holiday Show, LIVE! (2021) which performed for sold-out audiences across the U.S., U.K. and Canada. In 2022, she and DeLa had their highest grossing international tour to date with their 5th annual The Jinkx & DeLa Holiday Show.
No stranger to film and TV, Jinkx has appeared on the CBS cop drama Blue Bloods, the Netflix original AJ and the Queen, and has voiced characters for such animated shows as Steven Universe, Mighty Magiswords, Bravest Warriors, as well as a few surprises that are yet to come! Jinkx has been the subject of two documentaries: Drag Becomes Him, and The Queens.
She is an award-winning stage actress, having won the Gregory Award for her portrayal of Hedwig in Hedwig and the Angry Inch, and most recently, The MAC Award for her show The Ginger Snapped, co-written with Major Scales.