James Greene, Veteran Broadway Actor Dies At 91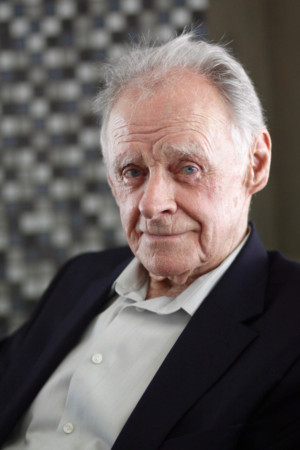 James Greene, a character actor with an illustrious stage career, but perhaps best known for his four-year stint on TV's "The Days and Nights of Molly Dodd" with writer and director Jay Tarses, died on November 9, 2018, at his home in Los Angeles. He was 91.
His death was confirmed by his wife, Els Collins. James had been a successful working actor for over 70 years. James Greene was born James Nolan in Lawrence, MA on December 1, 1926, to Tim and Martha Nolan. He graduated from Emerson College in 1950.
Greene made his Broadway debut in 1951 in "Romeo and Juliet" starring Olivia de Havilland. Between that debut and his last appearance on Broadway in 1991, in David Hirson's play "La Bête," he appeared in 22 Broadway plays and 29 off-Broadway. Highlights include two productions of "The Iceman Cometh" with Jason Robards and directed by José Quintero, and "Foxfire," with Jessica Tandy and Hume Cronyn. He was an original member of the Lincoln Center Repertory Company under the leadership of Elia Kazan and Robert Whitehead. Actor Hal Holbrook says of Greene, "Jimmie was the first actor in the Lincoln Center group I locked eyes with on opening day and he has been a constant reminder of who we are and why we are there...I have such good memories, quiet ones, of Jimmie because that's the way he was. He stood by and observed all of us and the impression I have of Jimmie is one who took us in and evaluated us as well as he could."
He also spent four years with the APA-Phoenix Repertory Theatre at Broadway's Lyceum Theatre. There, he worked with Ellis Rabb and T. Edward Hambleton, performing in New York as well as doing two lengthy tours, one with Helen Hayes in George Kelly's "The Show-Off," and another with Brian Bedford in Molière's "School for Wives."
In the spring of 1982, Greene performed in Brother Jonathan, O.S.F.'s "Bella Figura" at the Ensemble Studio Theatre, where John Simon in his New York Magazine review wrote: "James Greene, as Dolph, is a gem; how long will it take benighted Broadway to recognize in this long-time toiler in relative obscurity one of our most quietly gripping actors?"
Walter Kerr, in his reflections on the past theatre season wrote: "Not at all incidentally, the mention of 'Bella Figura' gives me the opportunity to call attention once again to the consistently fine character work that an actor named James Green [sic] has been doing for a long time now without quite acquiring the wide spread huzzahs he deserves. You can see him briefly, in the current 'Foxfire,' playing back country doctor to Jessica Tandy and Hume Cronyn, and he's fine - briefly. His relative anonymity, it now becomes clear, lies only in the brevity of the roles meted out to him. When he gets a whopper of a scene, as he did in 'Bella Figura,' he instantly turns into a whopper of an actor." It was this performance that writer/producer Jay Tarses saw that enamored him for the role of Davey McQuinn in "Molly Dodd."
He performed regionally at Chicago's Goodman Theatre ("Otherwise Engaged"), Baltimore's Center Stage and Yale Repertory Theatre ("Slavs"), New Haven's Long Wharf Theatre ("Oliver Oliver"), Seattle's Intiman Theatre ("The Weir" and "Molly Sweeney"), San Diego's Old Globe ("Burning Hope"), Boston's Huntington Theatre ("The Birthday Party"), Hartford's Center Stage ("Desire under the Elms") and in Center Theatre Group's Kirk Douglas Theatre production of "End Game," directed by Alan Mandell, who said of Greene, "Jimmie Greene was a true professional, a joy to work with and his Nagg would've brought applause from Beckett himself!"
His most recent television appearances were in "Parks and Recreation" as Councilman Milton, "Modern Family," "Cold Case" and "Las Vegas." His films include "Road to Perdition," "Patch Adams," "The Hustler," "The Lincoln Conspiracy," "The Missouri Breaks" and "The Philadelphia Experiment II."
He is the author of "A View from the Wings, a Theatre Memoir," self-published at age 90. Actor Hal Holbrook wrote the forward to the book, remarking "Jimmie Greene's trip from the Colonial top balcony has taken him from off-Broadway to Broadway to Hollywood - the whole route an actor travels if he just keeps at it because that's all he wants to do. Act."
He is survived by his wife of 34 years, Elsbeth M. Collins, son Christopher Nolan Collins and grandchild, Skylar. In addition to his son, he is survived by his stepson, Frank Askin. The family has no immediate plans for a memorial and asks for donations to the Actors' Fund (Los Angeles 888-825-0911) in his memory.