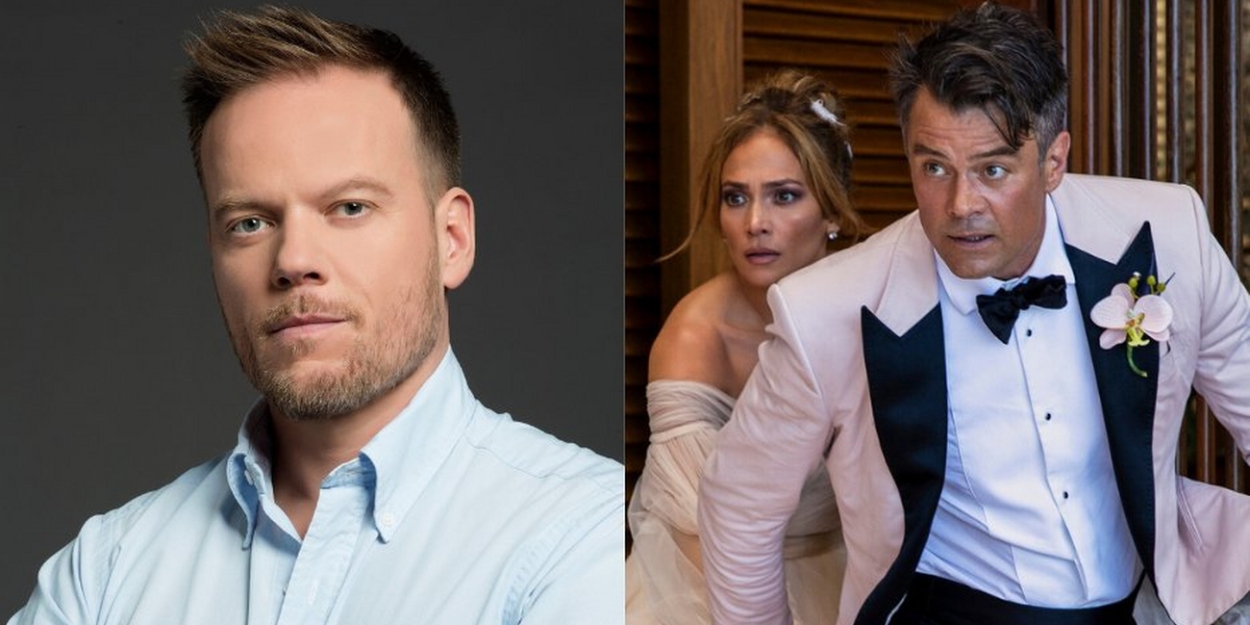 Interview: Jason Moore on Directing SHOTGUN WEDDING With Jennifer Lopez & Jennifer Coolidge
Shotgun Wedding is now streaming on Prime Video.
While Jason Moore has directed large-scale Broadway productions like Shrek the Musical and The Cher Show, Prime Video's Shotgun Wedding is his biggest project yet.
In Shotgun Wedding, Darcy (Jennifer Lopez) and Tom (Josh Duhamel) gather their lovable but very opinionated families for the ultimate destination wedding just as the couple begin to get cold feet. And if that wasn't enough of a threat to the celebration, suddenly everyone's lives are in danger when the entire party is taken hostage.
"'Til Death Do Us Part" takes on a whole new meaning in this hilarious, adrenaline-fueled adventure as Darcy and Tom must save their loved ones-if they don't kill each other first.
The all-star cast also includes Jennifer Coolidge, Lenny Kravitz, Sônia Braga, Cheech Marin, D'Arcy Carden, Steve Coulter, and more.
BroadwayWorld sat down with Moore to discuss how his Broadway experiences contributed to the new film, what it was like on set, and the ideas he has to bring Jennifer Coolidge back to the stage.
---
How are you feeling now that Shotgun Wedding is out?
It feels good. We actually shot this movie almost two years ago. We shot it the first winter of Covid and so it's the funny thing when you make something and I've finished it a long time ago, so it's actually super fun to revisit it because I haven't seen it in a while. It's fun to see it with an audience. It's not like a Broadway show where you just are heaving to get across the finish line and you're kind of breathless the next day. So it's actually been very calm and wonderful and joyous. It's a bit of a reunion too because all the cast came together last week and it's been really nice. It's been really good.
The movie is this combination of a romcom, an action movie, and an adventure movies. How did you find the intersection between all those genres?
Yeah, it was the thing I was most intrigued by about the script and that I liked the most about it. It felt like kind of a challenge and it's hard to bring those things all together, but it kind of reminded me of movies that I loved in the '90s and I knew that especially Jennifer Lopez has all of those skills and Josh [Duhamel] does too. I think once the movie's premise is underway, all those things start to make sense. But you know, the challenging part was probably setting up the tone for the audience, but once they're on board, I think they go with it. It was fun. It reminded me of like True Lies and Romancing the Stone and those kind of movies that I grew up on and really liked. In the original script, those tones were all very present. I wanted to preserve that.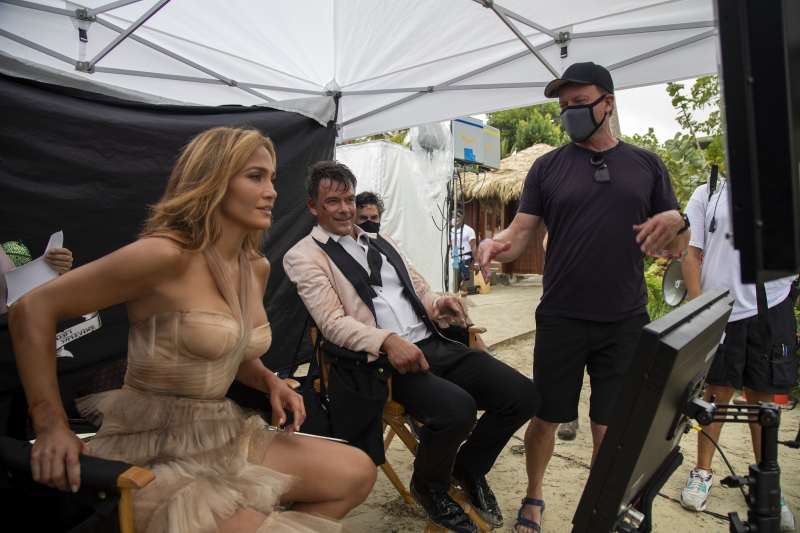 And the movie itself is huge. How do you approach a movie of this size as a director?
I worked with people smarter than me that taught me a lot of things, which is great. Part of it is, in this kind of movie, you want to be in a beautiful setting and you want to create shots where people can see how beautiful it is in the landscape and the sunsets and jungle and all that kind of stuff. Then I had a great DP who had done a lot of kind of big visual stuff. We got an amazing stunt team. Lee Morrison, our stunt coordinator, he had done the last three or four James Bond movies. So kind of the sense of scope was something I wanted to investigate from the beginning. It felt fun for the story. It was a new experience for me as a director. So I learned a lot and I learned about it from very smart people who do it. It was fun. It's fun to kind of work on that big scale and then also let it be really just closeups or, a lot of times, the movie's just a two shot of the couple because it's just sort of plays out like theater in some ways in that way too.
Speaking of theater, what are some of your favorite differences between directing something for the stage and directing something for the screen?
This was an interesting intersection of both because of the stunts and all the big pieces that have fit together, it's very methodical and it's all very planned and a lot of it's dangerous. So you kinda have to plan. That kind of reminds me of like a musical number because like choreography, nothing happens by accident. Everything's planned, everything's meant to keep people safe, build story. So that felt good. But then also a lot of the time like in the pool scenes and in the scenes with Jennifer and Josh, I just had multiple cameras rolling and let smart actors take over. Make sure that people could see and hear them and let the acting and the comedy and the improvisation, there's a lot of improv, come to fruit. So that feels more like theater too. You use all those skills in just in different ways, I think.
We haven't really seen Jennifer Lopez in a big action movie like this in a while. So what was it like working with her on something that we wouldn't usually get from her?
Well, it was easy to imagine her doing it because one of her roots is being a dancer. So coming in, being aware of her body, knowing how to move in physical space, knowing how to protect herself, knowing how to do prattfalls, knowing how to do comedy with her body and also the discipline of it. She comes in so prepared and like dancers, she nails it, does it till she gets it right. There's a real discipline there and that is kind of a theatrical value that actors carry. I thought, well if someone can twirl on a pole like that at the SUPER BOWL and not even look down, I wouldn't say this is easy because she works very hard at things to make it look easy, which is what great actors do. But it was fun to sort of talk to her about like, how can we use what you do well.
So like that scene where she comes down on the Zipline and kind of bites it on the beach, she kept wanting to do it over and over and over again so that she would bounce. She was like, "It's gonna be funnier if I bounce." So she just kind of, she uses all of her knowledge and is able to put her body into it, which made a kind of action and an action comedy make a lot of sense for her, I think.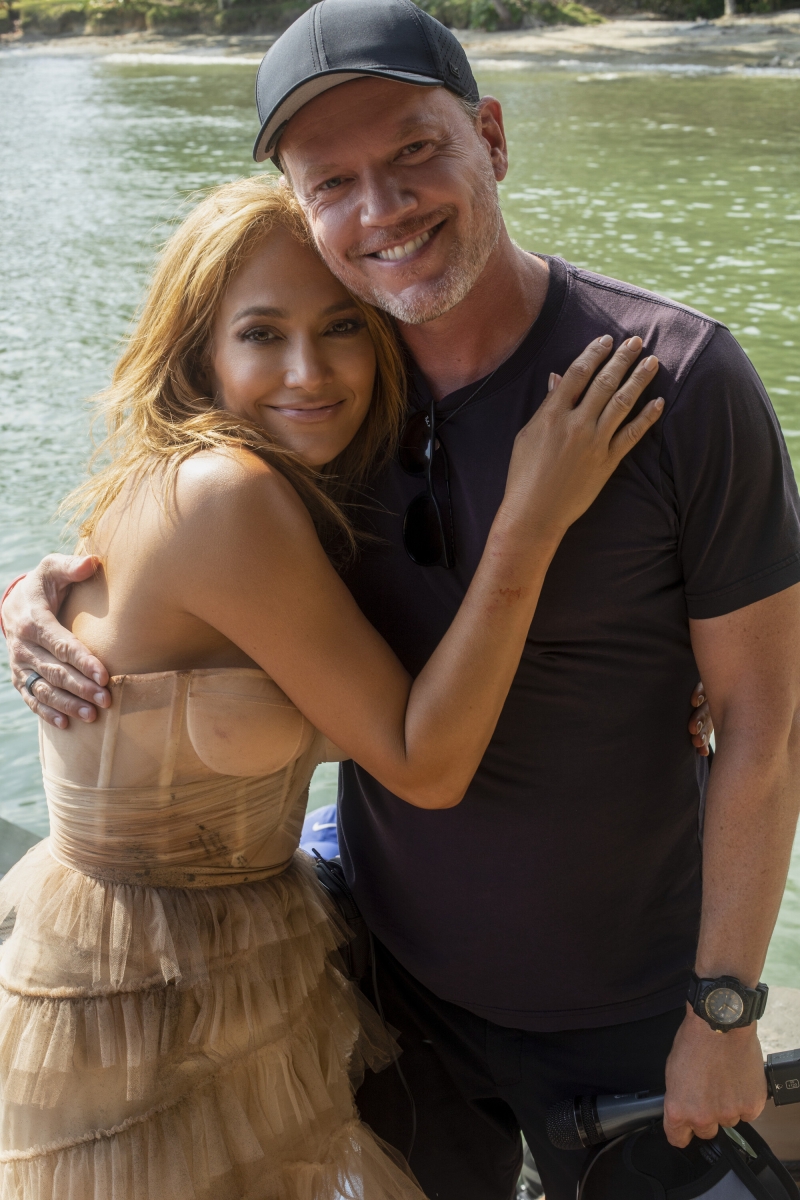 That's great that the sense of theatricality was still was with you on this movie with the discipline and choreography elements.
Those are my roots, so I kind of need to lean on those tools because, but I also think that they translate well, you know? So it's fun. I try to also think about actors who think like that. Like Jennifer Coolidge did stand up, Cheech & Chong did stand up. There's a kind of a performative quality to comedy, even if it's just trying to make the crew laugh or your friends laugh that I respond to.
It makes the set fun. A set sometimes can feel a little bit disjointed, but if you have people who all know how to live in the moment, create things in the moment and bounce off of each other, it's fun to capture on a camera. And it does feel a lot of theater in that way.
I'm sure it was so nice in that beautiful setting while filming the movie, too. What were your days on set like? I'm sure everyone has an amazing story from working with Jennifer Coolidge.
The first part of your question is that the shoot was really fun. It was at over the winter, so I was leaving cold New York City to go to this beautiful Dominican Republic with all these fabulous actors. Most of the movie takes place during the day. So we would get up at sunrise and finish at sunset and in the Dominican, and they're near the equator. So the days are kind of short. So we shot 10 hour days so that we could get the most light on camera. You're working with these fun actors in this beautiful location. There were times where I had to remind myself that we were at work and not on vacation, although, you know, it's always a good reminder that you're at work. But it was fun.
And the cast, especially the wedding party, spent a lot of time together in that pool and they all lived together. So there was a real camaraderie. They didn't have their kids or their partners with them so they had a lot of fun and they had movie nights together and ALL THAT kind of stuff. They did these movie nights where they would screen one of their movies and then somebody would interview them. So like for Sônia Braga, it was Kiss of the Spiderwoman. For Jennifer Coolidge, it was Best in Show. Cheeh Marin was Up in Smoke. It was fun to watch them become a family and that was really great. Yeah.
And as you can imagine, Jennifer Coolidge, I mean, she's been one of my favorites for years and years and years. In fact, when we cast her in this, THE WHITE LOTUS season one hadn't come out yet. Oh. So I didn't know what she had been doing. So I was like, "Do you wanna come down to the Dominican Republic and this beautiful beach resort live in a bubble and have fun?" She's like, "Well I'm kind of doing that now in Hawaii." I didn't know what she did. Now I'm like, oh my gosh, you were making this incredible series.
She's just humble and funny and smart and kind of everything you hope she'll be. And she keeps everybody on edge because she knows that surprising people with her left of center wit is one of her many superpowers. So we had a lot of fun. She's a lot of fun.
She has said recently in an interview that she wants to return to theater and do a play of some sort. Do you have any ideas of something you'd want to direct her in on stage?
I have a list that I'm accumulating in my head. Maybe I should tell Jennifer this first. I'm accumulating a list of plays and TV ideas and things. I would work with her every minute of every day if I could and she comes from those theater roots. So it's so fun to find what that thing can be. So yes, that's a great question because it's something that I think a lot about.
Overall, what do you hope audiences enjoy the most about Shotgun Wedding?
It's an escapist fun kind of romo movie and I hope people just have a good time. It's the middle of winter. Like, look at these fun people in this gorgeous location. It does have a little secret heart to it of like, what it mean to really deeply fall in love with someone for the second time or again. I really like that theme. And it has the theme of found family which is something that I always respond to. I think they will laugh, it's 90 minutes. It's kind of a rollercoaster and people will giggle.
---
Watch the trailer for the new film here: