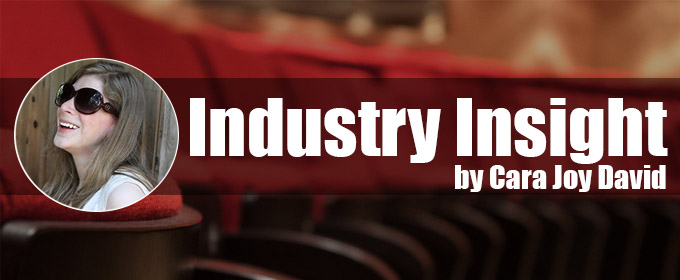 Industry Insight - by Cara Joy David
Industry Editor Exclusive: To Dim or Not to Dim? How Broadway Chooses When to Dim Its Marquees
A couple of weeks ago when five-time Tony nominee Jan Maxwell died, I assumed the marquees of Broadway theaters would be dimmed. I emailed the Broadway League--the association of theatre owners and producers who issues press releases on such things--to ask "when" it would happen. I don't know why I automatically assumed it would.
The process of deciding who the lights get dimmed for has always been opaque. No one knows when the traditional even got started, but most reports place the first person to receive the dimming honor as Gertrude Lawrence, who died in 1952. Broadway dimmed its lights only a few more times before 1980. It eventually started happening more and more.
It's a lovely tradition. The marquees go dark for a minute to honor someone the theater community has lost. Depending on the technology at the given theater, sometimes a picture goes up concurrently. Until summer 2013, the dimming took place exactly at the time of the scheduled performance. Now it takes place 15 minutes before curtain, allowing attendees time to honor the person receiving the tribute and be in their seats on time. The dimming typically happens a few days after death, though timing varies.
The League has consistently said a committee within the organization decides who to dim for and has just as consistently declined to say who forms that committee. When I pushed about the dimming for Ms. Maxwell, I was told by a League spokesperson it was the theater owners and to ask the theater owners.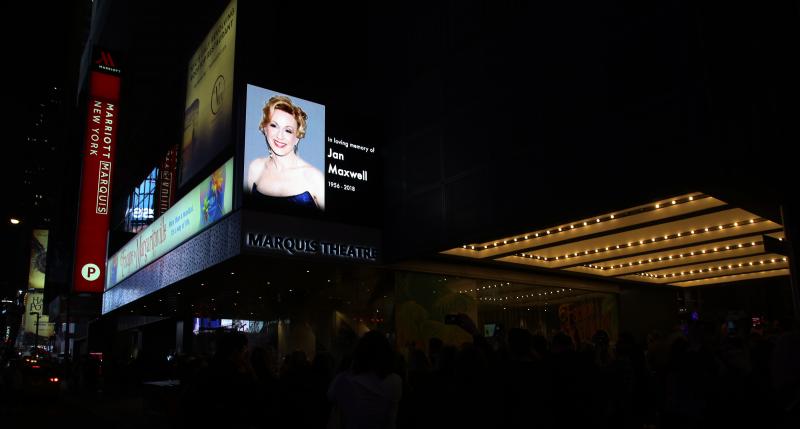 "Calling it a committee is a stretch," one insider said. "The big three landlords decide and everyone else follows. Usually The Shuberts are the ones that are most against dimming, but it varies. Personal relationships matter."
The Shubert Organization and Jujamcyn Theaters did not return requests for interviews about this process. No one generally has talked on the record regarding the criteria. In the past few years, the lights of all Broadway theaters have been dimmed for many individuals including Gene Saks, Roger Rees, Theodore Bikel, manager and agent Samuel "Biff" Liff, Brian Friel, Peter Shaffer, John McMartin, James Nederlander, Edward Albee, Carrie Fisher and Debbie Reynolds, producer Elliot Martin, Sam Shepard, Barbara Cook, producer Stuart Thompson, Thomas Meehan and Peter Hall. In that same time, people who have died that the lights have not been dimmed for include two-time Tony winner Tammy Grimes, Tony winner Fritz Weaver and seven-time Tony nominee Brian Bedford. (Two West End theaters dimmed for Mr. Bedford.)
In 2014, much controversy was stirred when the League refused to dim the lights for Joan Rivers, a Tony nominee and longtime Broadway supporter, and then reversed course after a public outcry. At the time of the original refusal, League President Charlotte St. Martin, who declined to be interviewed for this piece, stated in an interview with The New York Times: "Under our criteria people need to have been very active recently in the theater, or else be synonymous with Broadway - people who made their careers here, or kept it up."
It would appear Bedford, for example, would have met that criteria. And don't get me started on Donald Saddler, a two-time Tony winner who was represented on Broadway either onstage or behind-the-scenes at least once for seven straight decades, and yet was not given the honor in 2014. There is usually no explanation given as to why they decline to honor certain people however, so maybe there was indeed a rational reason behind these decisions. We will never know.
It took almost a full business week before the League announced it would dim the marquee at one theater, the Marquis Theatre, where she performed in her last Broadway show, FOLLIES, for Jan Maxwell. Manhattan Theatre Club then announced on Twitter it too would dim the lights on its Broadway house "in respect for Jan Maxwell, who was much beloved by all at MTC." (This broke with tradition--I can't remember a time a theater owner went rogue. The Nederlanders dimmed for Yankees owner George Steinbrenner, because the organization had a stake in the Yankees, but that is hardly the same thing.) I can only remember one previous time when the League announced the dimming of one sole Broadway house--that was for Kyle Jean-Baptiste. Jean-Baptiste was making his Broadway debut in LES MISERABLES at the Imperial Theater when he died and, after a social media campaign, the lights of just that theater were dimmed after show time so the company could be there for it. (There may have been other occasions that I cannot recall, but this particular variation of the honor is definitely not common.)
In an email from St. Martin to a Broadway fan about Ms. Maxwell, St. Martin wrote she finds that the dimmings "at one theatre are far more special as the community comes together to celebrate the life of those we loved." There is something to be said for this, in theory. By all reports, the dimming for Ms. Maxwell was lovely as a large group was gathered at one theater. (I went to Manhattan Theatre Club's house, which is currently dark, where there was a very small group.) Generally, the tradition ends up in much more low-key gatherings. In fact, usually a lot of people are standing on line waiting to get in the door, the lights go out under a marquee, sometimes a picture of the deceased is displayed, and the vast majority of people around have zero idea what is going on. After all, when people are more spread out, there are maybe five people max at each theater that are there to honor someone the community has lost. I asked a series of producers what they thought about doing more one theater dimmings in the future. Opinions were split.
"The drama of having a full block do it, a section of blocks, is theatrical," one said. "One theater does not do that."
Still others believed this might be a good idea. "It is a nice tradition that I've never understood," one said. "The lights are out. Not all of the lights usually, part. I think most people think a tech virus has hit. If it was one theater, where that theater went fully dark, or maybe did something else special, then that might be more moving."
Those spoken to were unanimous on one issue: dimmings cannot happen for every person who ever stepped on the stage. All but one thought the lights should have been dimmed for Ms. Maxwell, with the outlier stating she was not "famous enough" and "left the stage." (In a 2015 interview with Time Out New York, she stated SCENES FROM AN EXECUTION would be her final stage show. While many in the community thought she'd return for the right role, she had not at the time of her passing.) And not one could come up with concrete criteria that should govern the honor.
Photo Credit: Walter McBride / WM Photos