Harvey Weinstein Turns Himself In and is Charged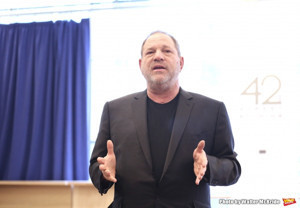 CNN has reported that Harvey Weinstein has turned himself in to authorities this morning. Weinstein was arrested and charged with rape, committing a criminal sex act, sexual abuse and sexual misconduct.
Weinstein is expected to appear in court today.
The NYPD said in a statement that the charges stem from incidents with two women and were the result of an investigation by the police and the Manhattan District Attorney's office.
CNN reports that the criminal sex act charge was the result of a case involved Lucia Evans, an aspiring actress who claims Weinstein forced her to perform oral sex on him in 2004. Evans has not commented since she made her allegations last fall.
There are expected to be more charges as the grand jury hears testimony. At least four women are expected to testify.
Weinstein is also under investigation for alleged sex crimes in Los Angeles and London. He has been accused of rape, assault, and other forms of sexual misconduct by dozens of women, which were "unequivocally denied."
Read more on CNN.
Related Articles