Giacometti at the Guggenheim: Spiral Inward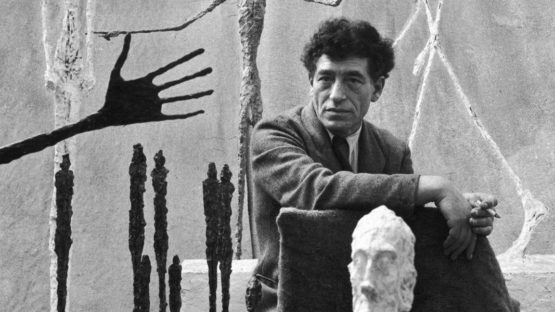 There is so much great art waiting to be seen in NYC's Chelsea's contemporary galleries, yearly and biennial global fairs and the great museums of the world. NYC's Guggenheim museum designed by Frank Lloyd Wrights and once derided as an over-sized washing machine, almost always guarantees exhibitions that are brilliant, scholarly and visually exciting; the same is true of MoMA , the MET and many others in our art metropolis. Yes, you would be pushed to put together anything but a brilliant Giacometti show and the Guggenheim delivers with a show ending today that I'd say is a must see on every critics list. Why is Alberto's work so compelling today breaking the 100 mil mark- think thick not thin, several times recently at auctions and what can I add to a dialogue that has already fleshed out his surrealist past, war influences, existentialism and Giacometti's relationship with his wives, friends and prostitutes. I've got something everyone is missing but we are all seeing.

The space inside the Guggenheim is magical and the work stands tall in a tricky space to uncurl flat works. My grand insight: The paintings are constructed from flat surfaces and owe much to Picasso's and Braque's cubism - he is thinking flat and combining and hatching-in flat overlapped spaces to carve out a form metaphorically much like Michelangelo in marble and literally like Picasso (right) does with larger lines and angles in those days in Montmarte that they shared.
That's no great shakes or insight and is misleading as these two great giants of modernism could not be further from each other in many formal ways, approaches and inner motivation and journey; What I see that is unique and revealing is Alberto's this flat approach in his sculpture as well.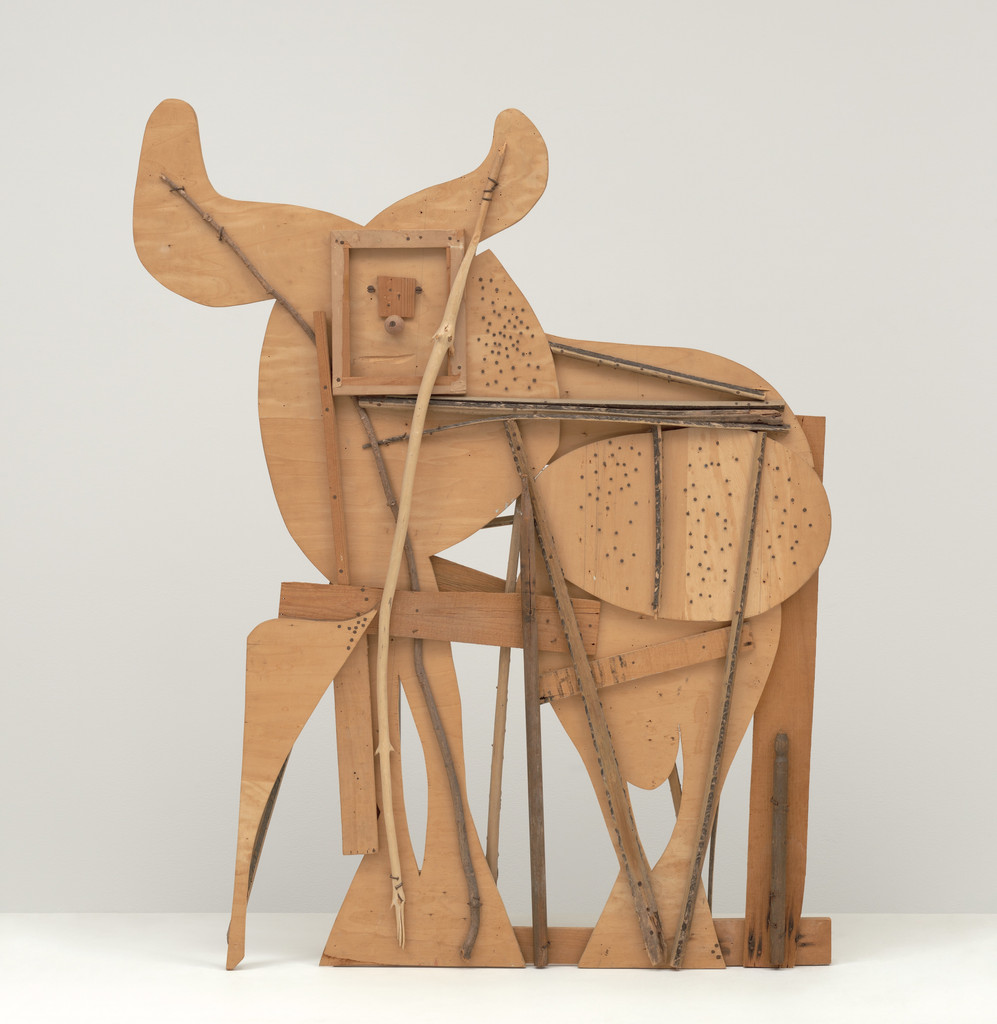 The Picasso sculpture show recently at MoMA showed among many things how Pablo bent, combined and rapped flat forms to grow three dimensions. Alberto's approach could not have been further from the artist he was wary of and rumored not to let into his studio. Giacometti worked in micro form in a very much three dimensional way, pinching, pushing and cutting his form in crater like mounds that are mashed and meshed upon against each other in grown clusters of coral like sheets. These localized marks much like Twombly scratches (left)or DeKooning sculpture (right) organically evolve on mostly flat forms that pinch and recede as they point and taper.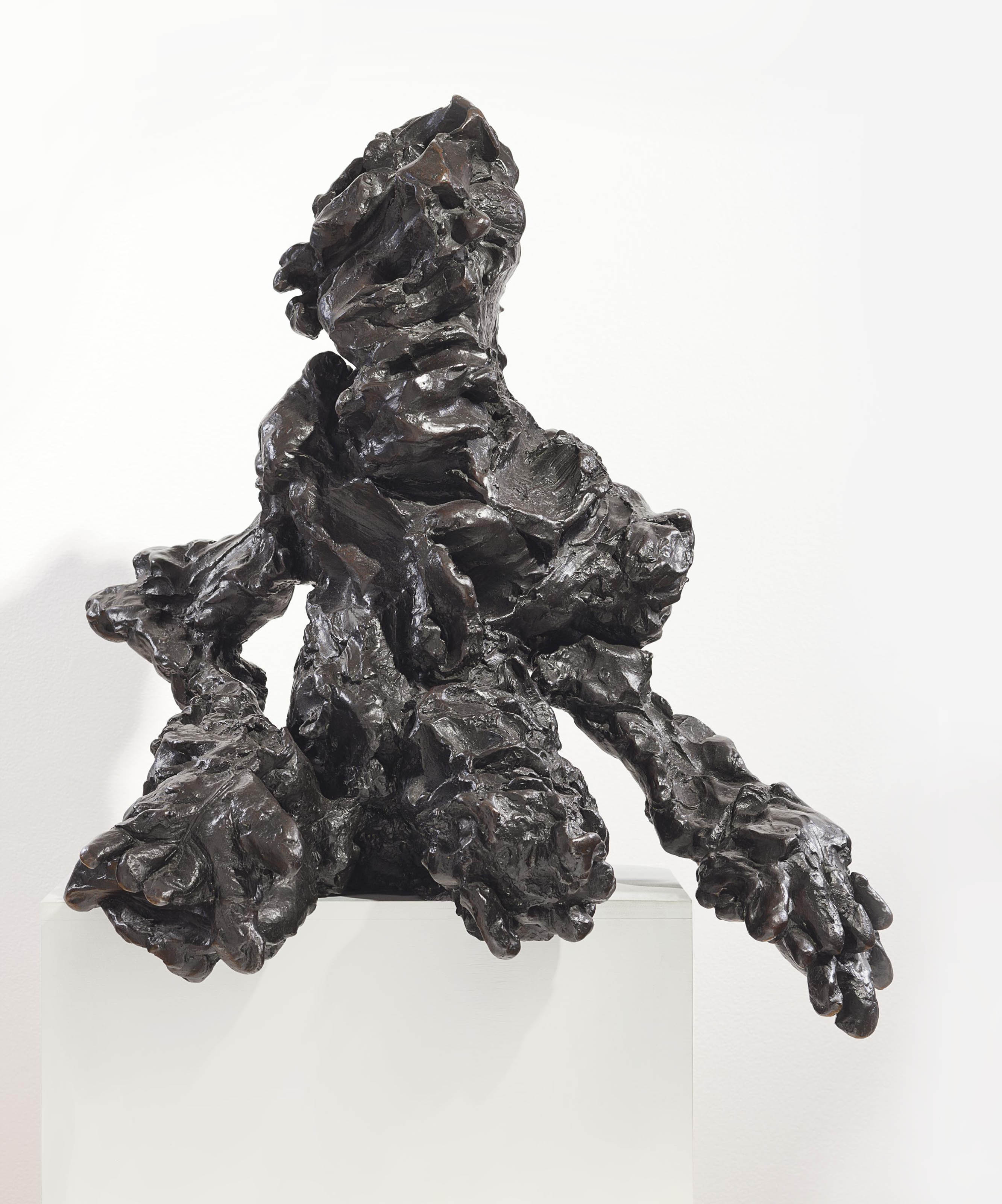 Have the wars stopped around the world? Can any art insight incite a world of change? It is hard not to be moved by the work as you spiral down or up- I always use gravity- by Giacometti's work and presence. Why is it fresh, alive and speaking to us in a distant unique language that blends Oceanic, Egypthian and Cycladic influences with Western art and more?


I've come to understand that Einstein understand art and spelled it out for us. Art is Energy. Often I read a work and summarize it by the energy's strength that if throws off. I then ask what feeds this energy , what grows it in a work, what makes the works strong, alive, living and readily bid to 100 mil pocket book thick? It is the intensity, the focus, the intention, power, will, defiance, and presence of the artist as a true receiver, communicator and language maker that imprints his energy. Art it is a conviction to enter the door, the path and the road to yourself, the world, a visual language-game and more than you through your art with a true heart and open receptors.
Alberto did this time and time again squeezing into a tiny studio even later in life when well worthy of and wealthy for a better space. Could Giacometti's work have been made in a Koon's or Murakami 100 plus artist powered studio? NO. Indeed why Alberto's work is so strong is inherently is it is his hand that elicits the spark of life that gives the work his energy and enlightens our perception of a deeper reality rippling under smoother surfaces of humankind we may have once walked.
Albertos unique dwindling of form births his famous tall and skinny figures and forms that seem to defy gravity and balance on imminent decay.
Sometimes art parallels our emotions and lives. At other times, art reveals a deeper essence below the surface of humankind and spirals us inward to ourselves and at the same time outward to everything. Giacometti did this in almost all his works with singular conviction and awareness of his failings, flaws and insecurities. A little of his humanity and personal hand could go a long way in today's art world of mass production artists that don't imbue their work from inception to completion with their hand and life force.
https://www.guggenheim.org/exhibition/giacometti

Related Articles
Barry Kostrinsky is the founder of Havensbx and Haven Arts. Gallery and performance spaces that reinvigorated the South Bronx arts scene from 2004-2017. The Municipal (read more...)