Get Carner & Gregor's ISLAND SONG Cast Album, Featuring Jeremy Jordan and More, for Free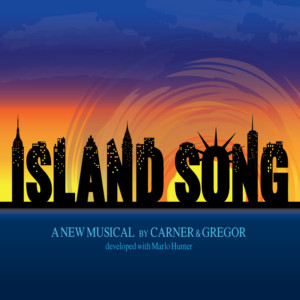 Songwriters Sam Carner and Derek Gregor have released the full studio cast album of their musical ISLAND SONG as a free digital download at www.islandsongmusical.com.
The ISLAND SONG album features the all-star Broadway cast of Jackie Burns (Wicked, If/Then, HAIR), Lilli Cooper (SpongeBob, Spring Awakening, Tick, Tick... Boom), Kimiko Glenn (Waitress, Orange is the New Black), Troy Iwata (The Boy Who Danced on Air), and Jeremy Jordan (Newsies, Bonny and Clyde, Smash, The Last Five Years movie, Supergirl) with a bonus track by Natalie Weiss (Everyday Rapture, Wicked, Breaking Down the Riffs).
Select material from ISLAND SONG has become a mainstay in the world of "new musical theatre" and has been performed in hundreds of venues around the world and on all seven continents (including Antarctica), in over ten languages. The 83-minute recording includes six songs that were nominated for "Best Song" or "Best Comedic Song" by the Manhattan Association of Cabarets and Clubs, those being "After Hours," "Make It Here," "Sing, But Don't Tell," "So Far From Pennsylvania," "Waiting," and "Wall Lovin'."
Jeremy Jordan remarked, "I've been part of ISLAND SONG since its first NYMF concert back in 2009. In the years following, I've watched Sam and Derek's music flourish. This album is a testament to their incredible talent and proves they are a welcome addition to the ranks of modern musical theatre powerhouses."
Speaking about the show's development, composer Derek Gregor said, "Sam and I built this show differently from the way most musicals are developed. Rather than keeping all the material close to our chest and then unveiling it whole, we released songs, moments from the show into the world early and got to see them performed on Youtube and work with young singers on their performances of them." Lyricist/librettist Sam Carner added, "We let those experiences affect both our revisions of the songs themselves and the material we still had to write. It was a really inspiring, exciting way to work."
Recording cast member Troy Iwata said, "I think every college theatre student has been listening to these songs forever now. I used to belt 'Make It Here' in my dorm shower, and now I'm the Make It Here Guy. My college self can't quite believe it."
Described by the authors as "a poignant dramedy with a kinetic pop-rock score," ISLAND SONG tells the story of a year in the lives of five twenty-and-thirty-somethings sharing a city and the chain of surprising, meaningful, and partially random connections that bring them into each other's spheres at moments that become pivotal.
According to Iwata, "There's a consistent theme of finding your self worth in ISLAND SONG, something that I think everyone struggles with despite age or experience. It's a beautiful window into a group of people who are all essentially searching for the same thing, just taking different roads to get there."
Lilli Cooper added, "I'm a native New Yorker, and Sam and Derek's music in ISLAND SONG really evokes the spirit of this amazing city. I LOVED working on this album with them. I'm already guilty of listening to it on repeat."
Asked about her history with the authors, Jackie Burns said, "I've worked with Sam and Derek for over 8 years now, and they continually astonish me with their brilliance. To this day UNLOCK'D, which I performed in at NYMF, is one of my most favorite theatrical experiences."
ISLAND SONG premiered at the Adirondack Theatre Festival in Glens Falls in a production directed and choreographed by Marlo Hunter, who co-created the show's story with Carner & Gregor. An expanded 15-person version of the show premiered at London's Stratford Circus Theatre in an actor-musician production by Rose Bruford University. ISLAND SONG had prior workshops at Princeton University, Western Carolina University, the Balagan Theatre, the Indiana Festival of Theatre, and the Bloomington Playwrights Project, as well as concerts at (le) Poisson Rouge, London's St. James Studio, Comedie Nation in Paris, Crawfish in Tokyo and beyond. Licensed productions are already planned in Dallas; Rochester, Michigan; London; Bologna, Italy; and more.
The entire album is available as a free digital download at carnerandgregor.com/project/island-song or www.islandsongmusical.com.
Sam Carner and Derek Gregor, among Playbill.com's 12 "Contemporary Musical Theatre Songwriters You Should Know," won the Richard Rodgers Award, the John Wallowitch Award for songwriters under 40, Sam won the 2015 Kleban Prize for "Most Promising Librettist," they won a 2016 MAC Award for "Best Comedic Song" (and ten of their songs have been nominated for MAC Awards).
Carner & Gregor's musical Unlock'd played an extended Off-Broadway run at the Duke Theater in 2013, having previously won "Best of the Fest" at NYMF. Unlock'd will run at Houston's Queensbury Theatre in February of 2018.
Current projects include Toast, an electro-pop/New Orleans jazz fusion adaptation of Rex Rose's novella, which had a workshop production at the Bloomington Playwrights Project in early 2016; a TBA musical adaptation of an ABC television series; additional songs for Sheila Levine Is Dead and Living in New York (book by Todd Graff and songs by Michael Devon, direction by Susan Stroman), which had a recent workshop with the Vineyard Theatre; and more.
Their short children's musical Love, Splat has toured the country since 2013 in the TheatreWorks USA revue The Teacher From the Black Lagoon and Other Stories. They have written numerous songs for revues and web series, including My Gay Roommate, Redheads Anonymous (2016 Indie Series Award nomination for "Best Song"), Hot Mess in Manhattan and more.