Interview: DC Theatre Royalty is Going Back INTO THE WOODS: An Interview with Felicia Curry
The actress on what it takes to be a rockstar understudy and more while touring in Into The Woods.
Those of us in the DC area have known about the talents of Dame Felicia Curry for many years. I'm sure you remember her recent star turn in My Lord, What a Night at Ford's Theatre where she played the famous opera star Marian Anderson or maybe you saw her blow the roof off of Arena Stage in Nina Simone: Four Women or possibly you and your kids enjoyed her as the lead character in Mirandy and Brother Wind at Adventure Theatre. My point here is that there is a good reason why actor and Curry's unofficial manager Rick Hammerly elevated Felicia Curry to Dame Felicia Curry. She truly is DC Theatre royalty.
Recently Dame Curry made her Broadway debut in the smash hit revival of Into The Woods where she understudied six, yes six different roles including the "Last Midnight" belting Witch.
If you were not able to get to NYC to see her perform, sometimes with only a few hours' notice, then you are in luck my fellow readers. The national tour of Into The Woods is now playing at the Kennedy Center in the Opera House through March 19th and Dame Curry is among the cast. She plays Cinderella's Mother, Granny and Giant while understudying the Witch and Jack's Mother.
After it's Kennedy Center engagement the show embarks on an eight-city tour that will conclude in Los Angeles on July 30th. This means that the rest of the country will soon get to see what we here in the DMV have known about for a long time.
The talents of Dame Felicia Curry make us and now the country truly lucky to be blessed with such a stellar performer. ALL HAIL!!
Can you please tell us how your initial audition for Into The Woods came to be?
This audition process was a little different than most. My manager, the incredible Rochel Saks, messaged me that they were looking for understudies for the Broadway company. They asked for videos of two songs, one Sondheim and the other could be pre-recorded cabaret material. I sent them a video audition with 2 songs, "Stay with Me" from Into the Woods and a rendition of "Simple Joys" from Pippin from a cabaret I did for Everyman Theatre. I must send love to my fiancé for helping me film Stay with Me. I recorded it after a two-show day of Our Town at Shakespeare Theatre Company; he knew exactly what I wanted to convey and encouraged me to record the song one more time which ended up being everything I wanted it to be.
How many callbacks did you have for Into The Woods before you booked the job?
None - it was truly a whirlwind experience. I sent my audition video to my manager on Tuesday, on Thursday she called me to tell me I had booked the show, and by Monday I was in NYC in time to begin rehearsals the next day! I am eternally grateful to Jordan Roth, Lear deBessonet, Rob Berman, Geoff Josselson (casting director), and the entire creative team and production staff for believing in me and giving me this incredible opportunity.
For those that don't know, can you please explain the difference between being an understudy and a standby?
A standby is an off-stage performer who is responsible for covering lead (principal) performers in the show. An understudy is usually a performer who is in the ensemble and covers one or more principal roles in the show.
I love the Into the Woods understudy family (@understudiesofthewoods on IG), affectionately called the Wonderstudies of the Woods. All of the roles in the show are principal parts so we were all off-stage covers responsible for multiple roles.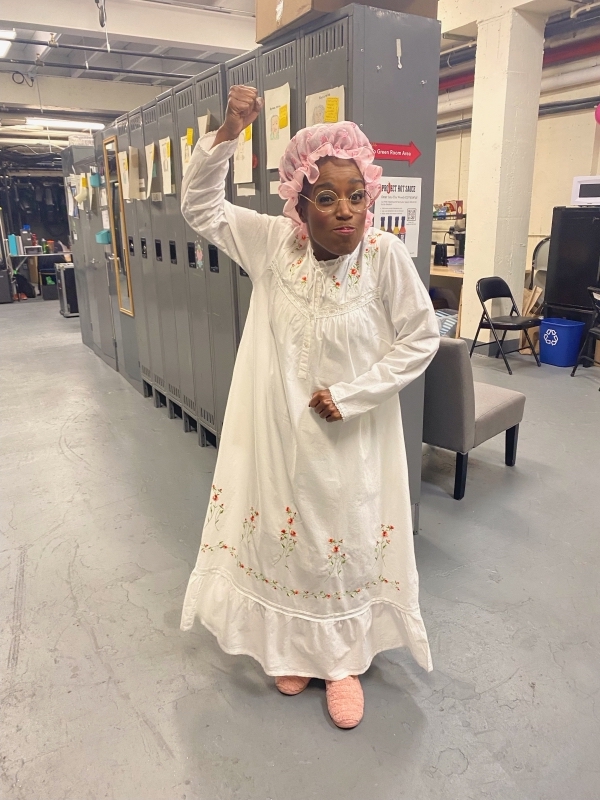 You understudied multiple tracks for the show on Broadway. Did you concentrate on a particular one first or did you need to learn them all together?
I focused on the Witch and the Baker's Wife when we first came into the rehearsal room, but I quickly began to add the other parts to my work list. By the end, I covered six tracks on Broadway and had the opportunity to perform five of them on-stage - the Witch, Jack's Mother, Lucinda, Florinda, and Cinderella's Mother/Granny/Giant. You could often find me running multiple roles in the green room while the show was going on upstairs, doing my best to keep everything fresh and to always be prepared.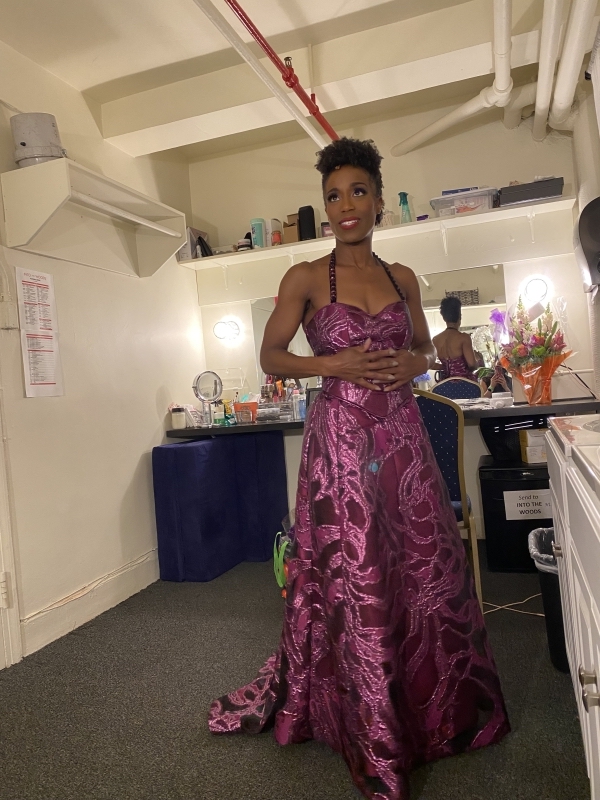 What do you remember most about your first time going on for the Witch on Broadway?
The love - the love was absolutely overwhelming in my Broadway debut. I don't think I've ever been surrounded by such a warm beautiful outpouring of affection like it before from the folks on stage, in the audience, and on social media. The entire experience still feels surreal; from Patina Miller posting a beautiful message of support on Instagram before the show, the genuine support and excitement from my fellow performers and crew before, during, and after the show, to being greeted outside of the St. James by friends and family from every journey I've been on leading to this magic moment. That evening, my dreams came true.
Thank you to each and every person who came to NYC to see the show, who reached out to me personally, who sent flowers and cards, who posted words of encouragement, love, and support - I felt every bit of it, and it means more to me than you will ever know. DC, I hope I made you proud.
You are about to go out on tour with Into The Woods where you will be playing three roles and understudying two. Is playing three roles easier than understudying five?
We just opened this past weekend; opening at the Kennedy Center and coming home to DC fills my heart with so much joy. I would say that none of it is easy - but if it looks that way then it means we must be doing something right! I love bringing multiple characters to life in a show and being able to create what I hope are three unique characters each with their own journey. It is challenging but so much fun. My prior work in the Queens Girl productions, with the brilliant director and my friend Paige Hernadez, really helps me ensure that every character (both the ones I play on stage and the ones I cover) is fully realized. I know exactly what their intentions are so that each time I go onstage I can listen and react with that in mind. It can be overwhelming, but this keeps me energized and excited for every performance.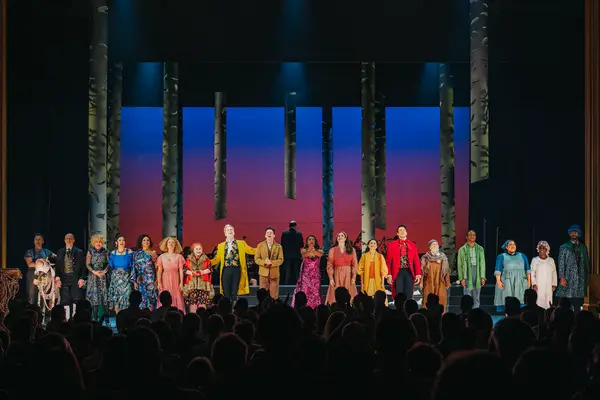 What are you most looking forward to about bringing Into The Woods to audiences across the country?
I am so excited to share the infectious joy and heartfelt spirit of this company and this show. Something amazing was created with this show and what everyone thought was only going to be a two-week concert at New York City Center has turned into a magical moment that we get to share with the nation. This production provides audiences with the opportunity to see the orchestra onstage and to truly hear the brilliance of Sondheim's music and lyrics, James Lapine's book, and Jonathan Tunick's orchestrations. I'm honored to be part of this continued journey of Into the Woods Broadway.
What is it about Into The Woods that still resonates with its audiences after all these years?
The show is timeless and accessible to all audiences. Weaving the stories of beloved fairy tale characters in search of wishes with the journey of their shared humanity to get through the woods is something I think resonates with us all. After all we have been through in the last few years, a show like this reminds us that despite heartache and hardship and loss, we must continue to journey on, to work together, to hope and to dream and to find our way through the woods so our story can continue.
Special thanks to Kennedy Center's Director of Public Relations Brenden Padgett for his assistance in coordinating this interview.