Dramatists Play Service Hosts Max Posner Publication Party Ft. David Cromer, Peter Friedman, Susannah Perkins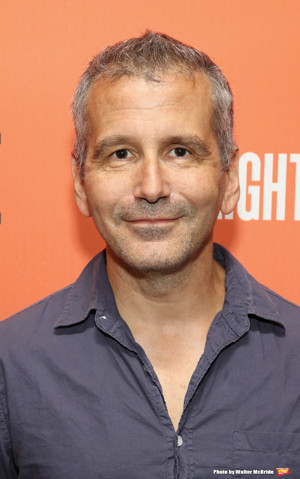 Dramatists Play Service will celebrate the Acting Edition publication and acquisition of licensing rights for Max Posner's newest plays "The Treasurer, " "Snore," and "Sisters on the Ground," with an event at Drama Book Shop, 250 W. 40th St., from 5 to 7 p.m. on Monday, November 19.
The party will feature readings from "The Treasurer" including Peter Friedman ("Circle Mirror Transformation," "Ragtime"), who originated the role of The Son; excerpts from "Sisters on the Ground" featuring the original ensemble cast, including Susannah Perkins ("The Wolves," Broadway's "Network"); and others to be announced. The readings will be followed by a conversation with the playwright moderated by Tony Award-winning director David Cromer, who directed "The Treasurer" at Playwrights Horizons in 2018.
The party is free and open to the public with limited seating available. Copies of the plays will be available for purchase at Drama Book Shop.
To RSVP, visit: https://www.facebook.com/DramatistsPlayService/
Stock and amateur licensing rights for all three plays, as well as Max's first play, "Judy, " are available via www.dramatists.com.
ABOUT THE PLAYS
"The Treasurer"
Ida Armstrong is broke, lonely, and fading fast. And she's spending all of her children's money, forcing her son to assume the unwanted role of The Treasurer: an arrangement that becomes untenable the more he questions his devotion to her. This darkly funny, sharply intimate portrait chronicles the strained ties between a son and his aging mother, and the hell of a guilty conscience.
"Sisters on the Ground"
Massachusetts, 1825. Martha was buried by all six of her sisters, including me. That spring, we started sleeping outdoors. We didn't go back inside. What with Papa. Harriet got cholera. Beth got Married. Hannah began bundling. Abigail got drunk. Lying on the dirt, facing the sky, we started saying sentences to each other.
"Snore"
In 2011, a group of socially conscious college graduates strive to remain whole as the green pastures of their liberal arts educations are paved over. Tom hopes to pass his bar exam to prevent the U.S. from illegally deporting immigrants. He and Nina are finally moving in together. Deb is back from the orphanage in Honduras, where she fell in love in Spanish. Abe remains committed to Israeli-Palestinian conflict resolution, although he can't stop needling his friends. Mia won't stop talking, and Allie doesn't know where to start. On the audacious hunt for romantic fulfillment and societal worth, a circle of friendship changes shape. In six breathless birthday parties, SNORE maps a generational shift as idealism starts to rupture.
ABOUT Max Posner
Max Posner's plays include "The Treasurer" (Playwrights Horizons), "Judy" (Page 73), "Snore" (Juilliard), and "Sisters on the Ground" (NYU Tisch). He is the recipient of a Helen Merrill Emerging Playwright Award, the Heideman Award from Actors Theatre of Louisville, the Page 73 Playwriting Fellowship, two MacDowell Colony Fellowships, two Lecomte du Nouy awards, and was named the 2015 Writer-in-Residence at Williamstown Theater Festival. Max is working on new play commissions for South Coast Repertory and Playwrights Horizons. He's an alum of the Soho Rep Writer/Director Lab, Ars Nova Playgroup, The Working Farm, Interstate 73, and a volunteer with Manhattan's 52nd Street Project. He contributed to "The Characters" (Netflix) for comedian John Early. Max's plays have been developed at Playwrights Horizons, Soho Rep, Actors Theatre of Louisville, Clubbed Thumb, Manhattan Theatre Club, Roundabout Underground, Atlantic Theater Company, Ars Nova, The Bushwick Starr, New York Theater Workshop, American Theater Co, The Hangar Theatre, and Space on Ryder Farm. He is a graduate of Brown University (2011 Weston Award for playwriting) and completed a two-year Lila Acheson Wallace Playwriting Fellowship at Juilliard. Max was born and raised in Denver and lives in Brooklyn.
ABOUT DRAMATISTS PLAY SERVICE
Formed in 1936 by a number of prominent playwrights and theater agents, Dramatists Play Service, Inc. (DPS) was created to foster national opportunities for playwrights by publishing affordable editions of their plays and handling the performance rights to these works.
Dramatists Play Service, Inc. has since grown steadily to become one of the premier play-licensing and theatrical publishing agencies in the world. Offering an extensive list of titles that includes many of the most significant plays of the past century, DPS preserves the rich history of drama.
Dramatists Play Service, Inc. works with thousands of theaters to ensure the future vitality of the theater. It is committed to providing a home for established writers and to nurturing new playwrights of exceptional promise.
Visit the website, https://www.dramatists.com/
Photo Credit: Walter McBride / WM Photos
Related Articles
More Hot Stories For You