Charles Strouse, Andy Karl, Ahrens & Flaherty, and More Will Celebrate The Life Of Thomas Meehan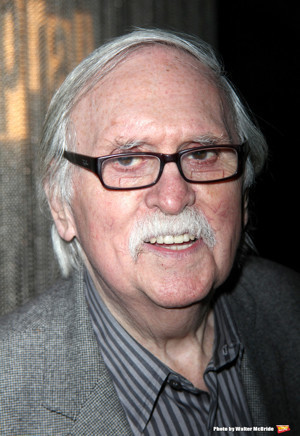 The Broadway community will celebrate the life of Thomas Meehan on Monday, November 5th at 2:00 PM at the St. James Theatre (246 West 44th Street).
Mr. Meehan, who died on August 21, 2017 was among the most prolific and successful book writers in Broadway musical history. He holds the distinction of being the only writer to have written three Broadway shows that ran more than 2,000 performances each, winning the Tony Award for Best Book of a Musical for Annie (1977) The Producers, (2001, shared with Mel Brooks) and for Hairspray (2002, shared with Mark O'Donnell).
Mr. Meehan's other shows include Chaplin, Elf, The Musical (with Bob Martin); Young Frankenstein, I Remember Mama; Annie 2: Miss Hannigan's Revenge; Rocky; I Remember Mama; Death Takes a Holiday and others.
The celebration will be open to the public. It will be hosted by Martin Charnin, creator, lyricist and director of Annie and collaborator with Mr. Meehan on television projects preceding their work on that show.
At this time, the program, which is subject to change, will include appearances by Charles Strouse, Andrea McArdle, Lynn Ahrens and Stephen Flaherty, Andy Karl and Margo Seibert, Maury Yeston, Jack O'Brien, Marc Shaiman, Alton White, Mara Davi, Jill Paice, Alexandra Socha, Susan Stroman, and Mel Brooks, with whom Mr. Meehan co-wrote the books for The Producers and Young Frankenstein as well as the screenplay for the film, Spaceballs, and other projects.
Additional speakers, performers and information will be announced in the coming weeks.
Thomas Meehan was a consummate gentleman with an extraordinary talent for writing the most difficult and frequently frustrating of forms: the librettos for Broadway musicals. He was the only writer to have written the books for three musicals that each ran over 2000 performances, winning Tony Awards for his books for Annie, 1977; The Producers, 2001 (co-written with Mel Brooks) and Hairspray, 2003 (co-written with Marc O'Donnell).
He began his writing career in the 1960's contributing material to The New Yorker. Many of his collected pieces were published in his book "Yma Dream" (published by Simon and Schuster), a fantastically funny, surreal short-piece of word-play which went on to have a successful life on television when it was performed by Anne Bancroft in the Emmy Award winning special "Annie, The Women In The Life of a Man."
Meehan subsequently went on to write or co-write librettos for a wide range of Broadway musicals including I Remember Mama; Ain't Broadway Grand, Bombay Dreams (co-written with Meera Syal); Cry Baby (co-written with Marc O'Donnell); Young Frankenstein (co -written with Mel Brooks); Elf, The Musical (co -written with Bob Martin); Chaplin (co-written with Christopher Curtis); Rocky, Annie Warbucks, (the sequel to Annie) as well as Death Takes A Holiday (co-written with Peter Stone). At the time of his death, he was working on the up-coming Dave, The Musical (co-written with Nell Benjamin) and The Lady Eve (co-written with Maury Yeaston). He was also a member of the Council of the Dramatist Guild of America.
In collaboration with poet J,D.McClatchy he co-authored the libretto to "1984", an opera composed by Lorin Maazel, first performed at London's Royal Opera House at Covent Garden in 2005.
His family includes his wife, Carolyn Capstick Meehan, two children, three step children and six grandchildren.
As a film actor, Meehan appeared in very, very small roles in "Spaceballs", "To Be Or Not To Be", and "The Producers". If you blink, you will miss those appearances.