Broadway Bound COME ON, LET'S GO: THE RITCHIE VALENS MUSICAL to Be Developed in Southern California in 2020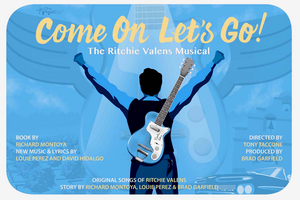 Producer Brad Garfield announces the Broadway bound COME ON, LET'S GO: The Ritchie Valens Musical will be developed in Southern California in 2020 -- not far from where Ritchie grew up. COME ON, LET'S GO is written by Richard Montoya with original music by Los Lobos' Louie Perez and David Hidalgo and will be directed by Tony Taccone.
A true American story, COME ON, LET'S GO: The Ritchie Valens Musical is the story of a Chicano Boy who grew up other side of the tracks in California's San Fernando Valley and in his short life went on to make Rock 'n Roll history singing a Mexican folk song with a Fender guitar!
"At 17-years-old, Richie Valens was one of the most popular musicians of his time and was on the scene for only eight months before he tragically died in a plane crash. He took the world by storm with his creation of Latin Rock 'n Roll but is best remembered from the film La Bamba - but this is NOT La Bamba the Musical. We are excited to create and original rock musical - a rockumentary that needs to be told about a legendary pioneer. With 100% support from Ritchie's three siblings who are still alive, our award-winning team is filled with desire, passion and responsibility on keeping Ritchie's true legacy alive.
Ritchie Valens (Original Music and Lyrics) was an American singer, songwriter, and guitarist. A rock 'n roll pioneer and a forefather of the Chicano rock movement. Valens' recording career lasted only eight months and abruptly ended when he died in a plane crash.
Yet during this brief time, he had several hits, most notably the 1958 "La Bamba", which Valens adapted from a Mexican folk song. He transformed the original into one with a rock rhythm and beat earning it (and Valens) a place in rock history. It became a hit, making Valens a pioneer of the Spanish-speaking rock and roll movement. He also had the Billboard Hot 100 hit ''Donna'' which peaked at #2 after Richie's death.
On February 3, 1959, on what has become known as "The Day the Music Died", Valens died in a plane crash in Iowa. An accident that also claimed the lives of fellow musicians Buddy Holly and J. P. "The Big Bopper" Richardson, as well as pilot Roger Peterson. Valens was posthumously inducted into the Rock and Roll Hall of Fame in 2001.
For more information visit www.theritchievalensmusical.com/.