BWW Reviews: DEAR EVAN HANSEN is Okay, And Here's Why…
It's not a total failure, but the misfires are glaring.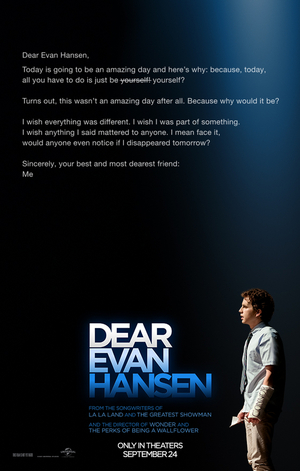 Attending a screening of Dear Evan Hansen in New York City with a completely vaccinated, masked, and socially distanced audience was an interesting scenario. Fans of the material and critics were scattered throughout the auditorium, and every one seemed to be searching for an answer to the same question: Is the film really as bad as the first wave of reviews indicated? The silver lining: it's not the worst stage to screen film adaptation I've sat through. However, Dear Evan Hansen is definitely not a great movie.
The last time I saw Dear Evan Hansen was when the musical was running Off-Broadway, right as it exploded in popularity. I found the musical to be a problematic but enjoyable parable about teenage anxiety, isolation, and the dangerous powers of going viral online. On stage, Evan Hansen was a quirky kid who seemed to accidentally take advantage of a tragedy because of the random access to notoriety it offered him. However, on film, Evan Hansen seems much more conniving. He reads as a Machiavellian figure for a majority of the film. On stage, gray space features prominently. On film, lines between good and bad seem to be drawn more distinctly, but the end product still doesn't know how it wants the audience to feel at the end.
Ben Platt has been heavily criticized for being a 27 year old portraying a high-school senior. The costumers keep him in baggy and loose clothing and the hair department, for some unknown reason, used Sarah Paulson's Marcia Clark wig to make him appear younger. These choices kind of work. Where we must confront Platt's age is when the character spins his lies. In these moments of scheming and lying, Platt is lit with deep and almost demonic looking shadows, especially around his eyes. These choices make his eyes look sunken and highlight the bags and the uber-fine lines around his eyes.
These lighting cues also make it very easy for the audience to dislike Platt's Evan and recognize that the lies he tells the Murphy family, his schoolmates, and ultimately the world are unspeakably bad. We don't cheer for him, nor do we empathize with the stress and turmoil he deals with as he keeps spinning his web of fabrications. Instead, we sympathize with the Murphy family and Evan's over-achieving classmate Alana. Yet, in the film's final act, Steven Levenson's script asks audiences to immediately forgive Evan of all of his misgivings because he is young and suffering from anxiety and depression. But, it does this in the same moment it confirms that Evan also purposefully injured himself to get attention. This signals that the whole plot of the film is really just another example of Evan gaming people to get something he wants.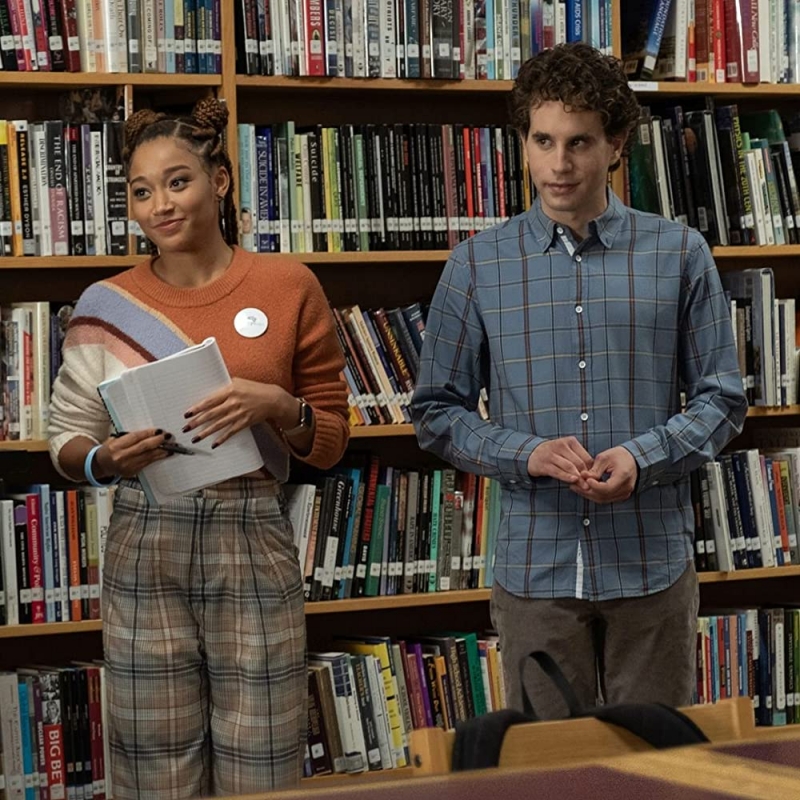 Compounding this, the film's treatment of mental illness is especially unfair and possibly inappropriate. Evan suffers from anxiety and depression, and dialogue in the film lets us know that he is being treated with Zoloft and Wellbutrin with an assist from Ativan, as needed. His characterization is that of a schemer who takes advantage of people and situations to get the attention and validation he feels he lacks. Connor Murphy is a troubled teen who was in and out of rehab before he committed suicide. Audiences are told he threatened the life of his sister, punched holes in walls, and more. Then, there is Alana. She also suffers from depression, but instead of being unscrupulous or unhinged, she is overly zealous, over-committed, and tries to please everyone all the time. Shining a spotlight on three different characters with mental illness, the film indicates that people with mental illness can only exist in extremes.
Then, there's all the changes made to adapt the material from stage to screen. The film dives right in with "Waving Through a Window," skipping over "Anyone Have a Map?." Likewise, during the "Waving Through a Window" scene, we hear the high school marching band play "Good For You." These choices instantly highlight that the character of Heidi, Evan's mom, has been significantly cut back for the film. Alana's character is expanded, and we learn a little more about her. She also gets a song and reprise ("The Anonymous Ones") about how depression is not a visible diagnosis, which Amandla Stenberg performs with tangible and effective emotion. Colton Ryan also makes the most of Connor's added song, "A Little Closer," performing the mostly voiceover number with heartfelt earnestly. Conversely, Nik Dodani's Jared is not sarcastic like his stage counterpart. Instead, Dodani's Jared is a sassy gay and reads as an annoyingly cliched stereotype of gay men.
The original concept for Dear Evan Hansen was a darker musical than what we got on Broadway, and it feels like the film tried to take the material back to its roots some. However, the end product remains problematic. Evocative performances from Kaitlyn Dever, Amy Adams, Amandla Stenberg, Colton Ryan, and Danny Pino make the film watchable and mostly keep audience exasperation at bay. On film Dear Evan Hansen deserves a D-. It's not a total failure, but the misfires are glaring.
Related Stories