BWW Review: The Spotlight Shines On Everyone in Public Works' AS YOU LIKE IT
"All the world's a stage / And everybody's in the show. / Nobody's a pro."
Those words, sung at the opening of Shaina Taub and Laurie Woolery's thoroughly enchanting musical adaptation of Shakespeare's AS YOU LIKE IT, were especially poignant at the Delacorte Theater this past weekend, where, since 2013, every Labor Day holiday has been celebrated with a production by The Public Theater's gloriously inclusive Public Works program.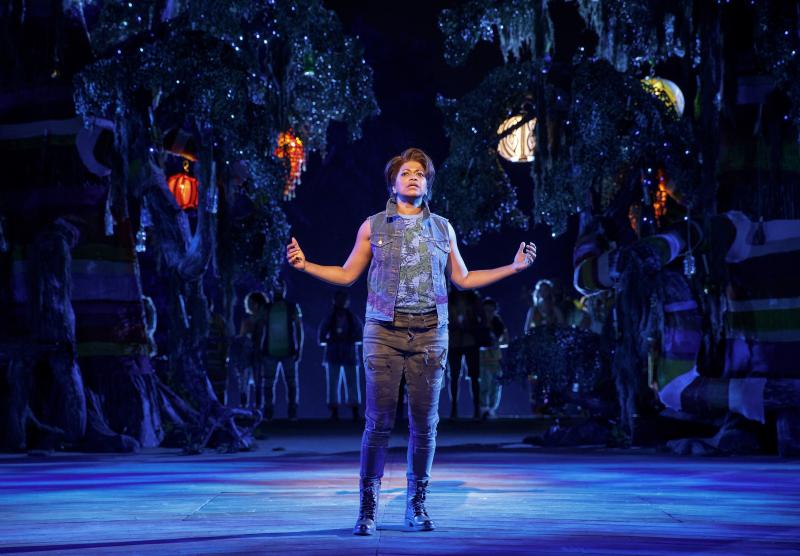 Originating with a trio of musical adaptations of classic texts conceived and directed by Lear deBessonet, with scores by Todd Almond, Public Works places casts of over 200 players on the Delacorte stage, only a handful being Equity actors. The remaining cast members have been made up of employees and clients of social service organizations throughout the five boroughs, along with members of some of the city's lesser-known athletic and performing arts organizations, each given a scripted moment to display their specialty.
Last year the team of composer/lyricist Taub and director/adaptor Woolery took over the creative duties with their version of TWELFTH NIGHT. This year, without pushing contemporary politics into the forefront, their lively and uplifting creation used New York City's musical soundscape to highlight themes of inclusiveness in AS YOU LIKE IT's text.
Keeping with what appears to be a tradition with Public Works shows, the songwriter was also a performer, and Taub sang those opening lines as Shakespeare's melancholy lord, Jacques, who in this version resembled a philosophical street singer, dispensing melodic observations.
Though Jacques' musical language is coffee-house folk, the bulk of the tuneful score is a mix of funk, pop and soul, played by a band perched in a treehouse on designer David Rockwell's colorful representation of the Forest of Arden.
The complicated story of Shakespeare's romantic comedy involves family rivalries, banished lovers and the obligatory leading lady who, for some reason or another, must disguise herself as male in order to win her mate.
Fulfilling that obligation at the Delacorte was Rebecca Naomi Jones, who, due to illness, was unable to sing her role of Rosalind at Monday night's performance, but in true trooper fashion, played her scenes with elegant warmth and lip-synced her songs to Taub's offstage voice.
She meets the object of her affection, Orlando (smooth and charismatic Ato Blankson-Wood, who sports a killer belt), when he competes a royal wrestling tournament. Members of the Bronx Wrestling Federation supplied wacky entertainment for the scene as outlandishly over-the-top grapplers.
The memorable scene where Orlando declared his love, backed up by boy band singer/dancers, began with Blankson-Wood crooning flowery metaphors, but then Taub's lyric switched to something more contemporary; "My love for you is like a hamburger / Rare, but also well done."
The sentiment was reprised by Joel Perez, dapper and funny as the jester Touchstone, when he falls for shepherd Andy, played by community member, Troy Anthony. No, this same-sex coupling was not a part of Shakespeare's original, where the shepherd is a woman named Audrey. Neither was the matching of the aloof Phoebe (Mayelyn Perdomo) with the punk-styled Silvia (Ariel Mapp), who was Silvius in Elizabethan days.
As the deposed Duke Senior, exiled to the forest by his younger brother, Darius de Haas beamed a hearty and loveable presence as the spokesman for charity, acceptance and good will to all.
Performances by The Sing Harlem Choir, dancers from Freedom Dabka Group and drum circle performers from Harambee Dance Company added excitement to the proceedings, but the stars of Public Works productions are always the 100+ community members. This year the cast was assembled from the Brownsville Recreation Center, Center For Family Life In Sunset Park, Dreamyard Project, Fortune Society, Military Resilience Project, Casita Maria Center For Arts and Education, The Children's Aid Society and Domestic Workers United.
Some surprised the viewers with polished stage skills while others delighted the crowd as they cheerfully give their best efforts. And that's the swell part about Public Works. The spotlight shines on everyone.