BWW Review: Problem Solved! Wild West Shakespeare Musical DESPERATE MEASURES is Hilarious and Tuneful
David Friedman and Peter Kellogg may be billed, respectively, as composer and bookwriter/lyricists of the rollickingly fun new musical comedy DESPERATE MEASURES, which has just moved from the intimate York Theatre to more spacious digs at New World Stages, but they can also add "problem-solver" to their resumes.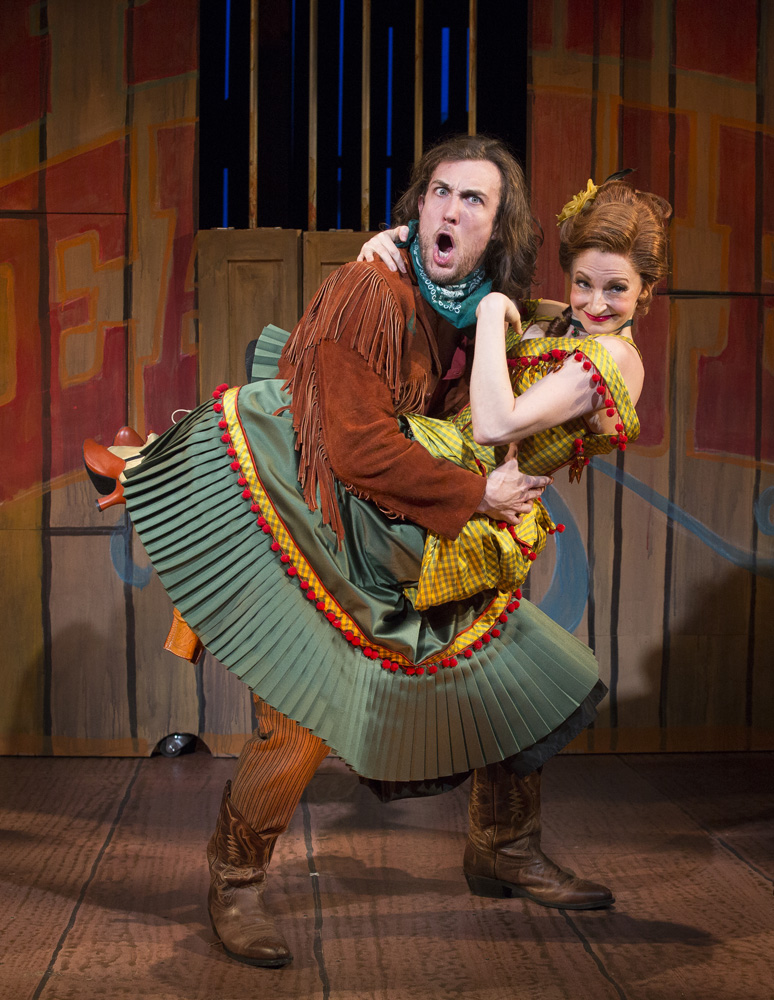 That's because their hilarious and tuneful show gets its impetus from Shakespeare's MEASURE FOR MEASURE, regarded by scholars as one of The Bard's "problem plays," for its debate on morality and awkward transitions from dark drama to comedy.
But in their kick-ass new tuner, cleverly written in rhyming couplets that flow easily into song, a prologue assures us that all that morality business has been scraped and we're in for a frisky night of sex, schtick and showtunes.
Set in the wild west, the opening number explains how poor Johnny Blood sits in jail waiting to be hanged for killing Big Swede in self-defense to protect the honor of the local saloon striptease entertainer, Bella.
Sympathetic Sheriff Green arranges for Johnny's sister, Susanna, who is a novice about to enter a convent, to see the strict Governor von Richterhenkenpflichtgetruber and beg for leniency, but the evil gov says he'll spare the lad's life only if the nun will surrender her chastity to him.
The sister can't bring herself to do it, but Bella, in love with Johnny, will gladly disguise herself in a habit for a one-night stand. The trouble is that the governor enjoys Bella's favors so much that he wants to marry her (marry Susanna, that is). Complicating matters is that the sister and the sheriff are developing feelings for each other.
It's all played for silliness and director/choreographer Bill Castellino's slam-bang production, framed by designer James Morgan's sight gag-laden set, takes full advantage of a strong singing cast that also sports excellent comic chops.
Leaping the furthest over the top is Lauren Molina, who, as Bella, gives one of those uproarious performances that used to make people stay home on Saturday nights to see on "The Carol Burnett Show." She mugs unmercifully, belts out a sassy strip number and, in a homage to Groucho and Harpo's classic mirror scene in "Duck Soup," pretends to be Susanna's reflection when the governor catches them together.
A master at playing campy authority figures and a New York stage favorite for decades, Nick Wyman's powerful baritone adds extra menace to his German-accented governor; a showman at heart on a mission to Make Arizona Great Again.
Rubber-limbed Conor Ryan, hits some crazy dramatic poses as the dunderheaded, but sincere, Johnny Blood, who strongly hints to his sister that just one night with the governor to save his life wouldn't be so bad, but then gets upset with Bella for being the one who does it. This prompts the highlight of a very strong score, "All For You," where the two argue over who's willing to go to the furthest extremes for the other. ("I slept with another guy, just for you." / "Shot a man and watched him die, just for you.")
On the more cerebral side is Gary Marachek as Johnny's cellmate, a drunkard priest who writes fan mail to Nietzsche. Playing straight in their romantic roles, Peter Saide and Sarah Parnicky both sing beautifully and add to the fun with their honest commitment to the absurdity surrounding them.
Before opening in its new home, Desperate Measures was recognized with Drama Desk Awards for both Best Music and Best Lyrics (on or off Broadway) and the Outer Critics Circle Award for Outstanding Off-Broadway Musical. This reviewer would put it above any of the new musicals that opened on Broadway this past season for those seeking flat-out musical comedy fun.