Click Here for More Articles on FROZEN
BWW Review: Patti Murin Is A Ray of Sunshine in Disappointingly Perfunctory FROZEN
It was less than five years ago when little girls around the globe were presented with a computer-animated rebellious role model who was fed up with hiding her true self to conform to other people's ideas of what it meant to be a "good girl" and, quite literally, dropped her gloves in defiant celebration of what makes her unique.
That rebellious role model was the newly crowned Queen Elsa of Arendelle, now one of the two central character of the new Broadway musical Frozen, based on the Academy Award-winning Disney feature.
As a child, Princess Elsa delighted her younger sister with magical powers that could freeze water, cause snowfall and create sheets of ice with a simple zap of her fingers. But when an errant zap to the skull nearly kills her rambunctious sibling, Princess Anna, the youngster is cured in a manner that erases all memory of her sister's power. Instead of helping Elsa control and master her magic, their parents force her to hide and contain it, having her wear gloves to help avoid any future accidents, and keeping her away from Anna, just in case.
By the time the King and Queen have both passed on and it's time for Elsa to be crowned, she has lived her life ashamed of what she is. But her powers are accidentally, and dramatically, discovered at her coronation ball and, after inadvertently covering the whole seaside monarchy in perpetual winter, she builds an ice bridge leading her to the top of a mountain where she sings her new personal anthem, Robert Lopez and Kristen Anderson-Lopez's Oscar-winning "Let It Go," as she allows her magic (not to mention some exceptional talent for architectural design) to build a sensational ice palace and has her royal garb evolve into a fabulous ice queen gown.
Naturally, stage technology can't be expected to replicate what can be done with computer animation, but in director Michael Grandage's sadly underwhelming production, this declaration of independence from constraining expectations is staged more like a pop star performance than an important storytelling moment.
Caissie Levy, a perfectly capable musical theater performer, appears overly choreographed with hand motions and blocking coordinated to signal Natasha Katz's lights and Finn Ross' videos to flash effects on Christopher Oram's set. They resemble random bursts of frost more than the releasing of hidden powers to create an expression of individuality. (For a musical with a main plot point about magically being able to create snow and ice, the visuals throughout seem especially undernourished.) The burst of light that suddenly reveals Elsa in her icy gown (also designed by Oram) is more suitable for a diva trying to generate applause than for a character who no longer cares what others think of her.
But what really keeps the film's hit song from soaring is that bookwriter Jennifer Lee, who wrote and co-directed the film, places it later in the story so that it can close the first act. But by that time, the musical belongs to Anna.
Or, more specifically, it belongs to Patti Murin, who finally returns to Broadway after her breakout starring gig as the title character in LYSISTRATA JONES. A skilled verbal and physical comic whose performance mixes sympathetic off-kilter awkwardness with an appealing take-charge spirit, Murin lifts the entertainment quotient of Frozen considerably whenever she's on stage.
The first act offers Murin in a terrifically goofy song and dance to the very catchy "Love Is An Open Door" with another charmer, John Riddle, who plays Prince Hans, the fellow who proposes to Anna the day he meets her.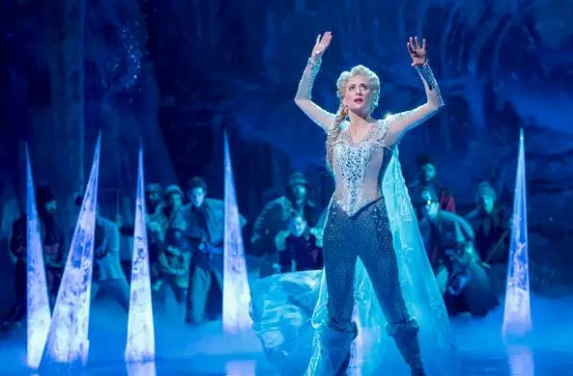 Anna leaves Hans in charge of Arendelle while she goes off to find her runaway sister, and along the way she meets ice vendor Kristoff (Jelani Alladin), with whom she bickers so much that you know they're crazy about each other. Kristoff's business partner is a reindeer named Sven, played for realism by Andrew Pirozzi in a full-body costume. Rounding out their search party is the silly snowman Olaf (Greg Hildreth, in full view, handling a puppet) who, unaware of the effect sunshine has on those of his ilk, longs to experience summer.
The briskly-paced film's simple story could perhaps be well-adapted into an intermissionless 90-minute musical, but on the St. James stage, the two-act Frozen is stuffed with new songs and extended moments that, while professionally done, do little to enhance what's already there. Sapped of the animated physical gags that work so well in her screenplay, Lee's book settles into a malaise of cuteness, and the film's major theme of the strength of sisterly love is spelled out, but not emotionally conveyed.
Older theatre-goers may think they've stumbled onto a new revival of OH! CALCUTTA!, once the second act opening song "Hygge" kicks into gear. Emerging from a sauna is a chorus of dancers clad in body stockings suggesting nudity, who frolic about to choreographer Rob Ashford's giddy routine that has them quickly maneuvering towels and leaves to cover up the parts not sanctioned by Disney Theatrical Productions.
And while that spirited moment adds nothing to the plot or the character development, its go-for-broke weirdness is preferable to the rather perfunctory brand of musical theatre otherwise offered by much of this lukewarm adaptation.