BWW Review: Lindsey Ferrentino's THIS FLAT EARTH Explores a Child's Reaction to a School Shooting
The willingness to suspend disbelief is a long-standing tradition in live theatre, and as long as playwrights and directors firmly establish their boundaries of realism, it's reasonable for audience members to go along with them.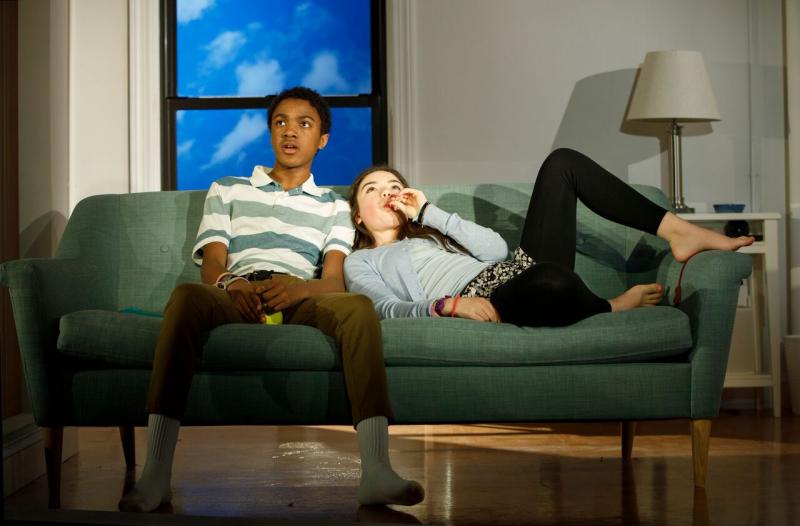 For example, when, in Rebecca Taichman's staging of Lindsey Ferrentino's drama This Flat Earth, cellist Christine H. Kim, in full view of the audience, provides the music for when character plays some Bach on her record player, it's reasonable for us to accept it.
But when the central character, 13-year-old Julie (excellent Ella Kennedy Davis), expresses shock at finding out that there have been shootings at other schools before the one she survived a month ago, and is angry that nobody ever bothered to tell her, the playwright doesn't quite explain her ignorance convincingly.
Living with her widowed dad Dan (Lucas Papaelias), who struggles to make a living after giving up his fledgling career as a stand-up comic, the facts that Julie doesn't have a cell phone or a computer and doesn't pay attention to the news are the excuses offered.
Her best friend Zander (sweetly awkward Ian Saint-Germain) incredulously asks why she thinks they regularly have school drills to prepare for these things.
"We practice 'cause the adults knew it would eventually happen to us too," he explains with fatalist matter-of-factness. "This one was just our turn."
Julie's obliviousness might be explained as post-traumatic stress, first demonstrated by her frightened reaction to hearing the music played by her upstairs neighbor (Lynda Gravatt). Designer Dane Laffrey provides an impressive two-level set depicting both apartments.
But the play never seriously probes into Julie's psychological issues. Instead, the focus is on her connection with a classmate named Noelle, who was killed in the shooting.
Several pieces of Julie's meager wardrobe, purchased at Goodwill, used to belong to Noelle, whose family is very well off financially, and now Dan has offered to store boxes filled with tins of gourmet popcorn that the murdered child sold for the school orchestra's fundraiser, and have them delivered; a kind gesture to help ease the grief of her mother Lisa (Cassie Beck).
But when Lisa discovers that Dan faked his address in order to get his daughter into a better school, she feels obligated to report the illegal act, so Julie and Zander hatch a plot, one that would seem really cruel if they weren't children, to try and convince Lisa to allow her to stay.
On the day of the shooting, Julie was about to hand in her report on Christopher Columbus. This Flat Earth takes its title from an entry in Emma Miller Bolenius' 1919 volume, "The Boys' and Girls' Reader: Fifth Reader," describing how Columbus had to fight against people's fears that the Atlantic Ocean was "filled with monsters large enough to devour their ships, and with fearful waterfalls over which their frail vessels would plunge to destruction" in order to get men to sail with him.
Unfortunately, the connection between the imagined fears of 15th Century sailors and the very real fears of 21st Century children and their parents doesn't hold water.