BWW Review: Lauren Yee's THE GREAT LEAP Mixes Basketball and Politics in Communist China
Commencing in 1958, Chairman Mao Zedong's Great Leap Forward was a 5-year plan to convert Communist China's largely agricultural economy into government-run farming collectives, freeing up resources for manufacturing and building infrastructure. It didn't end well.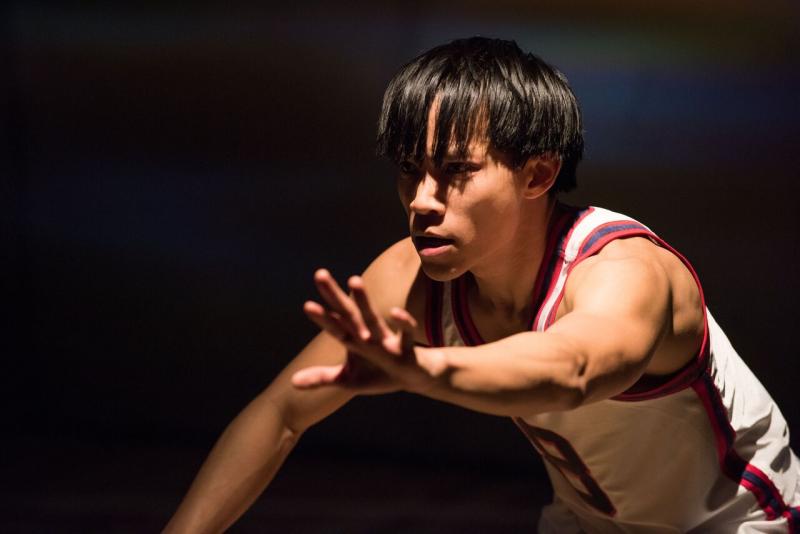 Lauren Yee's new drama set partially in The People's Republic of China, The Great Leap, ends extremely well. Its kicker of a finish, acted out by BD Wong in director Taibi Magar's Atlantic Stage 2 production, is both surprising and, when you think about it, makes perfect sense.
Unfortunately, despite a fine company and a story with some spark to it, getting to that terrific ending is a bit of a trudge.
Inspired by events experienced by the playwright's father, the focus of the play is on a cocky 17-year-old Chinese-American basketball player named Manford (hyper-energetic Tony Aidan Vo), known to dominate the playgrounds of San Francisco's Chinatown in the late 1980s.
The local street legend shows up at a practice for the University of San Francisco's unimpressive basketball team, begging coach Saul (hilariously brash and salty-tongued Ned Eisenberg) for a spot at guard. It's the end of the season, but Manford has eye on their upcoming trip across the Pacific for a friendship game against Beijing University.
At first the coach has no use for the under 6-footer, but Manford is relentless ("I am the most relentless person you have ever met and if you have met someone more relentless than me, tell me, tell me and I will meet them and I will find a way to become even more relentless than them.") and insists that, if the USF players are honest, they'll admit he's bested all of them on the streets. And after sinking 100 free throws in a row, he's in.
Back in 1971, when Saul was hired by the Chinese university to teach their team the western style of play, he struck up a friendship with his interpreter, Wen Chang (Wong), who now coaches their men's team. The connection that both Manford and Wen Chang have with a 6'2" woman basketball player, never seen in the play, hints at the young man's main reason for wanting to take the trip.
If not biologically cousins, Manford and the play's fourth character, Connie (Ali Ahn), regard each other as such. Her primary function seems to be to help get information out to the audience.
The trip to China happens to occur at the time of the student-led protests in Tiananmen Square and players are reminded that their roles as ambassadors of good will must preclude them from any public displays of opinion involving local politics. But accidents do happen.
Subdued and well-mannered, Wen Chang expresses polite obligatory respectful for his country's government to his brash and potty-mouthed guest, but Yee, Wong and Magar see to it that his real feelings subtly surface. The playwright's work is at its best when comparing the two cultures' contrasting styles of play to their contrasting styles of life.
But Yee's story seems too large and action-packed to be satisfactorily told in a four-character play. Too much is described rather than seen, which saps the piece of potential excitement. (A climactic scene is staged with the quartet facing front and narrating the action to the audience.) Theatre budgets being what they are, a small-scale play like The Great Leap will stand a better chance of being produced, but this one might prove far more interesting played on a full court.