BWW Review: John Doyle Cuts PACIFIC OVERTURES Down To Prelude Size
The best thing about Classic Stage Company's small-scale, extensively trimmed production of Stephen Sondheim and John Weidman's extraordinarily-written 1976 musical, Pacific Overtures, is a chance to see a terrific ensemble of actors taken from the New York stage's severely underutilized pool of Asian-American talent. The company includes notables of the musical stage such as Ann Harada, Orville Mendoza, Thom Sesma and Marc Oka.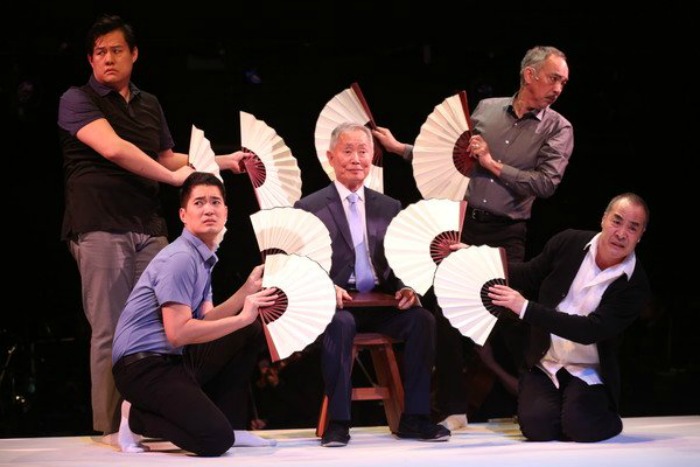 And having the popular actor/activist George Takei among them is certain to attract audience members not typically seen attending Off-Broadway musical theatre.
But this production is directed and designed by the company's new artistic director, John Doyle, who has been a polarizing presence in New York theatre, to say the least. First gaining attention in Gotham for his revivals of SWEENEY TODD and COMPANY, where the scores were re-orchestrated so that actors could double as musicians, Doyle has acquired both fans and foes for his stripped down, conceptual revivals of musicals. (This is by no means what he exclusively does, but rather, what he's most known for.)
Opening on Broadway in the same season as A CHORUS LINE and CHICAGO, Harold Prince's original production of Pacific Overtures didn't quite receive all the attention it deserved. But then, drawing mainstream audiences into a show about how, in 1853, Commodore Matthew Perry of the United States Navy used threats of military force to end Japan's policy of isolation and establish trade - with a closing song that served as a reminder of how the island nation was now economically thriving while New York was falling apart - was not the safest commercial bet.
Over thirty actors took the stage in that premiere production, which was designed to tell its story as an English-language piece of kabuki theatre that evolved into contemporary musical theatre as Japan evolved into a westernized economic power. Sondheim's score also evolved from period Japanese tones to in-you-face Broadway.
Doyle's production cuts characters, dialogue and musical moments, streamlining the show from two acts that run for about two-and-a-half hours to 90 minutes without an intermission. The removal of the popular song "Chrysanthemum Tea" may infuriate many fans, but with the two authors still alive and empowered to quash any changes they disapprove of, the director can't be charged with artistic revisionism.
There are undoubtedly some textures missing, although the musical may very well feel complete enough to first-time viewers, and the choice to have the ten-member cast wear designer Ann Hould-Ward's contemporary clothing accented with touches to suggest 19th Century garb changes the focus from moving forward to looking back, but there's no denying the graceful intimacy of the CSC mounting.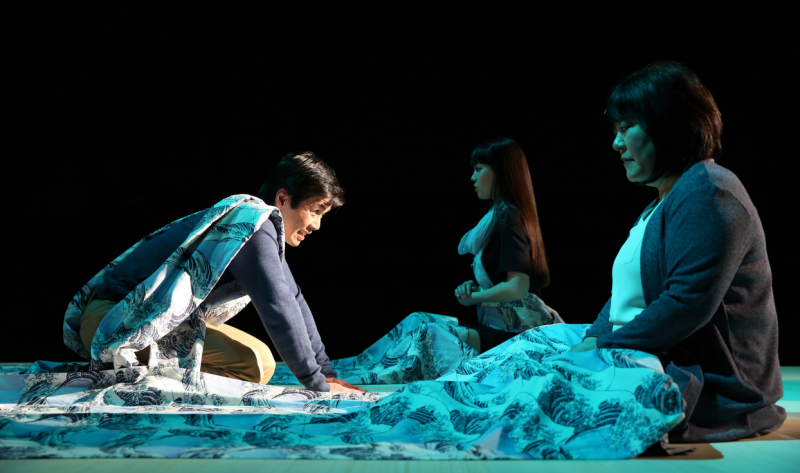 With the audience seated on two sides, the stage is a billowing white platform that lifts to great sails on one side and descends on the other to music director Greg Jarrett's nine-member ensemble playing Jonathan Tunick's orchestrations.
Takei plays The Reciter, a narrating character that traditionally dominates the proceedings and expresses themes in eastern terms, but Doyle undercuts his impact from the start by having his exposition speeches during the opening "The Advantages of Floating in the Middle of the Sea," heard as a voiceover rather than having the actor seen. His understated performance of a role that seems significantly smaller has a quiet nobility.
Sesma, as is his habit, is the one who brings the strongest command of the stage as Lord Abe, who must find a way to deal with the "four black dragons" who have appeared on their shore, demanding an audience with the Shogun.
He appoints a samurai named Kayama (Stephen Eng) as Prefect of the Police for the sole purpose of having him approach the great battleships and command Perry to leave. Kayama's wife, Tamate (Megan Masako Haley) is certain her husband is being set up to fail, but with the assistance of Manjiro (Mendoza), a fisherman who has been sentenced to death for returning to Japan after spending time in America, he's able to facilitate the process of forced diplomacy.
Eventually more foreign devils arrive from Great Britain, France, The Netherlands and Czarist Russia (inexplicably wrapped in a Soviet flag), anxious to establish trade, and an enterprising madam (Harada) is seen training her ladies in the art of seduction.
Though the mixing of cultures invites conflict, western fashions and ways become more influential on the island nation, and the decision is made to modernize the country in order to compete as equals with Americans and Europeans, and to dominate their Asian neighbors.
The whittled-down text may dilute the musical's impact somewhat, but the wit, intelligence and incisive exploration of history's issues are still evident. Rarely is a musical this non-traditional and daring also executed so well, and the CSC company is an expert and engaging group of storytellers.