Click Here for More Articles on ENCORES!
BWW Review: In Anne Kauffman's Incisive Encores! Production, ASSASSINS Seems More Relevant Than Ever
A folk-singing black man with an optimistic view of America looks back at our nation's history of angry white people finding no better way to cope with their grievances than by firing a gun at the president.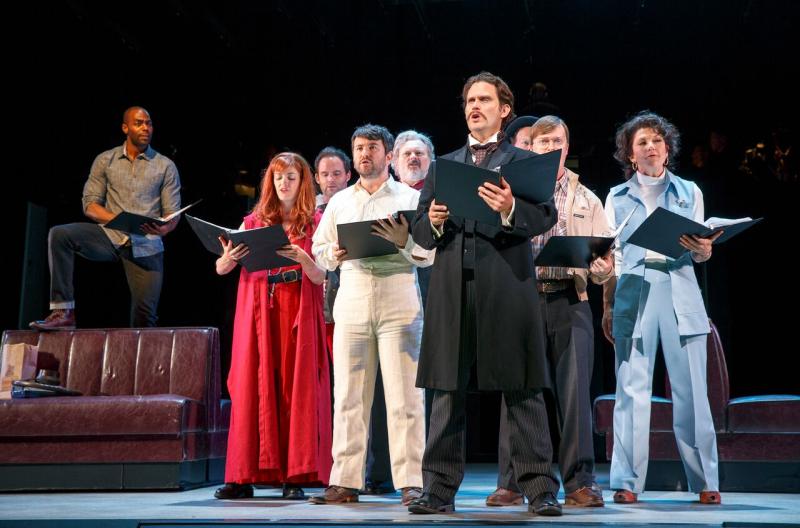 That's not exactly the theme that composer/lyricist Stephen Sondheim and bookwriter John Weidman had in mind when ASSASSINS premiered Off-Broadway in 1990. Their concept-heavy musical of scenes and songs exploring the motives of the four men who have assassinated American presidents, and six other people who tried, features a Woody Guthrie-type balladeer cast as the nation's conscience.
White actors played the part in both that production and in the show's 2004 Broadway premiere, but this black man's commentary on white violence is one of the many striking features of director Anne Kauffman's exciting and incisive concert mounting for New York City Center's Encores! Off-Center.
Words like "ambitious" and "daring" can only begin to describe a musical that has John Wilkes Booth singing a patriotic hymn to the Confederacy, Squeaky Fromme and John Hinckley crooning a catchy love tune for Charles Manson and Jodie Foster, and a carnival game setting where frustrated Americans can win prizes by shooting the commander-in-chief. Despite being the hottest theatre ticket in town when it opened 27 years ago at Playwrights Horizons' tiny first 42nd Street space, commercial producers weren't touching it. Not even with the Sondheim pedigree.
A West End production followed at the Donmar Warehouse as the score gained increasing admiration after the Off-Broadway cast album was released. A 2001 Roundabout Theatre Production at Studio 54 was postponed after the events of 9/11 (one of the musical's characters is Samuel Byck, who attempted to hijack a 747 and crash it into the White House to kill Richard Nixon) and though ASSASSINS won five Tony Awards when Roundabout mounted it on Broadway in 2004, some would blame the incoming Republican National Convention at Madison Square Garden as contributing to its brief limited run not being extended.
Sondheim's score, rather slyly, contains some of his catchiest melodies, as characters sing in the popular styles of their times, ranging from the 1860s to the 1980s. As played by music director Chris Fenwick's twelve-piece orchestra, Michael Starobin's excellent orchestrations capture the sound of each period.
The bouncy opening, "Everybody's Got The Right To Be Happy," tweaks the American promise of the right to pursue happiness into a perceived right to have happiness handed to you. In "Another National Anthem," the defiant killers and would-be killers proclaim the country's real official motto as "Where's my prize?"
While ASSASSINS surely doesn't encourage violence, the complex material effectively explores its motivations, and for audiences in 2017, some of them are becoming more and more relatable.
At Wednesday's opening performance, after that commentating balladeer (a lovely turn by sweet-voiced Clifton Duncan) sang the words "Every now and then the country goes a little wrong," the audience cut in with cheers and applause that went on for so long that he had to stop singing.
Though it's unlikely there were many in the City Center audience who would sympathize with John Wilkes Booth (sung with a thrilling baritone by Steven Pasquale), the Internet age has made it apparent that his mournful observation that "the country is not what it was" is still shared by many.
"A gun kills many men... Long before you shoot the gun," sings Leon Czolgosz, who gunned down William McKinley. Played with power and heartbreaking pathos by Shuler Hensley, Czolgosz worked under inhumane conditions at a glass factory for six cents an hour, and points out the suffering of his fellow laborers who toil in sweatshops and mines to help make fortunes for the elite.
Likewise, immigrant Giuseppe Zangara (played with manic energy by Alex Brightman), who was electrocuted for killing Chicago Mayor Anton Cermak in his attempt to assassinate President-Elect Franklin D. Roosevelt, angrily condemn his new homeland as a place where he's not seen as a true American and his rights and opportunities are controlled by the wealthy few.
Steven Boyer is painfully touching as lonely John Hinckley, who shot Ronald Reagan in an attempt to win the romantic attention of actress Jodie Foster. One might compare him with OKLAHOMA!'s Judd Fry, but if Hinckley lived in the world of DEAR EVAN HANSEN perhaps he could have found compassion on the Internet. The musical matches him with another young loner, Squeaky Fromme, played with a mix of grim politically-minded seriousness and free-spirited sexuality by Erin Marky. Rejected by her family, Fromme explains how she found acceptance in the loving arms of madman Charles Manson, and sought to murder Gerald Ford in order to give him television exposure as a trial witness.
Other characters are drawn as more entertaining than sympathetic. Victoria Clark is very funny as another would-be Ford assassin, Sara Jane Moore, who keeps accidentally shooting her gun off. John Ellison Conlee does a rousing turn as The Man who was hanged for killing James Garfield, Charles Guiteau, grandly cakewalking his way to the gallows while trying to hide his fear. Guiteau, to a modern audience, can also be seen as a symbol of white male privilege as he tries to force a kiss from Moore and insists, with no qualifications, on being appointed ambassador to France.
Coaxing them into their infamy is the proprietor of a Shoot The President carnival game, played with lounge-singer sleaze by Ethan Lipton.
Unusual for a musical, Weidman's book contains many scenes that stand alone without leading into songs, and Kauffman's keen naturalistic direction makes these moments stand out with just as much impact as the musical ones.
Danny Wolohan gives a sharp comic performance in his two monologues as Byck, recording audio cassettes to Leonard Bernstein and to Richard Nixon, venting his frustrations and mapping out his plans.
There's an extremely moving scene between Hensley's Czolgosz and Pearl Sun's Emma Goldman, where the political activist tries to instill a sense of worth into her troubled admirer.
The dramatic climax occurs when Lee Harvey Oswald (Cory Michael Smith) finally makes an appearance late in the game, and Booth leads the impassioned plea for him to take advantage of the opportunity he has to assassinate John F. Kennedy; an action the ghosts of assassins of the past and future see as a way to keep their memories alive in the public consciousness.
The production ends with a simple, but frightening visual of Kauffman's invention, ensuring that ASSASSINS is seen as a musical that looks at America's past and demands changes to keep the cycle of violence from continuing into the future.