Review: Director Daniel Fish Makes Sensational Broadway Debut Illuminating Contemporary Issues in Rodgers and Hammerstein's OKLAHOMA!
As with setting a Shakespeare comedy in outer space or a Wagner opera in a subway station, director Daniel Fish's jaunty riff on Richard Rodgers and Oscar Hammerstein II's 1943 classic Oklahoma! may not look or sound the way the authors imagined, but it's a lot more faithful to its source than other musical revivals that seem determined to rewrite history.
Unlike last season's major reworking of CAROUSEL and the current, significantly tweaked revisal of KISS ME, KATE, the contemporary lens with which Oklahoma! is seen does not include the attitude that this landmark of musical theatre needs to be adjusted in order to be palatable for 21st Century audiences. The minor cuts made to the script are primarily there to accommodate a production with only twelve actors. And though many will undoubtedly disagree, the change to the ending, like the non-traditional finish to the current MY FAIR LADY, is more of staging choice than a rewrite, despite there being one significant word omitted. And it's an interpretive decision that seems perfectly foreshadowed by an earlier scene.
Originating at Bard College and playing a stint at St. Ann's Warehouse before transferring to Circle In The Square, Fish's mounting illuminates ideas that have been in Hammerstein's script for 75 years, yet are more in the forefront of public thought these days.
Upon entering the theatre, set designer Laura Jellinek reminds Manhattan playgoers that we share a country with people who regard gun ownership as an important part of their culture. The character of Jud Fry, played with nervous desperation by Patrick Vaill, suggests a type of male defined today as an incel (involuntarily celibate), who behaves as though his attraction for a woman requires reciprocation. The target of his lust, Laurey, is played with protective aloofness by Rebecca Naomi Jones and there's a contemporary familiarity to her explanation that she accepted Jud's invitation to the community's box social only because she's afraid he might react violently if she turned him down.
And if you're looking in the right place at the right time, you might catch a brief commentary on the attitudes that have led to the Black Lives Matter movement.
With the audience surrounding the action arena style on three sides, the playing area suggests a high school or community center cafeteria where food is set on long tables to be prepared for a large group. A pile of corn is stacked at least as high as a baby elephant's eye and the audience is invited to line up for a tasty portion of chili and cornbread during intermission.
Though the musical is set shortly before the Oklahoma territory was admitted to the union as a state in 1907, designer Terese Wadden dresses the cast in modern interpretations of what the characters would have worn over 100 years ago.
The suggestion is that, perhaps to pass some time while waiting for supper to be ready, a guitar-strumming singing cowboy played by Damon Daunno decides to break into a rendition of the musical's opening number, "Oh, What a Beautiful Mornin'." His singing is less Broadway and more in line with rural western traditions with bits of yodeling, falsetto riffs and joyful interjections. Before the song is over, he's joined by conductor Nathan Koci's on-stage 7-piece band playing Daniel Kluger's dive bar orchestrations.
And then Mary Testa, playing a woman who, at the moment, is emptying little boxes of cornbread mix into a bowl, starts saying Aunt Eller's lines with that expert comic deadpan of hers. Despite being a strong belter instead of a soprano, Jones jumps in to play Laurey and soon everyone has claimed a part.
Sometimes the actors relate to each other face to face, other times they just go about their business and throw out their lines from wherever they are, contributing to a loose, improvised feel.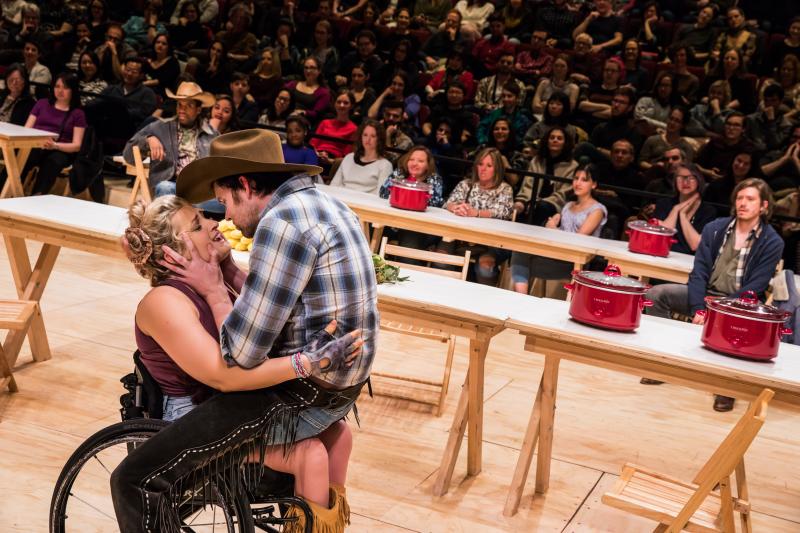 The house lights remain on for most of the show, but designer Scott Zielinski, as though someone hanging around the cafeteria had some bright ideas, adds a few extreme effects, highlighting moments of sexual subtext, defining the uncomfortably dark and cramped atmosphere of Jud's smokehouse and requiring the audience to imagine for themselves what is happening when they hear the sound of wet, sloppy kissing.
A scene that is frequently played for comedy is staged in darkness with the actors followed by a video camera that projects closeups of their faces on the wall, intensifying the ugly reality of the moment.
The ballet where Laurey's dream of romance with Curly turns into a nightmare when her fears of Jud take over has always been staged with a full company of dancers at the end of the first act. Here, the ballet is a solo effort opening Act II, choreographed by John Heginbotham and danced thrillingly by Gabrielle Hamilton, dressed in an oversized shirt imprinted with "Dream Baby Dream." Despite the minimalism, the moment fully achieves the goal of delving into Laurey's psyche and dramatizing her fears.
But despite such daring moves, this is still very much a traditional Oklahoma! Ali Stroker is a burst of gleeful, comedic energy as Ado Annie, proudly ripping through "I Can't Say No," as a declaration that her character's choices in regards to dating and sexual activity are nothing to be embarrassed or shy about.
James Davis is adorably knuckleheaded as her equally sexed-up suitor Will Parker (You can almost hear his brain twisting during long pauses where he's trying to think.) and delightfully two-steps on the tables while singing of his adventures in Kansas City.
Will Brill plays off the two of them with great comic reactions as traveling peddler Ali Hakim, trying to get himself out of a shotgun wedding after a romp with Ado Annie. The character Gertie, Laurey's rival for Curly, is almost completely defined by a piercing, high-pitched laugh and Mallory Portnoy plays it to wonderfully funny extremes.
Character men Anthony Carson, Will Man and Mitch Tebo all make fine contributions to the ensemble effort.
Some of the finest Broadway musical revivals of this young century have been directed by Bartlett Sher, who has staged handsome, traditional-looking productions of SOUTH PACIFIC, THE KING AND I, FIDDLER ON THE ROOF and MY FAIR LADY that, with minimal revisions, interpret the material with a modern eye. While Daniel Fish's mounting of Oklahoma!, may seem like an extreme departure on the surface, it displays the same respect for the authors' work while drawing out what will connect with modern audiences. This is a sensational Broadway debut for an artist we'll hopefully be seeing more from in years to come.
---
Shop BroadwayWorld

Shop this season's new musicals! Get dressed up for a night at the theatre, or just a night at home, with merch from some of Broadway's biggest hits including SOME LIKE IT HOT, KIMBERLY AKIMBO, and more!
---
Related Stories