BWW Review: CONTACT! at New York Philharmonic And National Sawdust - A Roll of Duct Tape Made me Cry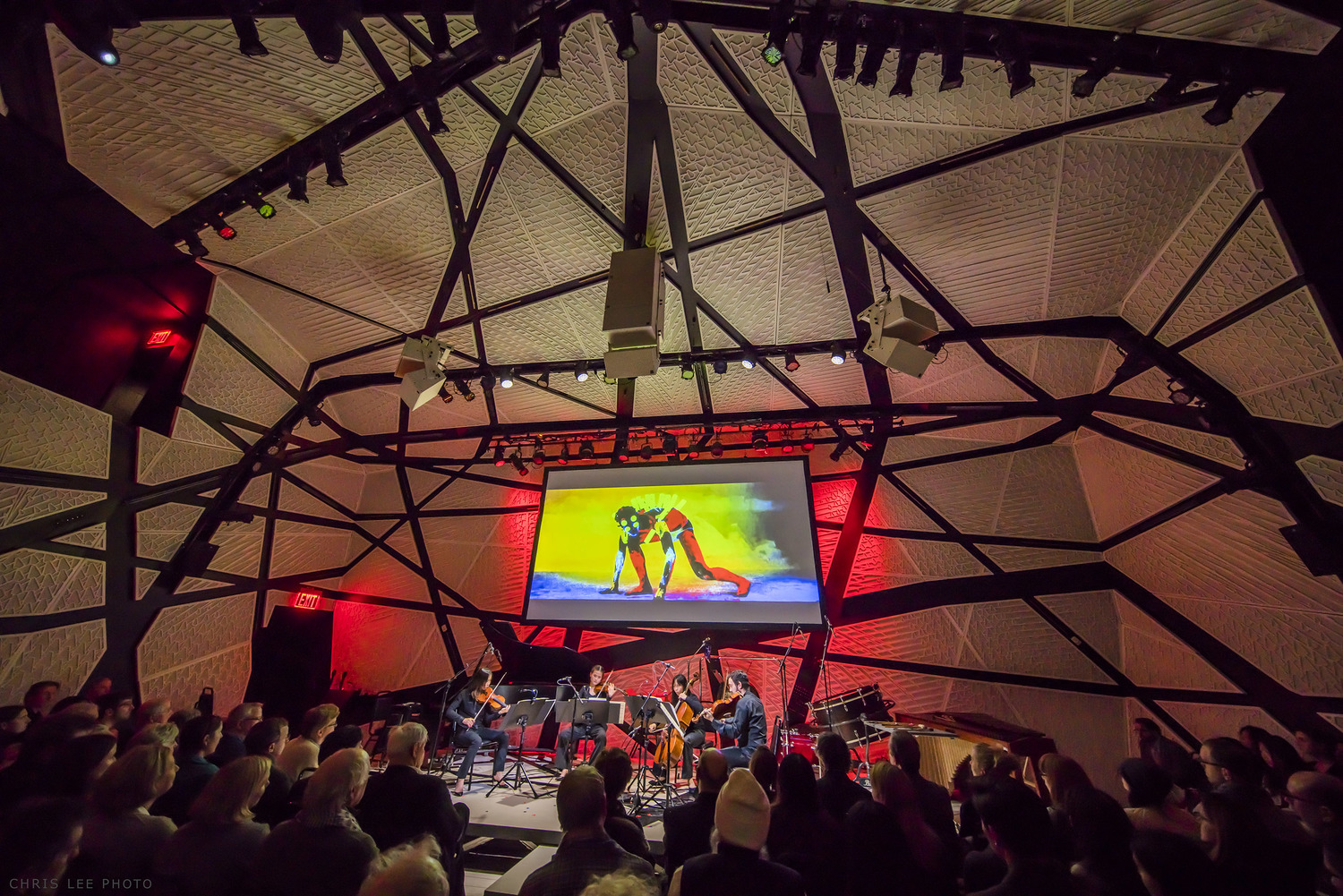 To be completely fair, modern day compositions, stereotypically, leave me wanting more. I can respect and appreciate the intellectual prowess required for their execution, but usually that's all I'm left with--respect. That, and an acute exhaustion from being led through the densely populated forest of the composer's often frustrating psyche. I am thrilled to report--this was not my experience last night at CONTACT!, a collaboration between the New York Philharmonic and National Sawdust.
The evening boasted a program exclusively populated by female composers whose pieces were written within the last 10 years. Trust me, you wish you'd been there...Sarah Kirkland Snider's Thread and Fray opened the concert. Interested in harmonically driven narratives, Ms. Snider expertly manipulated a simple unison melody by crafting a tumbling routine from instrument to instrument, joyfully tickling the listener's ear. The melody and its treatment didn't take itself too seriously. That said, it was playful, but executed with a reverent hand--evoking respect for the detailed artistry. Often times, the use of a singular melodic structure, when passed from instrument to instrument without deft handling, can produce...well, just a cacophony of noise. That was not the case here. At its climax, the melodies evoked a structured entanglement, the complexity of which is often found only in the impossibilities of nature--reminiscent of a nimble dance-like frolic of squirrels on a dense spring day.
Ladies and gentlemen, we officially arrived at the point in the evening when a roll of duct tape made me cry. A roll of duct tape. Ashley Fure's Therefore I Was proved a tour de force, employing extended techniques--the use of unconventional objects to play instruments, affecting untraditional sounds--creating a Requiem for a Dream-esque aural landscape that transformed the listener. The piece was inspired by her grandmother's Parkinson's disease and the breakdown in communication between the mind and body. The piece touched parts of the brain that sleep--invoking mysterious angst and despair, frustration and internal pain. The nature of the composition was one of confusion and the listener was never sure the origin of the sounds--similar to the illness, one could imagine. It was the aural representation of something that the brain can't grasp-an ethereal, intangible struggle. This is what hell must be like. And she managed to do this, in part, by employing a credit card, cd case, and roll of duct tape banging around the guts of a piano. I've yet to see extended techniques like these prove so transformative in their effectiveness-but I am officially a convert. Thank you, Ms. Fure.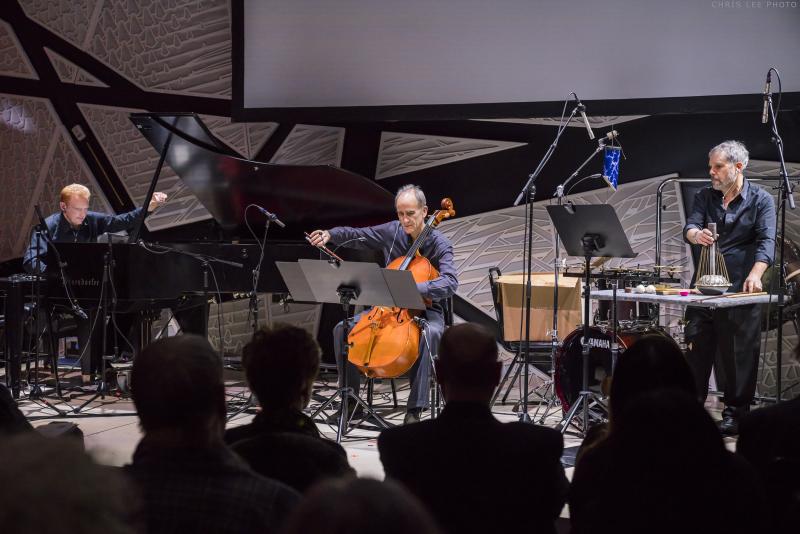 Du Yun's Tattooed in Snow was inspired, in part, by an experience the composer had on a summit in Egypt, when the calls to prayer intertwined in an orgy of sound. This moment was effectively and expertly captured. You could imagine the way the reverent reminders must have made love in the air as they ascended--harmonious, yet dissonant and innocently clumsy in their desire for lustful fulfillment. As the piece advanced, the listener was taken on a journey, a descent from the peaceful, heavenly perch, down to Earth and into the spiraling madness of humanity. At one point, you could feel the inner monologues of the crazed, swirling together in a cacophony of undulating madness. The techniques employed made me nauseas--feeling like I was in a rowboat without a paddle in the middle of a misty, churning river. And I loved it. She expertly captured the manic loneliness of depression, concluding the musical journey in sedated mania, leaving the listener with the impending doom that it was only a matter of time before we'd be hit with the next spike of psychopathy. It simultaneously reminded me that I was saner than I may think and that I needed to book a date with my therapist.
Parthenogenesis takes its name from the scientific term for asexual reproduction. In the piece, Fernanda Aoki Navarro incorporated a compositional practice where she presented melodic material in its entirety at first introduction, without intention of developing the material--a nod to the asexual reproductive process. In addition to this melodic treatment, she also aimed to democratize melodic ownership and flattened the traditional hierarchical structure between instruments. The piece's introduction was reminiscent of a fiendish piano concerto before the role of the instrument shifted, moving into a purely supportive one--employing a treatment similar to the traditional double-bass line. The piece was less emotionally evocative as the other offerings of the evening, but was intellectually stimulating--I mean, there was a raucous bass-clarinet solo for Christ's sake, how could you not appreciate the ingenuity?
Ró closed the program, and when this petite nymph walked out with her feathered cuffs, patent leather pumps, and bass-flute--I was already sold. The music was filled with questions, steeped in whispers and dangerous secrets. There was a deep, pervasive sadness that was desperate to be heard--the origins of which were slippery and evasive, but monolithically significant. It was clear that the melancholy of this world was not new, but instead, home. A learned existence, shrouding each inhalation with heavy yearning. For what? Unclear. The sadness had permeated the very essence of being, never to be banished. It was accepted--Dido's welcome guest? The piece ended with a slight lilt, but without hope--without the freedom of choice or redemption. Thank you, Anna Thorvaldsdottir.
These women shut it DOWN last night in Brooklyn. Why I was one of the youngest members of the audience, I'll not understand--but there it is. People, get your ass to these performances. If a roll of duct tape wasn't making you cry on a Monday night, you were doing it wrong.
For more information on upcoming performances, check out the links below:
New York Philharmonic: https://nyphil.org/
National Sawdust: https://nationalsawdust.org/
Photo Credit: Chris Lee