BWW Review: CHICAGO's Fiery Jazz Fails to Sizzle at AT&T Performing Arts Center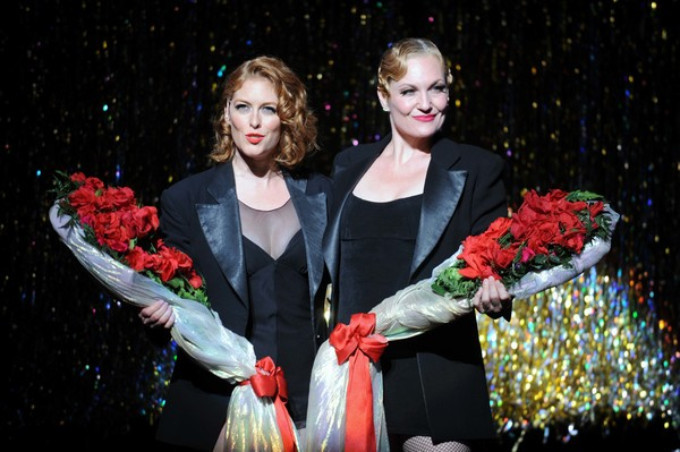 I hold each theatre to its own sliding scale of standards. As far as fare goes in Dallas/Ft. Worth, Broadway tours should be in the top echelon. However, on opening night December 18th at the AT&T Performing Arts Center in the auspicious Winspear Opera House, the touring troupe of Chicago failed to find its legs.
As one of the most iconic American musicals written by Kander and Ebb, with original choreography by Bob Fosse, the stakes are always high for any production of Chicago. It has been performed thousands of times by high schools and community theatres since its conception on the Great White Way. I have seen some abysmal showings as well as some stellar ones. Sad to say that Chicago certainly lost some of its fire in this rendition, though the cast managed to hit some occasional high notes.
Chicago's tale follows young, unhappily married, big dreamer Roxie Hart as she is sent to jail for murdering the man with whom she was having an illicit affair. Upon arrival in the penitentiary, Roxie encounters Ms. Velma Kelly, vaudeville circuit star and recent widow at her own suspected hand. The two women duke it out for preferential treatment from the best trial attorney in the biz, Billy Flynn, as well as the jailhouse Matron, Mama Morton. Roxie has aspirations of using her trial publicity to become a celebrity, while Velma is already famous in her own right and is itching to get back in the spotlight.
The Chicago Orchestra conducted by Andrew Bryan was decidedly the hit of the show. With their center stage, big bandstand presence and booming brass section, the audience was audibly pleased from beginning to end with their performance. All accompaniments were fantastic compliments to the cast without being overpowering.
Choreography re-created by David Bushman, originally choreographed for the New York production by Ann Reinking in the style of Bob Fosse, was crisp and professional on the ever-present ensemble. Incorporating original Fosse style kept the movement engaging while fresh by comparison to a lot of touring shows that rely on a lot of big scenery, props, and gimmicks. When not dancing in the chorus numbers, the ensemble could be found striking poses and oozing with Fosse panache on the sides of the bandstand, enhancing the overall feel of the performances taking place in a night club. My only complaint occurred a handful of times when dancers were required to sing while lying on the floor in unusual positions that crushed the diaphragm and altered their vocal abilities.
Being an admirer of the darker side of the 1920s, what with mob rule and seedy speakeasies, I found it a shame that the direction by Walter Bobbie in this National Tour often felt campy and pandering. Arguably the most famous number, the merry murderesses "Cell Block Tango", read more like the Real Housewives of Chicago with quirky quips and chirpy, sickly-saccharine spoken word. It grievously lacked the usual heat and tension; one has to wonder if that is due to direction or actors taking liberties.
Matron Mama Morton, played by Jennifer Fouché, proved by far to be the most professional female lead on stage. Her performance of "When You're Good to Mama" had just the right levels of humor mixed with mischief backed by a booming yet sultry belt. Starry-eyed Roxie Hart, played by Dylis Croman, was far kookier than I've seen the role in the past. Her facial expressions likened to those of Lucille Ball. By the end of the show her wild embodiment and varied vocal pitch grew to be downright endearing, and her dancing far surpassed her principle counterpart.
Velma Kelly, played by veteran Terra C. MacLeod, was contentiously my biggest grievance with this production. Clearly a seasoned actress with some finely honed technique, MacLeod seemed astonishingly out of place amidst the greener cast. Her costuming and makeup, designed by William Ivey Long, made her appear far older than the role should be played. Her out of breath performance of "All That Jazz" at the top of act one began the show on a sour note. However, perhaps the most glaring missteps were revealed in "I Can't Do It Alone" where MacLeod could barely complete the choreographed routine in a believable manner as a sought-after vaudeville starlet. Stewart/Whitley casting perhaps should have rethought this choice as, barring some stellar turn around in the remaining performances, it may be time for MacLeod to retire this role.
The male-leads of the tour were a mixed bag. Eddie George as Billy Flynn did a decent job of acting the role. Much to his detriment he was unable to showcase more than a mediocre voice to go along with the amicable acting chops. Paul Vogt, as sad-sucker Amos Hart, received sizable sympathies from the audience throughout the evening. His performance of "Mister Cellophane" was clearly an audience favorite, and he garnered ample applause for his exit.
In technical notes, a huge imposition on the more discerning audience members' patience was the deficiency of the follow-spots. I can't imagine what caused the numerous, notable errors, but I sincerely hope that the operator began to anticipate scenes after that opening night.
There was plenty of applause, but for the avid theatre-goer this round of Chicago is scant the sizzle. Touring is difficult and perhaps the show strengthened throughout the run here in Dallas, there's little time left to find out! Chicago runs December 18-23 in the Winspear Opera House. Tickets and information for the AT&T Performing Arts Center's Broadway Series can be found at https://www.attpac.org/