BWW Review: Alison Fraser Has A Bloody Tale To Tell in Aaron Mark's SQUEAMISH
Playwright/director Aaron Mark has a habit of leaving audiences in the dark. Not that his plays are especially hard to grasp, but the author who specializes sending chills up and down spines with his solo theatrical thrillers seems to enjoy having viewers sitting in pitch blackness for at least a part of every production. It works wonders for the creepiness factors.
His newest piece, Squeamish, follows the same formula as his previous two entries into the genre, EMPANATA LOCA (which starred Daphne Rubin-Vega as a subway denizen in a story inspired by the legend of Sweeney Todd) and ANOTHER MEDEA (wherein Tom Hewitt played a homicidal actor). A character on a dimly-lit stage, tells a macabre personal history to an unseen companion, allowing the audience a voyeuristic experience.
The character in this case is a Manhattan therapist named Sharon, a perfect fit for the quirky sophistication of Alison Fraser. For 90 minutes, she sits center stage on a comfy chair in the Upper West Side home office of her psychiatrist for 15 years, Dr. Schneider.
A woman with a history of drug and alcohol abuse, Sharon tells of her recent trip to Lubbock, Texas for the funeral of her nephew, who is said to have committed suicide. That's where she meets Cara, who was his girlfriend.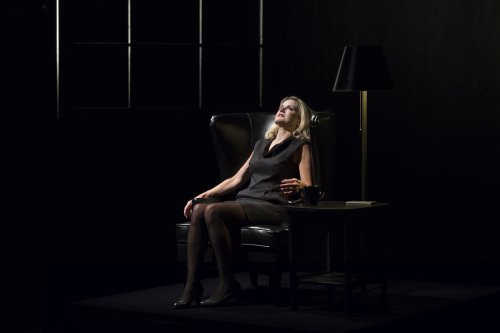 Cara, as she finds out, lives the lifestyle of a Sanguinarine; a vampire culture of people who practice blood consumption. It would be best left to the playwright and the actor to reveal the details of her story, in which Sharon obtains a certain balance in life, as well as a sexual gratification, from acts of cutting and tasting.
Though the play doesn't make dark humor of the subject, Fraser gives a deceptively charming portrait of a clever woman who would be the hit of any penthouse cocktail party, slowly revealing her seductive (or repulsive) darker side. Her ability to remain engaging while being seated for the entire length of the play is a credit to the details of her acting skills and the fine pacing of the playwright/director's surprising story.
To call Squeamish a bloody good time may be too obvious a pun, but Aaron Mark once again displays a sharp skill for descriptive and entertaining storytelling.