BWW Interview: The Great Kathleen Turner Opens Up About Her Cafe Carlyle Debut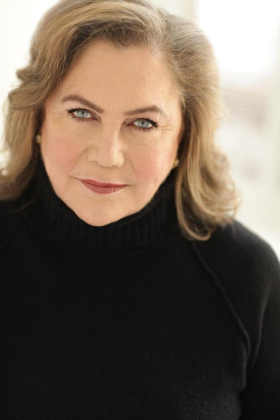 One of the most celebrated actresses of her generation, the sensual, smokey-voiced Kathleen Turner is making her eagerly awaited Cafe Carlyle debut and our own Richard Ridge caught up with the Oscar and Tony nominated star a few days before her opening night.
---
How excited are you to make your Cafe Carlyle debut?
I'm very excited. To me the Carlyle has always been, since I first moved to New York, a very high standard of quality of talent. From my first show seeing Barbara Cook, seeing Dixie Carter and of course Elaine Stritch... I've always thought it was a high watermark.
Your show is called 'Finding My Voice'. You have always been known as an actress full of wonderful surprises. So how did this show come about?
This really started with doing 'Mother Courage' at The Arena Stage in Washington and this is the most personal performance I've ever done: stories from my life and songs that I love without a character to be behind.
You are known to millions of fans for your distinctive voice. How did you come to find and nurture the universally unmistakable Kathleen Turner sound?
I think my voice started with living in so many places. I've been told I have American consonants, British vowels and a Spanish inflection pattern. Everyone's voice gets lower as the years go on... I just got to start lower.
I know you are an admirer of the Great American Songbook. When did you first realize you could sing?
I always knew I could sing, I just never liked musicals.
You are a pop culture icon due to your many unforgettable, award-winning performances on film including 'Serial Mom' and your Oscar-nominated turn in 'Peggy Sue Got Married.' But the noir thriller 'Body Heat' was your first film and it made you an instant star. Where did you go to allow yourself the freedom to make the choices that this role demanded?
I think a lot of my performance in 'Body Heat' came from naivete. I was just doing my job. I did not understand the impact of film then.
You made some of your most successful films, 'Romancing the Stone', 'The Jewel of the Nile' and 'The War of the Roses' with Michael Douglas and Danny DeVito. I understand you were the three musketeers of pranksters on the set?
I never prank and tell.
One of my favorite films of yours is Ken Russell's 'Crimes of Passion', which is indescribably transgressive. You gave a brave and fearless performance as China Blue. What made you want to do this film and what was Ken Russell like to work with as a director?
I wanted to work with Ken Russell because I always thought him a genius. I underestimated how challenging the combination of Ken Russell and Anthony Perkins would be. Still I am proud of the performance.
You are one of the most celebrated and in demand theatre actresses and you were nominated for Tony Awards for two of the greatest stage performances that I had the privilege of witnessing- Maggie in 'Cat on a Hot Tin Roof' and Martha in 'Who's Afraid of Virginia Woolf'. How challenging and rewarding were these two roles?
Doing Maggie in 'Cat on a Hot Tin Roof' was my return to Broadway after becoming known as a film star and a lot of that challenge was just proving how natural my working on stage still was. Martha was a role I hoped to do for 30 years and it was all I hoped it would be.
There is nothing that keeps you down. In the early 1990's you were diagnosed with rheumatoid arthritis, how did you learn to deal with it, work through it and live with it?
I address that in part in my show- how to overcome that in the work. It did essentially stop me from taking some work for years, but with medical innovations that is no longer an issue.
You are also one of the most sought after directors and teachers. What gives you the greatest artistic satisfaction with both directing and teaching?
I love teaching. I only work with Juniors and Seniors in University because I don't want to scare the others, but truly to be able to show someone how to find their own interpretation is thrilling. I made one serious mistake in thinking I could both play a lead and direct and found that was not possible. I got so caught up in the directing I suddenly realized I had completely neglected the character. I will not make that mistake again.
Thank you for being an activist and for your social awareness- for giving back and for always taking a stand. How essential is this for you? And what issues are you the most passionate about?
Being an activist is almost as important to me as my work as an actor. The words have the same root. At this time I am most concerned about the attacks on women's personal freedoms and the threat to all freedoms in general.
You live your life by your own rules with such grace and style- what is the best bit of advice that you have been given both personally and professionally that you live by?
Be brave.
You have recently celebrated your 40th years in your profession as a working actress, director and teacher. What keeps it all so fresh for you?
What keeps it all fresh for me is the joy of creating. It is truly thrilling to feel that you are creating something only you can do.
Finally, what are you looking forward to the most about your debut at the legendary Café Carlyle?
I am looking forward to performing at The Carlyle because it is another challenge...because it will be thrilling and therefore irresistible.
---
Performances will take place Tuesday - Saturday at 8:45pm. Weekday pricing begins at $85 per person / Bar Seating: $60 / Premium Seating: $135. Weekend pricing begins at $100 per person / Bar Seating: $75 / Premium Seating: $150. Reservations can be made by phone at 212.744.1600 or online via Ticketweb. Café Carlyle is located in The Carlyle, A Rosewood Hotel (35 East 76th Street, at Madison Avenue).
Related Articles