BWW Interview: TINY BEAUTIFUL THINGS Redux for Natalie Woolams-Torres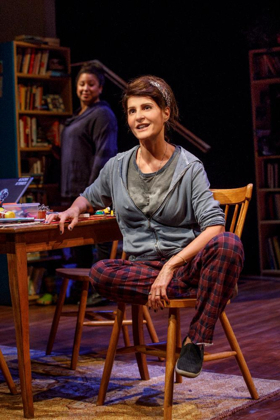 When Natalie Woolams-Torres got word that TINY BEAUTIFUL THINGS was returning to The Public after playing to sell-out crowds last year, she leapt at the opportunity to reprise her role. Roles, that is.
In the production, adapted by Nia Vardalos from the book "Tiny Beautiful Things: Advice on Love and Life from Dear Sugar" by Cheryl Strayed, each of the four performers plays multiple letter-writers addressing Dear Sugar, an online advice column. Heart-wrenching stories unveil sexual abuse, childhood trauma, and death among other dilemmas.
"I knew about this book before I knew about them making a play," Woolams-Torres said. "It was very personal to me and to a lot of people in my life. The first time I did the play it felt like I had made a spiritual choice," she said. "Some kind of divine intervention-this book got me into therapy, which changed my life and enabled me to be an actor."
Woolams-Torres described a hectic year that included performing in The Public's controversial JULIUS CAESAR. "The first time I did this play it was more of a sensitive journey, then I did Shakespeare so this was a really active time," she said. The second opportunity to participate in TINY BEAUTIFUL THINGS posed another challenge. "I was intrigued and excited to do the role again to see what I was like now.
"I work with people who are really kind, which is nice because this isn't a regular character-driven play," Woolams-Torres explained. "It's more like doing therapy in a town square, Cheryl has said that many times and that's what it is for me."
Sugar's brutally honest responses include detailing her addiction to heroin and a tragic incident involving a baby bird. "She responds with such bare honesty that we don't see every day," Woolams-Torres said. She has a theory as to why the writers were so open about their assorted troubles. "You'd think they'd have to protect themselves but there's something about being anonymous and being able to speak up.
"I felt like I had the rug yanked from under my feet when I read the book. Once you bring a piece like this to life, as actors we're not anonymous. The reactions are very visceral," she said of audience response. "I hate to call it a performance because it's not the same each night."
The cast hears people crying, sniffling and one time, wailing during emotional sections. "We have 300 people in the audience and when someone wails it completely changes what we're doing. Everything shifts onstage," Woolams-Torres said. "We reach out and embrace them with these words. It's unlike anything I've ever done and has taught me a lot as a person and character."
Loss of a mother figures prominently in TINY BEAUTIFUL THINGS. "I've had a few close friends of mine go through pretty traumatic losses," Woolams-Torres said. "Two friends lost their mothers pretty young and their response was profound. One believed her mother put me in this play for a reason.
"This play is about listening, and that's it. It's my second time around and I still have trouble explaining it," she said with a laugh. "Without getting too personal, there are certain things that have happened to me that have happened to the letter writers," Woolams-Torres said. "That freaked me out. One performance I couldn't keep it together because I couldn't believe how it was hooking up to my personal life." One letter talks about a son who was killed by a speeding car. "I never had that experience but that moment guts me, especially with the lighting.
"There will be moments sitting on stage and these hot yellow lights turn into a cool blue light and changes the whole feel," she said.
When she isn't performing she absorbs the production as would an audience member. "I really listen. Instead of protesters rushing the stage in protest, people are sobbing," Woolams-Torres said.
"Without getting too political, when we first did this piece it was right after the election and the city as a whole was grieving," she explained. "It was just shocking, and when people saw this show it was a cathartic experience. I think it's a hit because people need to grieve and laugh and sit down with each other and experience something collectively.
"Cheryl touches on pockets of pain we should have no shame in talking about. Maybe these things haven't happened to you, but we can all relate. She answers questions with her own honesty, she allows all of us to ask the questions we really want to know. She doesn't sugar-coat it," Woolams-Torres said.
The play was so popular it sold out before opening last year. Woolams-Torres thinks The Public brought it back because so many fans were shut out. "I feel like we weren't done yet. And now we're in the largest theater so more people can see it," she said.
Woolams-Torres was inspired by her second-grade teacher. "Diane Feldman started the musical performance program at my school and she told me I have the soul of an actress," said the 29-year-old Upper West Sider. "Another teacher told me he was going to pay to see me one day."
Tiny Beautiful Things, at The Public Theater, 425 Lafayette Street, has been extended to December 10th. Directed by Thomas Kail, scenic design by Rachel Hauck, lighting design by Jeff Croiter, sound design by Jill BC Du Boff, costume design by Jennifer Moeller and co-conceived by Marshall Heyman, Thomas Kail and Nia Vardalos.
Photo Credit: Joan Marcus