Click Here for More Articles on MEAN GIRLS
BWW Interview: She's Doin' This Thing (x3)! Jennifer Simard Tells All About Her New Roles in MEAN GIRLS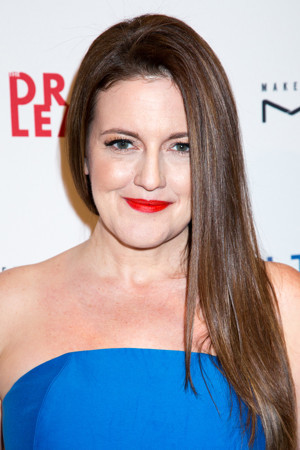 It's a good thing that Jennifer Simard looks great in pink...
Following a triumphant run as the hilarious Ernestina in Hello, Dolly!, the Tony nominee has just taken over not one, but three roles in Mean Girls on Broadway- Mrs. Heron, Ms. Norbury and Mrs. George.
Before moving into the August Wilson, Jennifer starred in Disaster! (Sister Mary Downey, Tony nomination); The 25th Annual Putnam County Spelling Bee (Rona); and the original companies of Sister Act and Shrek the Musical. Film credits include: The Flintstones in Viva Rock Vegas, Wish You Were Dead, and Sisters. Television credits include: "The Good Wife," "Law & Order," "Law & Order SVU," "The King of Queens" and "Younger." Solo show: Stigma.
Jennifer just checked in with BroadwayWorld to tell us all about her first week in the show. Check out the full interview below!
---
How is it going so far in Mean Girls?
I think last Friday was the first time I felt that I figured out some of the question marks in my head. You know, the people who originate the parts, they have previews... your first few shows, generally, no matter how prepared you are, it's hard. I'd say it took me about four or five shows to figure a few things out. Then yesterday's matinee was the first time that I felt, "Ah! I'm in the groove now."
Replacements always tell me that the first show in is an out-of-body experience...
Honestly, you're faking it until you make it. I'm so privileged to get to work with this cast. They are truly lovely to me. A few of them were extremely complimentary and said, "You made it look so easy. How do you do it?" And first of all, it's not of course! I think that experience comes in. You remind yourself psychologically, "It's all gonna be fine."
That's great that they've been so supportive already. I'm sure that makes the transition easier.
I have been so impressed. Though this cast is very young, they seem to have learned quickly that the best way to welcome new people is to welcome change and not resist it. I think it's a learned trait, through experience, that there's many ways to do something. For example, when you're sick, you just can't do the show the same way. It's always interesting to learn that the audience responds just as much.
And what a fun trio of characters that you get to play...
It's been a while since I've been able to do that. I think that's another reason why it's been such a comfortable transition. This is really how I started out in the city- I was in Forbidden Broadway, then I Love You, You're Perfect, Now Change, which was eleven characters I think? Then there was The Thing About Men. So many characters has been my training ground. For me, this is like riding a bike. It's probably what I'm most comfortable doing! [Laughs] For a long time all I wanted was to sink my teeth into one role. Now I've had a few opportunities to do that and it does feel really nice to come back home.
Blonde. . . . #meangirlsbway, #meangirls, #mrsgeorge, #blonde, #greeneyes, #broadway, #theatre, #theater, #lucky, #coolmom, #theresadevilonmyshoulder, #noreally, #amypoehler

A post shared by Jennifer Simard (@thejennifersimard) on Sep 21, 2018 at 10:15pm PDT
Brunette. . . . #meangirlsbway, #meangirls, #msnorbury, #brunette, #broadway, #theater, #theatre, #lucky, #glasses, #tinafey

A post shared by Jennifer Simard (@thejennifersimard) on Sep 21, 2018 at 10:13pm PDT
You seem so perfect for these roles!
I can't stop smiling! My dresser Mel is fantastic and she laughs with me every day, because I'm just alway giggling. I love my job! It's an embarrassment of riches. I can't believe I'm paid to do this for a living. I do not take it for granted.
Did you get to meet with Tina [Fey] at all before going in?
She came for the day of my put-in for a few minutes, and she was backstage yesterday and we got to chat about life stuff. But I've known her now for over two years. She and Jason Moore and Amy Poehler cast me in Sisters with them. There were a few of us- Ann Harada, Brian d'Arcy James, Renee Elise Goldsberry and myself. We just had one or two lines each. It was like Broadway camp at the movies!
So yeah, I've known her for a while and when she's around I feel quite comfortable. She's so down to earth. Believe what you hear. She's just normal- a regular person, who has her priorities straight.
And of course you're stepping into your Disaster! sister, Kerry Butter's shoes. Did you get to talk with her at all before going into the show?
I didn't talk to her specifically about the role. I thought she was terrific and I thought, even if this were Forbidden Broadway and I wanted to do a Kerry Butler impression, I wouldn't do that. I'm completely different from Kerry. Even if I was trying to be Kerry it would come off so differently.
We did have phone call early on though to chat about how I got hired. I got her flowers, she got me flowers. There's room for everybody. I think it's so nice when you get to take over for a colleague and friend. There's a certain amount of trust there. I can't speak for Kerry, but I think she knows that I would never say or do anything that wouldn't have her best interests at heart. And I can speak for myself and say that I know Kerry wouldn't say or do anything that didn't have my best interests at heart. And now she's going of to do Beetlejuice! Isn't that amazing?
---
You've been having an incredible year! First Hello, Dolly!, then the Muny, then your show at the Green Room... and I understand you are going back for two more?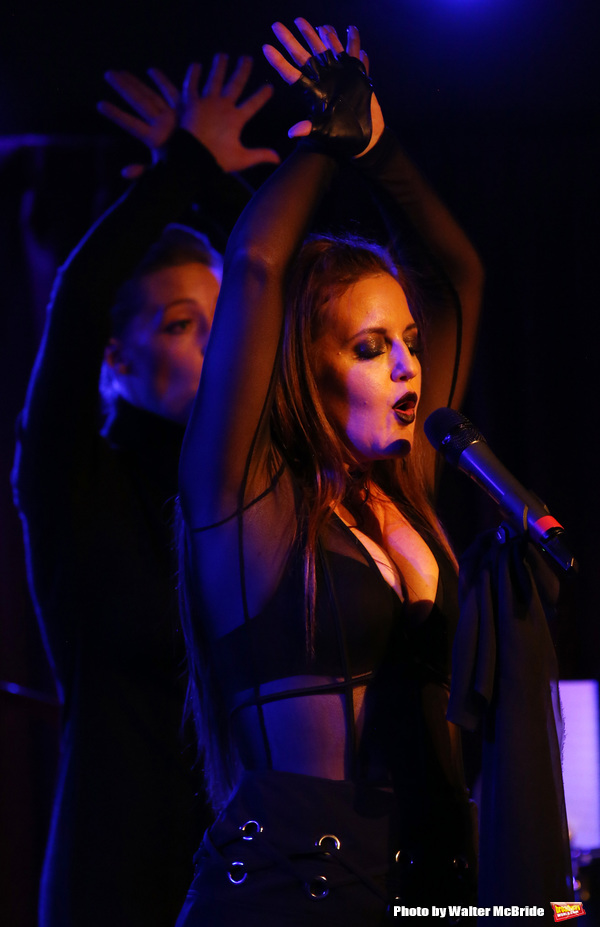 Yes! The venue was really excited by how the first show went. I'm really delighted that I get to go back! I was so excited when they asked, and we really wanted to do it sooner rather than later. So we'll be back on Monday, November 5 and Monday, December 17, which is my late mother's birthday.
It' something I'm very passionate about and it's so personal to me. And of course revealing all of these stories about myself are all in an effort to create an arc that everyone can relate to in some way. I think we achieved that!
Didn't you also just launch a new podcast?
Yes, my friend and co-host Jamie Du Mont is the creator. He interviewed a few of us and just loved us so much that he wanted all four of us to do it. So it's me, Jamie, Rob Russo, who worked on Hillary Clinton's campaign and is a theatre blogger/reviewer, and Leslie Kritzer. The four of us are on this road and Joel Grey was our first interview (click here to listen). I'm so happy that this will live in perpetuity. I learned things about him that I never knew, even with all of the research. Little things come up in the moment that are so interesting to hear. It's a privilege to be a small part of it. We'll release one every Wednesday- we did that so that actors would have something to listen to between shows.
Oh, that's so smart! When you're not doing all of these things, what do you like to do to relax?
I am a big fan of a bubble bath with a muji mister. And lots of candlelight. That's gotta be my #1 way to relax. I enjoy podcasts of all kinds. I have a couple of television shows that I really like to watch. I like dark comedy/dramedies, like Fargo, Better Call Saul, Preacher! And I'm a bit addicted to working out these days. It makes me feel better.
Are there any Broadway shows coming up this season that you are really excited for?
Network! Network! Network! Network!
Did you see it in London?
No, but my friend Alan H. Green knows this. I turned him on to seeing the movie years ago. I said, "Alan, Network holds up!" It was released in 1976 and it still holds up to this day! It is one of the greatest films of all time. Also- my favorite TV show of all time is Breaking Bad. So Bryan Cranston is one of my very favorite actors.
I remember I was at the Drama League Awards Luncheon years ago. He was nominated the same year as me, and in my speech I made a funny with him. I said, "Can you record my outgoing voicemail message?" [Laughs] Of course he said he would, because it was in front of everyone! And of course afterwards I did not mortify myself by going up to him. A friend of mine was like, "Are you kidding. He agreed to this! This was your one shot!" [Laughs] Who knows? Maybe I can get to Network and he can make good on that.
What are you looking forward to the most in the run ahead of you in Mean Girls?
I'm looking forward to living it. I love nesting. I love my little decorated nook in my dressing room. This is going to sound really corny, but you know, you never know when it's gonna be your last Broadway show, When I say that I don't take it for granted, I really, really mean it. It is truly a privilege to go to work everyday and do something that I've been dreaming of since I was a little girl. I cannot believe that I get to do this.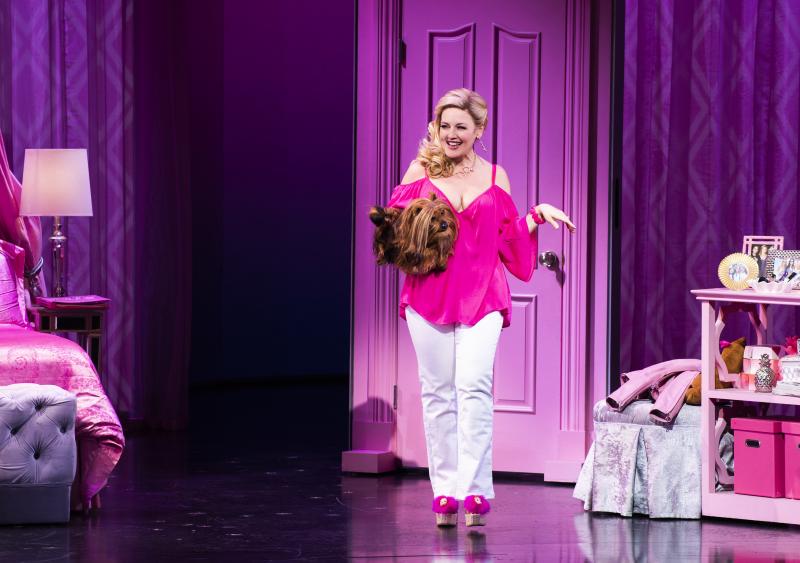 ---
Mean Girls began previews in March following its world premiere at the National Theatre in Washington D.C. Mean Girls will launch a National Tour in the fall of 2019.
Mean Girls features a book by nine-time Emmy Award winner Tina Fey, based on her screenplay for the film, music by three-time Emmy Award winner Jeff Richmond, and lyrics by two-time Tony Award nominee Nell Benjamin. Tony Award winner Casey Nicholaw directs and choreographs.
Related Articles