BWW Interview: Dane Laffrey Talks About His Tony Nominated ONCE ON THIS ISLAND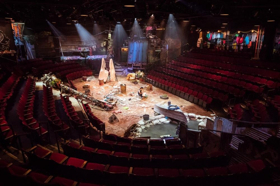 Recently, BroadwayWorld had the opportunity to interview Dane Laffrey who recently received his first Tony nomination for his work on the Broadway hit ONCE ON THIS ISLAND.
Dane's design is an explosive exercise in controlled chaos. Since ONCE ON THIS ISLAND is a tale of magical realism set in the Caribbean, Dane channeled the current conditions of regions hit by 2016's Hurricane Matthew. The stage is covered in sand, a crashed semi-truck takes up a corner of the space, a pool of water is held back by a pile of sand bags, and a downed power line has even crushed some of the seats. It's a complex set that has engrossed countless audiences seated in its theatre in the round setting. A seasoned scenic design veteran, Dane has designed sets for productions across Japan, Australia, Norway and the United States. Throughout his twelve years in the New York circuit, he's built sets for Broadway productions such as
Spring Awakening
and
Fool For Love
, along with off-Broadway hits such as
The Maids
and
Woody Harrelson
's
Bullet for Adolf,
as well as the upcoming production of Tennessee William's
Summer and Smoke.
BWW: For our readers who may not be familiar with your work, can you give us a quick rundown on you and your work?
DL: I'm a set and costume designer for Broadway, Off-Broadway and other various and sundry theatre and film projects around the country and internationally. I started taking design pretty seriously when I was a student at Interlochen Arts Academy (where I shared many daydreams and a very small cinderblock dorm room with a young
Michael Arden
, who directed ONCE ON THIS ISLAND). I got my degree in design at Australia's National Institute of Dramatic Art in Sydney and lived in Sydney until I moved to NYC in 2006. I've now lived here far longer than anywhere else and love to consider myself a New Yorker, if the native New Yorkers will have me.
BWW: What drove you to become a scenic designer?
DL: I knew loved theatre, but until I found I had an aptitude for design, I didn't know how to be good at making theatre. Initially, I think I found it to be the way I could best contribute as a theatre maker and storyteller. Honing an aesthetic and design sensibility came after.
BWW: I understand that you had a unique take for your Tony nominated design for ONCE ON THIS ISLAND. Can you talk about your concept?
DL: What makes the whole team's approach unique is that we led with honesty and context. We didn't approach the piece from a place of nostalgia, but rather considered very carefully what it meant to do ONCE ON THIS ISLAND in 2018 and how we could responsibly portray a visceral and recognizable place and set of characters. Much of ONCE ON THIS ISLAND is a play within a play: in the wake of a terrifying storm, a community of storytellers calms a little girl with the story of a young orphan who bridges a divided island. A big part of our focus has been on creating the storytelling frame - the storm-ravaged world of the storytellers. When the audience enters the space, they encounter a decimated slice of sand, covered in palm fronds, garbage and discarded stuff: the aftermath of a storm on an island that's constantly battered. From the damaged, storm-tossed and discarded, they find and create the means to tell the story.
ONCE ON THIS ISLAND is set in Haiti. From the very beginning, our goal was to honor the truth of that place and its contemporary circumstances, taking a hard look at what it meant to reinvent the show in direct conversation with the realities of the world in 2018. Our work attempts to eschew anything nostalgic or folkloric, and present the story against a recognizable contemporary environment.
BWW: What, in executing your design concept, did you find to be the most challenging for this particular show and why were they challenging?
DL: I think it was learning to trust that magic and transformation were possible inside the theatrical frame we built. As Timoun travels to "the city", beyond the immediate knowledge of the storytellers, our vocabulary becomes more fantastical. Sand is pulled away to reveal a pristine Persian rug, candlelit chandeliers and candelabras appear in the space, and
Clint Ramos
' stunning clothes begin to make the denizens of the
Hotel Beauxhommes
feel like ghosts of a colonial past. Having faith that we could take the audience on this particular journey, and expand our own conventions, was definitely a challenge.
BWW: When did you start working on ONCE ON THIS ISLAND?
DL: I think Michael and I had our first conversation about the show in January of 2016. We dreamed about it, and then as the stars aligned to make that dream a reality, the process heated up.
BWW: How long did it take you to complete everything?
DL: In a way, I'm not sure we did. The design process between inception of the revival and us moving into Circle in the Square was about 18 months. Once we were in the space, the process shifted towards creating an immersive installation in the theatre. My team and I tried to detail literally every nook and cranny of the space - there's really nowhere to hide, for anyone. That's where I'd say we didn't really complete it, we just had to stop working on it. I could have happily gone on detailing for much longer.
BWW: As a designer and director myself, I totally understand that! When you begin to tackle a design, where do you start?
DL: Always with research. Textual, yes, but mostly visual. I think learning how to collect and curate excellent visual research is one of the most important skills of a theatre designer. Our job is to reflect worlds in our work, and without knowing what those worlds actually look like, from every possible angle and perspective, we're doomed to make poor facsimiles.
BWW: Do you have any mentors or people whose work inspires you, and why?
DL: My earliest mentors David Montee and
Robin Ellis
, with whom I studied at Interlochen, taught me what theatre was. Peter Cooke, at NIDA in Sydney where I trained, taught me what it could be.
BWW: How much inspiration for your design do you draw from the script? How much of it is the director's input, and how much of it is your own ideas?
DL: Directors and designers are interpreters. We inspire and support each other immensely through the course of any process, but the script is the beginning, middle, and end. It's the thing that incites all our work, what we must always check our work against, and what we must support and elevate in performance. In the case of a world premiere musical or play I feel an enormous amount of responsibility to realize the work in precisely the spirit the writer has envisioned, because they're seeing it for the first time. With a revival, like ONCE ON THIS ISLAND, I feel a slightly different but equally important responsibility: to genuinely reimagine and reinvent the work. I think a dramatic work's second or third or fourth life must always be in conversation with contemporary context. It will always mean something new and different if you release it from nostalgia.
BWW: I couldn't agree more. What is your basic schedule, from being signed onto a show through opening night?
DL: It depends on the project, but a "typical" design process begins with a lot of research and meetings with the director / writer / other designers. We work together in model form (paper, 3D digital, or a combination of both) to develop and refine the design in scale. It's then digitally drafted, at which point conversations about fabrication (and of course budget) begin to take over. My schedule varies depending on the needs of the project; in the case of ONCE ON THIS ISLAND, I was in the theatre every day starting from when the set began to be loaded in through all the technical rehearsals and previews until the show was frozen. In total, a little more than two months, 5-6 days a week.
BWW: What are your three favorite productions you've designed and why are they your favorites?
DL: I'm bad at picking favorites, but recent productions I'm really proud of are
David Greenspan
's one-man
Strange Interlude
for its audacity,
Charles L. Mee
's
The Glory of the World
at B.A.M. for its irreverence, and
Once On This Island
for reasons too many to name.
BWW: What was the first set you ever created and how do you feel about it now?
DL: It was Snoopy's iconic red dog house for a touring production of
Snoopy!: The Musical,
when I was in high school. It was an unspeakable triumph.
BWW: What is up next for you?
DL: I'm just wrapping up a new play called
Peace For Mary Francis
at
The
New Group
, and then moving on to the world premiere of
Dave: The Musical
(after the film of the same title) with the genius
Tina Landau
, starting at
Arena Stage
in July.
BWW: What advice would you give the next generation daydreaming about following in your footsteps?
DL: Learn (and keep learning) how to self-edit. Build close collaborations. Follow the research. Relentlessly experiment. Innovate.
BWW: Is there anything else you'd like to tell our readers at BroadwayWorld?
DL: I would just love to thank the incredible fans and fans-to-be of ONCE ON THIS ISLAND for all the love you've shown our show. For better or worse, there's nothing like it on Broadway and we're all immensely grateful for everyone who comes and joins us in the circle. I, for one, will be watching the Tonys this year with a greater anticipation and excitement when Dane's category comes up.