BWW Exclusive Interview: Happy 90th Carol Channing!
The year 1921 was a busy one. Albert Einstein was lecturing in New York about his new Theory of Relativity, Charlie Chaplin's movie The Kid was released, Babe Ruth became the all time HR champ with #120, New York's Walter Kerr Theater opened, Turkey made peace with Armenia, President Harding dedicated the Tomb of the Unknown Soldier in Arlington Cemetery, Eugene O'Neill's Anna Christie received its premiere on the Great White Way and on January 31st in California, Broadway legend Carol Channing was born. That's right. This inimitable Broadway personality is celebrating her 90th birthday these days!
Carol Channing, who made strong impressions on audiences when she appeared in Lend An Ear, Gentlemen Prefer Blondes, Show Girl and a whole host of plays by George Bernard Shaw, was nominated for an Academy Award and received a Golden Globe Award for her supporting role in Ross Hunter's Thoroughly Modern Millie, and received the Tony Award as "Best Actress in a Musical" for her endearing performance as Dolly Gallagher Levi in Jerry Herman's Hello, Dolly! in 1965. Miss Channing played the meddlesome Dolly for well over 5,000 performances on Broadway and on tour-never missing a single scheduled performance. Only Yul Brynner's King of Siam comes close to that staggering accomplishment. She additionally holds the honor of being named to Richard Nixon's "Enemies List" because of her liberal viewpoint.
Carol Channing is also the recipient of two other Tony Awards: one for "Best Variety Show" as a result of the special production she did with Pearl Bailey in 1968 and a "Lifetime Achievement Award" that was bestowed upon her in 1995. All three Tony Awards are cherished possessions of the actress.
Reached by telephone in the Modesto, California home she shares with her husband Harry Kullijian, Channing was chipper and only too happy to talk about her past accomplishments as well as the projects she is presently involved in. Kullijian joined in on the conversation which was scheduled to last 20 minutes but ran on for over an hour with lots of laughs and affectionate reminiscences filling the phone lines across the continent. One thing becomes obvious from the first few moments of the chat: both Carol Channing and Harry Kullijian are very much in love.
"I'm very happy right now," says Channing, "I'm doing just what I wanted to do. Harry thinks it's wonderful if I can paint, or dance but I'm a lousy cook. I can't scrub the floor I don't know how to get it clean and the house is a mess!" All of this is a bit disheartening to a public who thought that Broadway's Dolly Levi was "a woman who arranges things: like furniture and daffodils and lives!" Miss Channing and her husband howl with laughter when that's mentioned. She then dryly comments, "Those words have a familiar ring to them. What are they from?" and there's more laughter.
The reference to Hello, Dolly! brings about observations on the Kennedy Center tribute to the show's composer and lyricist, Jerry Herman. Kullijian comments, "The only problem with that show is that they didn't let Carol sing enough of 'Hello, Dolly!'. I think that was one of the greatest, if not the greatest songs that was ever created by Jerry Herman. It works on so many levels. It beautifully fits the moment in the show and is also quite effective in Louis Armstrong's hit single of it. Each actress who has played Dolly has put her own unique twist on the number and each of them has been wonderful."
When Miss Channing is asked about the persistent rumors that Patti LuPone will be taking on the role of Dolly in the show's next Broadway revival, she comments, "How wonderful! She'll be terrific! She'll be a different Dolly, for sure, but that's the way it should be. Everyone who plays the part should make it her own. I just discovered what it was all about after doing the role over a span of time.  All the artist does is re-create what was already created -only through his or her own eyes. That's what makes it come to life. Pearl Bailey and every one of those Dollys played the part through her own eyes and many of them were wonderful! I played the role the way I saw it through my eyes."
She continues, "Thornton Wilder, who wrote the darn thing, was alive at the time we were in rehearsal. I asked him 'Is this possibly the spine of Dolly?' And you know, the man who wrote the spine doesn't always know it. He just writes honestly. He was surprised to find out what the spine was. To me, and only to me, the spine has to be a verb. Constantine Stanislavski worked this method out: It has to be a verb and it has to be true to what the person doing the role sees in it. It has to include every character in the show and it has to include the main character. We all see it differently. In the case of Dolly, the spine was to rejoin the human race. That includes Dolly, Horace and Cornelius who wants to get out of that basement."
For those people who have seen Channing's performance as Dolly, her interpretation of the spine became evident just moments prior to "Before The Parade Passes By". On a quiet street, Irene Malloy invited Dolly to join her and her friends at the 14th Street Parade. Channing's utterance of the words, "I will, Irene, I will!" captured all of Dolly's longing, desires and determination. In Miss Channing's performance, those five words not only set up the big parade number, but her triumphant return to the Harmonia Gardens.
At this point, Kullijian remarks that "Before the Parade Passes By" is sort of the theme song for both him and his wife at this point in their lives. The two of them have worked fiercely to keep the arts alive in California's public schools. "I'm 91 and Carol will be 90 on January 31st. At our age, to say 'I'm not gonna give up and allow the parade to pass us by until we get a kick-start of arts and education in the United States of America. If we don't do it, arts will go downhill and the entertainment industry will collapse because there will be no audience. Everyone will be looking for the buck instead of looking for the inspiration."
His wife interjects by saying, "There was a little boy who asked me, 'What's a concert?' My gosh, that's a tragedy. He doesn't know what a concert is!" Obviously schools aren't introducing children to the various forms of music, visual arts, dance and poetry that are part of our heritage.
"In April", Kullijian takes over, "We're coming out with a documentary about Carol's life and her involvement in the arts, although they throw in a little romance, too! It's directed by Multi TONY winner Dori Berinstein and is premiering at Tribeca in April 2011. The main thing is, we are telling the American public via television that this is what our children can do, this is what the teachers have seen and experienced in the transformation of the child before being exposed to the arts and after being exposed to the arts. We've also got celebrities lined up both in New York and in Hollywood who are eager to come in and talk about the experiences they've had regarding the arts and lend their support to us." This will take place in the form of telethons that are in the planning stages for various parts of the country within the next year or so.
He takes a breath and goes on: "We want to identify the poorest neighborhoods in the United States and bring art teachers into those areas first and they'll get funding first. We're not gonna get the whole loaf of bread, we'll be getting one slice at a time. If we don't do this, we're gonna lose the arts, we're going to lose the theatre and lose all musicals. We'll lose it all this wonderful stuff because the kids aren't experiencing it. Every child has to be exposed to the arts. They're not getting it in theirs schools and we know that."
Both Kullijian and Channing are firm believers that the arts promote intelligence and creativity in other areas such and mathematics, science and history. Time and again Channing has said that the arts become a "fertilizer for the brain" and allow other areas of intelligence to flourish within a person's mind. "I don't care what specific kind of art you love, it motivates you, it inspires you, it improves your concentration level-everything is better when one is participating in the arts." What is so impressive about this couple's dedication to this project is that they are taking this project so very personally. Kullijian explains: "Carol and I are looking at all the children in the United States. We often say, 'Those children are our children. They're all Americans.' They have to be uplifted. They have to experience music, literature, poetry, theater, sculpture and paintings. It's a crime that these things are falling to the wayside. Art is the mainstay of our souls."
There is utter conviction in the voice of Harry Kullijian when he says, "I believe that Carol Channing is the one person in this country who can say 'Come on folks, lets get together with one voice-all these 501C3's-let's get together and make this happen because the future of this country is at stake."
When asked what the high point of her professional career was, Channing thinks for a moment and replies, "I've never thought about this...every single performance was the high point." Her husband agrees with her and adds, "Carol has the ability to communicate with every individual who is privileged to watch her perform. There is something truly unique about her and I say that with all due respect." Speaking to his wife he adds, "The audience IS you and they become a part of you and you become a part of them." Those who have enjoyed Carol Channing live on stage will certainly agree with that.
As to what the low point of her career was, there's no pause. "It was when I didn't get cast in the movie version of Hello, Dolly! I remember leaning out the window of the Elizabeth Hotel in Toronto, Canada. They have a huge theater there and I was playing Hello, Dolly! I was told that Barbra Streisand was doing the film. I remember walking over to the window and thinking, 'If I could just lean out a little further, this pain would be all over....that's exactly what I thought at the time.' When the original production of Dolly! was being rehearsed, Thornton Wilder was still alive. You'll remember that he wrote the original play, The Matchmaker which our show was based on. We were awfully close. I was just crazy about him and we'd walk down the street and he'd tell others, 'This is my Dolly! Look here, that's my Dolly!.'"
Kullijian interjects that he felt Channing had played hundreds of performances in the show at that time and had become the character in her own mind. "There was a sort of a personal connection with the part that perhaps shouldn't have been. A great actor or a great actress IS the person they're playing. She WAS Dolly in her own mind and people found her to be funny and loving and hilarious all at the same time. After we'd gotten married and talked about this, I saw the hurt she experienced when her Dolly wasn't portrayed as SHE saw the character to be played."
When asked when Carol Channing would be bringing her wonderful one-woman show The First Eighty Years Are The Hardest back to New York, the answer is a sad one. "Probably never. We are so immersed in this Foundation work, we hardly have enough time to get any sleep." Her husband continues, "Carol always says, 'If your gonna do something, then do it!' and we're at an age now where time is a major factor and I think the message is more important that the messenger. There are some things that we just have to give up."
One thing is certain about Carol Channing though, she's a woman who won't give up. Like her famous character, "She's got a goal again, she's got a drive again, she's gonna feel herself coming alive again" Assuring that the arts are an integral part of every school's curriculum is an absolute passion for her and her husband. The year 1921 may have seen its share of special events, but 2011 is a year is seeing Carol Channing and Harry Kullijian fighting stronger and longer for something they truly believe in.
Happy 90th Birthday, Carol Channing!
------
About the Dr. Carol Channing and Harry Kullijian Foundation:
Broadway legend Carol Channing received her honorary doctorate from California State University Stanislaus in 2004. Since then she and her husband Harry Kullijian have been promoting arts in education through this non-profit foundation. ChanningARTS (Arts Returned To Schools) encourages you to become involved in your community and local PTA to return arts education to all public schools.
It's a 501(c)3 organization and are able to receive your tax deductible contributions by check or PayPal. Please donate today as they prepare for their National Telethons in 2011.
On Feb 21st The Actors Fund and the Nederlanders will be hosting a 90th Birthday Tribute to Carol for her 90th at the Pantages Theatre hosted by Phyllis Diller and with Joanne Worley and Carole Cook (All three were Dollys after Carol) as well as others. Visit Actorsfund.org or call323.933.9266 ext. 34 for more information.

Related Stories
Joe Panarello is one of those people who have most certainly been born with theater in their blood. As an actor, Joe has played such varied roles as Harry Roat in Frederick Knott's Wait Until D... (read more about this author)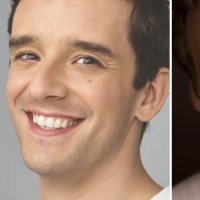 BWW Interview: Michael Urie and Ryan Spahn Discuss AT HOME AT THE ZOO in East Hampton

August 9, 2021

There's no doubt that the COVID pandemic has resulted in the loss of countless lives, caused numerous businesses to collapse and brought enormous tension to those who were forced to live in tight quarters for many months. It also presented enormous problems for those in the performing arts.
---