Click Here for More Articles on National Theater Institute
BWW Exclusive: Discover NTI's Moscow Art Theatre Semester
The National Theater Institute has partnered with the Moscow Art Theatre for nearly 25 years and is the longest cultural and educational exchange between Russia and United States. NTI offers the only opportunity for U.S. undergraduates to train at the famed Moscow Art Theatre School. The 13-week, credit-earning program offered each fall allows students to study in the birthplace of modern theater.
Students from New York University, Carnegie Mellon University, Skidmore College, Sarah Lawrence College, Barnard College, Vassar College, University of the Arts, Grinnell College, Furman University, Oberlin College, Wheaton College, Wofford College, Southern Methodist University, Lewis and Clark College, Le Moyne College, Butler University, and Wesleyan University are among those that have chosen to study abroad with the National Theater Institute's Moscow Art Theatre Semester (MATS) this fall.
MATS immerses actors in the Stanislavski training method in the very theater where he developed his approach. Daily movement and acting classes are complemented with design, voice, Russian language, and Russian theater history. In addition to a conservatory-like training regimen--six days a week taught by masters at one of the world's most renowned theater companies--MATS students experience the rich theatrical culture of that permeates Moscow by attending 40 performances of theater, opera, ballet, and music throughout the semester as well as enjoying frequent museum visits and a trip to St. Petersburg.
Alums of the program include: Elizabeth Olsen (Godzilla, Martha Marcy May Marlene, Liberal Arts), Paul Thureen (The Debate Society), Hannah Cabell (A Man For All Seasons), Kate MacCluggage (June Moon, The Farnsworth Invention, The 39 Steps), Darren Bluestone (Pride and Prejudice, Avenue Q), John Gardner (Once), and Etai Benshlomo who studied with MATS in the fall of 2007.
Etai is best known for his two-year run as Boq in Wicked on Broadway, a role he also performed in the San Francisco company, and is currently performing in the First National Tour. Of his time with MATS, he says "I never realized that, aside from learning about theater, art, and history through this experience, I would learn so much about myself...I will never forget my experience in Moscow, and I only wish that everyone has an experience as fulfilling in their lives."
During his semester abroad, Etai kept a blog of his experience and has agreed to share excerpts of it with BroadwayWorld's Risk Again! Notes from the National Theater Institute:
"The arts are so highly revered in Russia. To be an artist, be it in the dramatic arts, music, dance, and what have you, is considered among the highest callings for a person. Many of Russia's most well-respected artists are bowed to. A theater actor can become a national celebrity. It is incredible to be in a place where the arts are so respected and non-elitist. [...] There is so much art and culture surrounding us, countless plays, ballets, operas. It is truly like a Mecca for an artist. [...] Theater in Moscow is unlike anything I've seen before. I can see why it is considered some of the best theater in the world."
"One of the highest honors of being here has been knowing that I am associated with the Moscow Art Theatre School. This is considered the best theater training school in Russia. For the four-year program for Russian students, about 8,000-10,000 hopefuls audition every year for about 25 spots. Thus, they train the best student actors in Russia. To be a part of such an institution is a dream come true. All of my fellow American students are very serious about their craft, and the working environment has been ideal."
"The schedule is very demanding. We have class Monday through Saturday 9:30am - 6pm every day. [...] The teachers, while warm, welcoming, and very kind, are not coddling. They demand 110% effort at all times. All of our classes are taught in or interpreted in English. [...] The training is heavily ensemble-based. Russian training is all about ensemble...working with your fellow actors in a comfortable and safe environment. We have played a lot of fun games to help us get connected to one another and to get to know each other. Also, we've done some very tough exercises in sense memory, ensemble energy, connection to one's partner, and something called 'psychological gesture.' The training is based mainly on the Stanislavsky Method, which is the basis of modern acting training."
"I am studying with some of the best of the best. It is in no way easy, but it is this kind of rigorous training that I wanted from this experience. I am loving every second of my training with the National Theater Institute at the Moscow Art Theatre School."
Next week: NTI in London! We share experiences from the NTI Semester's two-week residency in London, England, training with the renowned theater company, Complicite.
To learn more and apply, visit www.NationalTheaterInstitute.org and on Facebook, Twitter, and Instagram (@NTIRiskFailRisk). Deadline to apply for the spring 2015 semester is October 20. Applications for MATS 2015 (fall semester) are due by March 20. Early applications are encouraged.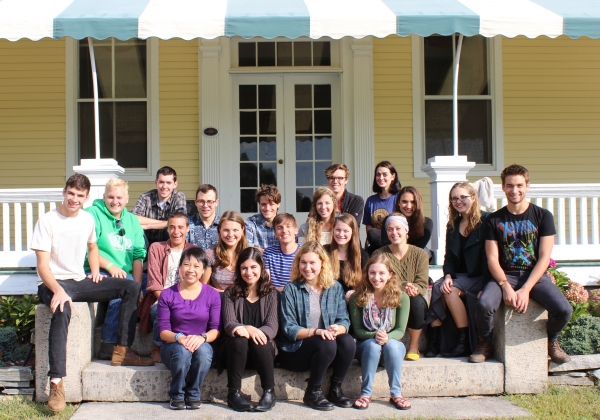 Moscow Art Theatre Semester's 2014 ensemble at the Eugene O'Neill Theater Center before departing for Russia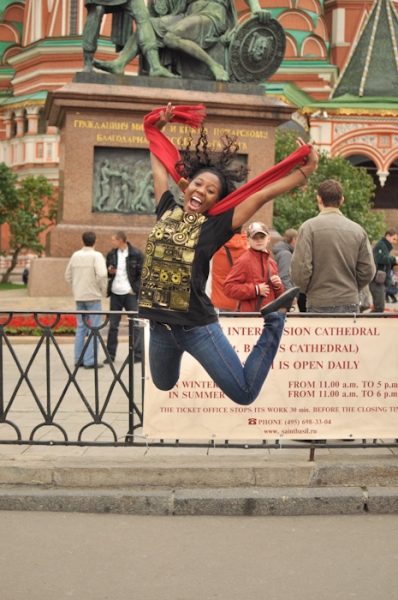 MATS Student Jacqueline Arnor dances during a tour of Moscow. Photo by Kelley Vandilla.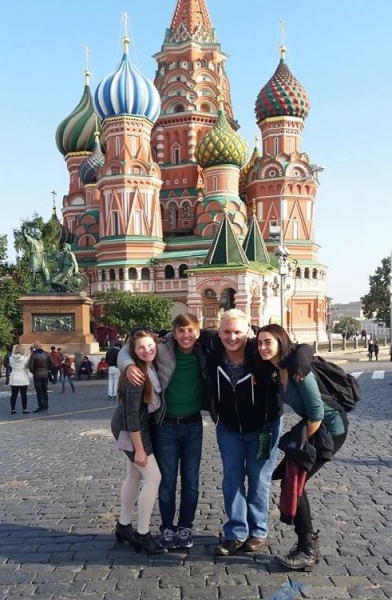 MATS 2014 students outside of Saint Basil's Cathedral

MATS 2012 ensemble visits St. Petersburg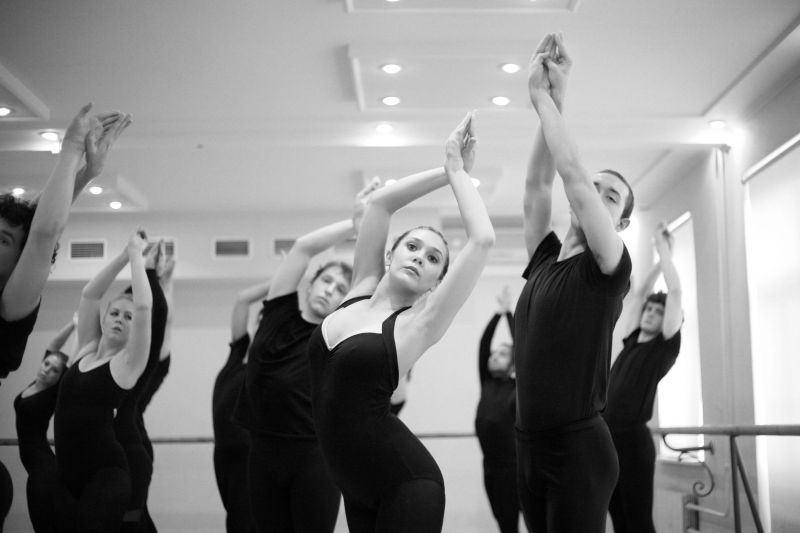 Elizabeth Olsen in ballet class taught by Larissa Borisnova (not pictured) who is former Prima Ballerina of the Bolshoi and a "National Artist of Russia," and who has been instructing NTI-MATS students since the MATS program's inception in 1991.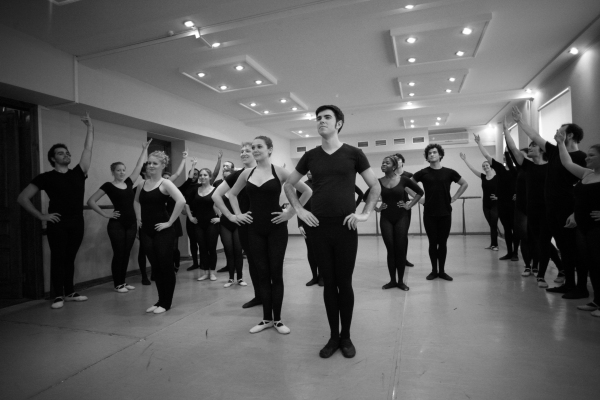 MATS 2009 ensemble in ballet rehearsal

Etai Benshlomo as Boq in WICKED. Photo by Joan Marcus.

Etai Benshlomo. Photo by Jeremy Folmer Photography.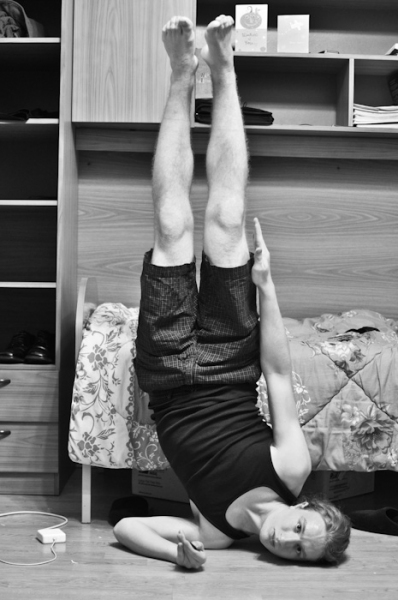 Droznin in the dorms with MATS 2010. Photo by Kelley Vandilla.

Chekhov scene work with MATS 2012

Related Articles
With a singular schedule and an unmatched breadth of training, the National Theater Institute's six semester-long programs offer students a springboard to the professional world (read more...)