Click Here to Visit the College Center

BWW Blog: Some Kind of Wonderful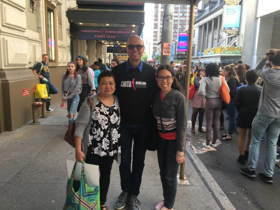 Hey Broadwayworld. Its Lea writing this blog while listening to "Let it Go" and "Monster" from Frozen simultaneously while not trying to scream like a crazy person because I love it so much but have yet to see it.
I have been going over what I have to do in these next few days with a smile. I have to select a dance show outside of school and write a review about it. think I might head to Joyce Theater since it will be much easier to access than BAM in Brooklyn. My acting class is another story. I forgot to even mention I am one of two acting majors in the class. The other person has a lot of confidence in her abilities. Somehow that makes me reflect on my own insecurity. I guess the good thing about this is it makes me push myself harder and attempt new things. Like they say, there's always a silver lining to every cloud. Pardon the cliché.
We had a bunch of days off due to holidays. I thought "Why not try a digital lotto?" so I did that for two days during Yom Kippur break. I lost every single lotto on Tuesday but SURPRISE I ended up winning two the next day for Beautiful and Summer). Guess which one I decided to go for (As I think about "I Feel the Earth Move" - Hint Hint). Beautiful! This was my second time seeing it. My friend Stephanie had told me about it since she went to go see it at Melissa Benoist's last performance. My mom and I first saw this show back in February 2014 when the show opened with Jessie Mueller (I wrote about her in my review for my community college's newspaper and thought it was a Tony Winning performance back then). Now in 2018, my mom and I saw her sister Abby in the role of the music icon. I did not know that Carole King the actual person and her former songwriting partner Gerry Goffin, attended Queens College. So cool to have that connection (I cheered the minute they mentioned the school.). We just laughed at the fact that from where we were seated, everyone in the audience was my mom's age (like sixties). No one my age! I guess I consider myself an old soul. It was amazing seeing it after so many years. Its still in tip top shape. The best was meeting most of the cast at the stage door like Paul Anthony Stewart (Don Krishner), Stephanie Martignetti (who was on for Cynthia Weil), Ben Jacoby (Barry Mann), Abby Mueller (Carole King), Evan Todd (Gerry Goffin), Kennedy Caughell (Ensemble) and so many more. I wished I could have stayed to watch the dimming of the lights for Marin Mazzie but I had to be home for my 9am shop hours (why do 9am hours exist?...just kidding).
I forgot to mention in my previous blog that our fall production of She Kills Monsters will be directed and created by the students with faculty supervision of course. We started work on the platforms for the show in the shop. We still have a long way to go before the show opens in late October. Some of my shop hours are dedicated to preparing the props for this production. The times I had been there was mostly to clean up the shop. We are getting ready to hopefully build the big stuff.
Now, it's time for me to talk about my favorite time of the year aka what I call Black Friday (Basically my excuse to skip out the real Black Friday sales): BROADWAY FLEA MARKET. This is my favorite time of the year and the time when I really go shopping for friends, family loved ones, etc. for birthday gifts, Christmas gifts. Basically I love seeing people like me who are into Broadway and love to go shopping for hidden jewels. I found myself singing along at the Sing for Hope Piano- singing along with Broadway fans to "OMG u Guys" from Legally Blonde and "Summer Nights" from Grease. I am not a singer (Sing in my shower yes but singing in public I can not) but it was so much fun. One of the exciting things to do while there was see all the famous people I love. Fun Fact: while having lunch at Westway Diner, my mom and I talked with a guy who was wearing a shirt from Ragtime from Frank Sinatra School of the Arts. Of course, I said I was an alumnus, and we told him they are doing Phantom of the Opera next March. I saw Kristen Wyatt (Gypsy Robe Winner from A Christmas Story and most importantly Frenchy from the last Broadway revival of Grease) working at an election booth. Jason Mills and Carlton Moe who play many roles and Piangi respectively, were working at the Phantom of the Opera table and were so kind to take a picture with me and sign something that I bought from their table: a ticket that was used to get into their gala at the New York Public Library for the 25th anniversary back in January 2013. Every year, I always have to say hello to one of my idols and genuinely one of the nicest people on earth: Richard Ridge from Broadwayworld.com. My mom and I always make a stop at his table at the Flea Market to say hi and give him something that we have found. (Richard if you are reading this, shout out to you). I have a pic with Richard (where Broadwayworld Student blogger meets Broadwayworld.com).
I would say going to the Flea Market over the years has turned me into a smart shopper. If I see something I like there is always that question of Do I want it or not? Do I need it? I managed to have some restraint by not going to buy the first thing I see. got there early to see the people around, then break for lunch and then go for the big shopping because the real shopping starts later on (like late in the afternoon (1 or 3:00). The prices go down. The flea market taught me how to look for sales, deals and to bargain.
Obviously, I'm not going to say what I got for friends and family because I want them to be surprised on birthdays and Christmas coming up. My mom ended up getting a theatre world book that came out the year she was born and bought a Gypsy of the Year DVD from Richard Ridge's Table that was recent (I know because CATS was on it). We got a lot of stuff for a dollar each. I picked up some stuff for free like an On Your Feet bracelet, stickers from the one night only concert of Bombshell from Smash and a brochure for Papermill Playhouse (I have always wanted to see a show there. Mad at myself for not seeing Hunchback of Notre Dame there but determined to see Beauty and the Beast there). Some other items I got were the last Pirate Queen poster, a Hair 50th anniversary poster, A Fiddler on the Roof in Yiddish bracelet, a Motown bracelet, playbills from Contact, Hot Feet and Movin' Out and CD's from Josh Groban (Stages), "Amelie" (Soundtrack from the movie), a Corbin Bleu Lights of Broadway card and cast recordings from Riverdance, Matilda (West End cast recording), Frozen, a sample CD from the 2004 revival of Fiddler on the Roof starring Alfred Molina and Title of show. I really enjoy CD's and do you see a theme going on here?
Do you remember how crazy last semester was when I started writing these blogs? I had a lot going on even before last semester. Tests, homework, readings, auditions, projects, you know trying to survive college. I made the Dean's List. Provost Scholar...Yay! It still blows my mind that I passed both semesters, with all the papers, homework, classwork, projects, videos, and the excitement of being in two plays back to back that I still get recognized for. There was a dean's list ceremony but I did not take any photos from the actual event because it was crowded (it was in the atrium of the music building). It was raining cats and dogs that evening which left me arriving at the place where the ceremony was being held and headed straight to the bathroom to dry my flats which were soaked (and I mean SOAKED TO THE BONE).
It does not help that we had gotten assigned to park really far in a lot farthest away from building where the event was. So, I have pictures from home.
Let's be real. So far, this semester has been pretty easy for the time being. Well, except the fact that I'm struggling in improv and scaring myself about graduating in who knows maybe next fall. I just started to make my schedule for next year. I could be graduating soon. NOT NEXT SEMESTER. SOON. I don't know why but I have anxiety about graduating. I have that fear thinking about whether I have done enough to make my college experience great. It's like internal conflict. I don't know if every college student thinks of it. I ask are there people scared of what life is like outside of college? I never held a job/internship in my college years and I struggle with very low self-esteem at times this semester even though I am pushing myself to be better. I'm just scared of life in the real world. There are so many classes I want to take, things I want to try, etc. It's like having a mid-life crisis or maybe I'm scared of growing up. When I first entered college at Queensborough Community College, I was happy to graduate with my associates degree since mid-way into it, I felt like I was running away. Running away from I guess being social until someone got me into meeting some of the greatest people. When I got to Queens College, I can still feel that fear even though I made friends. I want to ask you, the readers, of this blog, who graduated, or are about to graduate: Were you scared to graduate? Did you feel like you did everything you wanted to get out of college? Message me on Facebook, email or tweet me your answers: @carmen771392. I would like to know your responses. #collegemidlifecrisis.
That will conclude what has happened thus far. I will include some photos from Beautiful and of course Broadway Flea Market. The next blog will cover a lot: Halloween, prepping for She Kills Monsters, and a bunch more craziness. Stay tuned and stay warm because its fall and don't get sick.
- I apologize for this blog being late. I am going through a bit of anxiety and stress the past couple of weeks. Plus running around campus is not helpful. Nothing to worry about readers. I just had to step away from it from time to time to calm down.
Related Articles
Lea Passione is currently studying drama and journalism at Queens College. Living so close to the city is what awakened her passion of theatre. She (read more...)