BANDSTAND Creators Present THE SANDMAN Reading at The McKittrick Tomorrow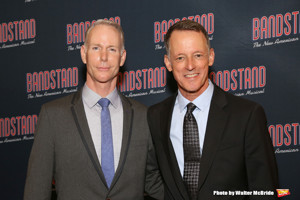 From the creators of last season's Tony Award-winning Broadway musical Bandstand, Richard Oberacker (music, book & lyrics) & Robert Taylor (book & lyrics) have just announced that THE SANDMAN - a new musical based on the disturbed scribblings of E.T.A. Hoffman - will have an industry reading this Friday, October 13, at The Heath at The McKittrick (542 W 27th St). The reading presentation is invitation-only, and is directed by Tony Award nominee Sam Buntrock (Sunday in the Park With George) with musical direction by Tony Award nominee Greg Anthony Rassen (Bandstand).
When the wife of an ingenious German clockmaker engages a new nanny, Fraulein Kaeseschweiss, to care for her two children Nathaniel and Theresa, a series of bizarre and unnatural events begins to unfold. Theresa falls mysteriously ill, and a flamboyant and unconventional physician arrives with his young orphaned ward. As the family is thrust ever deeper into chaos, the sinister and Machiavellian forces at play are gradually revealed - forces from which only the children may be able to save them.
The cast of the reading features Julia Murney (Wicked; Lennon), Wade McCollum (Wicked; Off Broadway - Ernest Shackleton Loves Me), Jacob Keith Watson (Hello, Dolly!, upcoming Carousel ), Teal Wicks (Finding Neverland; Jekyll & Hyde), Ryan Foust (Charlie and the Chocolate Factory), Zoe Manarel (Matilda) and Mehret Marsh (The Lion King).
This reading is presented by Stephanie Cowan and Tom Smedes. An abridged presentation of THE SANDMAN premiered at NAMT in 2014. THE SANDMAN had its European premiere at the Fredericia Theatre in Denmark.
BIOGRAPHIES
Robert Taylor (co-book, co-lyrics) began writing poetry and lyrics around the same time he picked up the violin at age eight. His love of music, languages, literature, and nature has led him to a lifetime of study and travel. A graduate of Holland's Royal Conservatory, Union College, the University of Bonn, and Princeton University, he has taught foreign languages and ornithology in New York, English and music in China, served as music critic to the Albany Times Union, worked as a freelance musician and writer in Manhattan, a translator in Europe and Asia, and has lectured extensively on opera, literature, and art history. Mr. Taylor is the co-lyricist/librettist with Richard Oberacker of several new musicals, including the TONY Award winning musical BANDSTAND (The Bernard B. Jacobs Theatre), ACE (The Repertory Theatre of St Louis, Cincinnati Playhouse in the Park, The Old Globe Theatre San Diego, and The Signature Theatre), JOURNEY TO THE WEST (New York Musical Theatre Festival), and THE PARENTING PROJECT (Ensemble Theatre of Cincinnati). Their musical THE SANDMAN had its European premiere at the Fredericia Theatre in Denmark in 2015. Mr. Taylor is a member of the Dramatist's Guild.
Richard Oberacker (music, co-book, co-lyrics) is the composer and co-lyricist/librettist for the Tony Award winning Broadway musical BANDSTAND. Mr. Oberacker is also the composer of the extravagant new musical adaptation of THE GREAT GATSBY which premiered in Tokyo, Japan and toured throughout 2017 to Osaka, Nagoya and Fufuoka. With Robert Taylor, their musical THE SANDMAN had its European premiere at the Fredericia Theatre in Denmark and their musical ACE played several major regional theaters throughout the US including The Old Globe, The Signature Theatre, and the Repertory Theater of St. Louis. Their other musicals include JOURNEY TO THE WEST (NYMF) and THE PARENTING PRJECT (Ensemble Theater of Cincinnati). Mr. Oberacker's other musicals include THE GOSPEL ACCORDING TO FISHMAN (Signature Theatre), DRACULA (CCM), IN THAT VALLEY (NAMT) and A LITTLE THEATER (Aurelia Theatre). Mr. Oberacker holds a BFA in Dramatic Performance from The Cincinnati College-Conservatory of Music and is currently the conductor for Cirque du Soleil'S "KA" at the MGM Grand in Las Vegas.
Sam Buntrock is a Tony, Olivier and Drama Desk nominated theatre, film & animation director based in New York. Directing credits include: SUNDAY IN THE PARK WITH GEORGE (Broadway, West End, Menier and 5th Avenue Seattle - 5 Olivier Awards including Outstanding Musical Production, Olivier Nomination for Best Director, 9 Tony Nominations including Best Director and Drama Desk Nomination for Best Director), TURN OF THE SCREW at BAM (New York City Opera), the current European tour OF THE ROCKY HORROR SHOW (since 2008), the World Premiere of John Guare's ARE YOU THERE, MCPHEE? and TRAVESTIES (both McCarter, as Director in Residence), ED, DOWNLOADED by Michael Mitnick and the US Premiere of Nick Dear's FRANKENSTEIN (Denver Center), TAKING STEPS (Barrington Stage), THE A TO Z OF MRS P (Southwark Playhouse), MUCH ADO ABOUT NOTHING (Two River), A MAZE (New York Stage & Film), CRADLE AND ALL (MTC), MCREELE (Juilliard) CRADLE TO RAVE (UK & Australian National Tours), GOD COLLAR (Edinburgh, UK National Tour and West End), the World and American Premieres of TAKE FLIGHT (Menier and McCarter), the first London revival of ASSASSINS (New End), GET A LIFE and HELP YOURSELF (both Edinburgh and UK tour). He has also worked as an Animation Director on numerous projects, including the feature film Stuart, A Life Backwards (starring Tom Hardy and Benedict Cumberbatch) for Neal Street Productions, HBO and the BBC. His multi-award winning live action short Recursion(Director, Editor & Producer) screened at 24 international film festivals throughout 2014 (including 2 Oscar qualifiers). His second live action short, Fetch, is currently in post-production.
Photo Credit: Walter McBride / WM Photos
Related Articles
More Hot Stories For You
Get A Look Inside Rehearsals For The Broadway Revival of WEST SIDE STORY
Something great is coming! Rehearsals are currently underway for this season's Broadway revival of the classic musical West Side Story, directed by To... (read more)

Mars Rucker Suffered an Injury During a Recent Performance of TINA
BroadwayWorld has learned that Mars Rucker sustained an injury during a performance of Tina on Thursday night. Rucker plays Alline and Ikette in the s... (read more)

Review Roundup: EVITA at New York City Center
On November 13, New York City Center kicked off its Gala Presentation of Evita, running through November 24. Directed by Sammi Cannold, Andrew Lloyd W... (read more)

First Listen: & JULIET Releases Britney Spears' 'Not A Girl. Not Yet A Woman'
A new track has dropped from the new West End Max Martin Musical, & Juliet, Britney Spears' 'Not A Girl, Not Yet A Woman'!... (read more)

Rialto Chatter: Will Antonio Banderas' Spanish A CHORUS LINE Come to New York?
A new production of A CHORUS LINE is now on stage in Spain, co-directed by and starring Antonio Banderas! Banderas co-directs the production with actr... (read more)

Photo Flash: First Look at THE INHERITANCE, Opening On Broadway November 17
Directed by multi Olivier and Tony Award-winner Stephen Daldry (Billy Elliot, Netflix's 'The Crown') and designed by Olivier and Tony Award winner Bob... (read more)