Alec Baldwin and Kelli O'Hara Star in LOVE LETTERS at Westport Country Playhouse's Spring Gala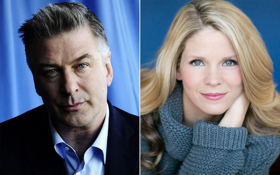 Alec Baldwin and Kelli O'Hara will star in Westport Country Playhouse's Spring Gala performance of A. R. Gurney's play, "Love Letters," on Thursday, April 12, at 7 p.m. The one-night-only, $250 per ticket fundraising event will honor the memory of playwright A. R. "Pete" Gurney, who was a consistent contributor to the Playhouse stage, with 21 works produced there from 1980 through 2016. Gurney died last June at age 86.
The production will be helmed by Mark Lamos, Playhouse artistic director.
"'Love Letters' shows Pete Gurney - the single most produced playwright at WCP - at the top of his form," said Lamos. "He valued simplicity above all else, and if a word excised could make a piece of dialogue sadder or funnier or more dramatic, he knew just which one to toss. He loved simple sets, small casts; he hated all things bloated, over-produced or overwrought."
Alec Baldwin will portray Andrew Makepeace Ladd III and Kelli O'Hara will play Melissa Gardner in "Love Letters," a unique and imaginative theater piece comprised of letters exchanged over a lifetime between two people who grew up together, went their separate ways, but continued to share confidences. Their letters tell how much they really meant to each other over the years-physically apart, perhaps, but spiritually close. As the actors read the letters aloud, they create an evocative, touching, frequently funny but always telling pair of character studies in which what is implied is as revealing and meaningful as what is actually written down. The play was a finalist for the Pulitzer Prize for drama.
"'Love Letters' distills Gurney's style and his subject matter--the New England WASP subculture-perfectly," noted Lamos. "With subtlety, wry wit, striking observation, and revelations that sneak out of the characters when they are least expected, this lovely, funny, and ultimately moving 90 minutes of theater has enchanted theatergoers around the country and around the world since it was first performed in 1988. To do it justice, and to honor Pete Gurney's memory, we are thrilled to present the play for one performance only with two glowing stars at the very top of their game."
Since 1980, Alec Baldwin has appeared in numerous productions on stage, in films, and on television. He has received a Tony nomination ("A Streetcar Named Desire," 1992), an Oscar nomination ("The Cooler," 2004), and has won three Emmy Awards, three Golden Globes, and seven consecutive Screen Actors Guild Awards as Best Actor in a Comedy Series for his role on NBC-TV's "30 Rock." His films include "The Hunt for Red October," "Glengarry Glen Ross," "Malice," "The Edge," "It's Complicated," "Blue Jasmine," "Still Alice," "Mission Impossible: Rogue Nation," and "The Boss Baby," among many others. He currently hosts ABC's "Match Game."
Baldwin is a 1994 BFA graduate of NYU's Tisch School and received an honorary doctorate from NYU in 2010. Baldwin has authored three books, and serves on numerous boards related to the arts, the environment, and progressive politics.
Kelli O'Hara's portrayal of Anna Leonowens in the Broadway revival of "The King and I" garnered her the 2015 Tony Award for Best Leading Actress in a Musical, along with Drama League and Outer Critics Circle nominations. Her other Broadway credits include "The Bridges of Madison County" (Tony, Drama Desk, Drama League, OCC nominations), "Nice Work If You Can Get It" (Tony, Drama Desk, Drama League, OCC nominations), "South Pacific" (Tony, Drama Desk, OCC nominations), "The Pajama Game" (Tony, Drama Desk, OCC nominations), "The Light in the Piazza" (Tony, Drama Desk nominations), "Sweet Smell of Success," "Follies," "Dracula," and "Jekyll & Hyde."
O'Hara starred as Mrs. Darling in NBC's live telecast of "Peter Pan," and made her Metropolitan Opera debut in "The Merry Widow." Upcoming, she will star in the Metropolitan Opera's "Così fan tutte," and will reprise her Tony Award-winning role in the West End transfer of "The King and I" in summer 2018.
Playwright A. R. "Pete" Gurney (1930-2017) was born in Buffalo, NY. He graduated from Williams College in 1952, served as an officer in the Navy, and afterwards attended the Yale School of Drama. For many years, he taught literature at M.I.T., but moved to New York in 1982 to devote more time to writing for the theater. He is best known for "The Dining Room," "The Cocktail Hour," "Love Letters," and "Sylvia." Gurney won a number of awards for his body of work, and is a member of the American Academy of Arts and Letters, and the Theatre Hall of Fame.
Director Mark Lamos has directed many plays at Westport Country Playhouse since 2008. His extensive New York credits include "Our Country's Good," for which he received aTony Award nomination. A former artistic director at Hartford Stage, he earned the 1989 Tony Award for the theater's body of work. He was awarded the Connecticut Medal for the Arts and the John Houseman Award, as well as honorary doctorates from Connecticut College, University of Hartford, and Trinity College. He directed a number of Gurney plays, including "Big Bill," "Buffalo Gal," "Grand Manner," "Black Tie," and a revival at Westport Country Playhouse of "The Dining Room."
Tickets to the Playhouse's Spring Gala are $250, of which $200 is tax deductible. Proceeds will benefit the non-profit 501(c) (3), professional, producing theater, now in its 88th season - its work on stage, with schools, and throughout the community.
For more information and tickets, call 203-227-4177, or visit Westport Country Playhouse, 25 Powers Court, off Route 1, Westport. www.westportplayhouse.org. Facebook (Westport Country Playhouse), Twitter (@WCPlayhouse), YouTube (WestportPlayhouse).
About Westport Country Playhouse
The mission of Westport Country Playhouse is to enrich, enlighten, and engage the community through the power of professionally produced theater worth talking about and the welcoming experience of the Playhouse campus. The not-for-profit Playhouse provides this experience in multiple ways by offering: Live theater experiences of the highest quality, under the artistic direction of Mark Lamos; educational and community engagement events to further explore the work on stage; programs for students and teachers with extensive curriculum support material; Script in Hand play readings to deepen relationships with audiences and artists; the renowned Woodward Internship Program during the summer months for aspiring theater professionals; Family Festivities presentations to delight young and old alike and to promote reading through live theater; youth performance training and performance opportunities through Broadway Method Academy, WCP's resident conservatory; and the beautiful and historic Playhouse campus open for enjoyment and community events year-round.