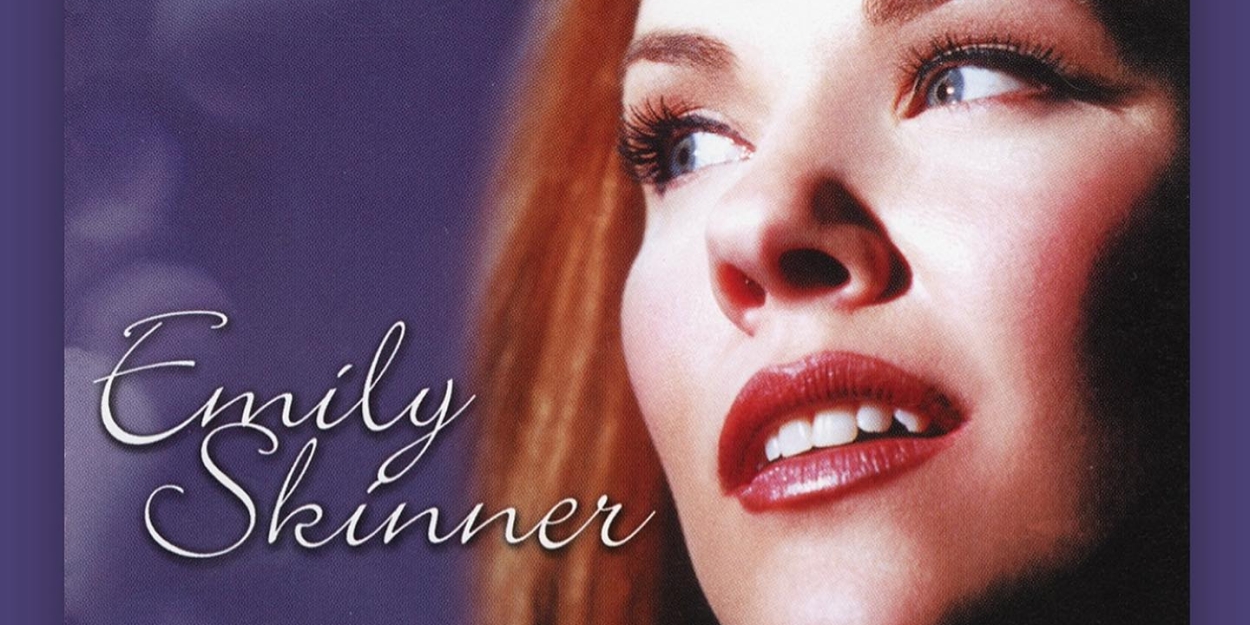 Album Review: THREE ALBUMS BY EMILY SKINNER Lead A Pack Of Unreleased Music Wading Out Into The Streams.
Heretofore Unheard In The Streamingsphere…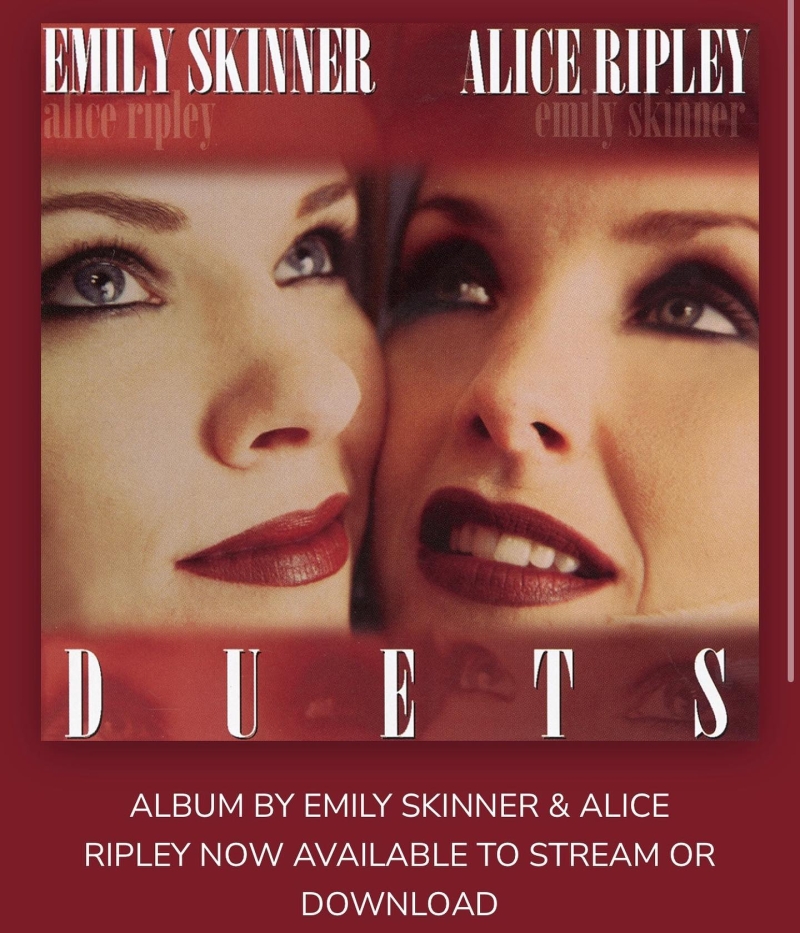 Heigh Ho, dear lovely rainbow tribe, welcome back to Bobby's CD sandbox where we offer our broken-down breakdowns of new music releases. So, strap in and get ready, as Bobby goes on the record ABOUT the record.
Well, my dearlings, this IS a special occasion, as this week's album entry in the BobbyFiles comes from the twin diva herself as Three, COUNT THEM 3, albums by Emily Skinner are among a slew, a veritable treasure trove, of albums that have just been released on all streaming platforms. We don't know the details regarding why these essential recordings have been out of print for the last twenty years, and Little Bobby is certain that there is some drama behind it, but let us not focus on the negative and let us put a big, bright, gilt frame around the positive - that the albums are back out in the world for all to enjoy. And we all should enjoy these three albums, especially you fine people who came along in the last twenty years that didn't know about ...
DUETS by Emily Skinner and Alice Ripley, originally released in 1998
UNSUSPECTING HEARTS by Emily Skinner and Alice Ripley, originally released in 1999
Emily Skinner by Emily Skinner, originally released in 2001
Dear ones, Little Bobby cannot stress this enough: when each of these albums came out on CD, they were all any of us could talk about - if there were people who loved musical theater, they were talking about these albums. After the success of Side Show - ok, so it was a flop but a LOT of us loved it and still do, and there is a hefty degree of success in love - it made Emily and Alice the Golden Girls of NYC. Everyone adored them and, more especially, everyone adored the magic that they made together. So the DUETS album was the prize of 1998, particularly because it was SPECTACULAR. From the opening number LITTLE ME to the final moments of the hidden track (OH! That hidden track!) there was nothing, nothing at all, that anyone could say about DUETS that wasn't full of praise and happiness and rainbows. The nearly full hour of songs by these two women was executed to perfection, from the catalog of songs to their arrangements, from their harmonies to their acting choices, but, especially, in the song list. Emily and Alice did famous balladic duets from Chess, Jekyll & Hyde, and A Little Night Music, and they did festive, playful up-tempos from Gypsy and White Christmas (guess which song?), and they even had a mash-up of two cut songs from Side Show. What wasn't to love, my angels... what was not to love? The album became instantaneously iconic, with every show queen (and those otherwise nicknamed) raving about the gorgeousness of their PERFECT STRANGERS and BABY, DREAM YOUR DREAM and the heartbreaking performances of MY FRIEND and IF WE NEVER MEET AGAIN. Little Bobby loves to go against the grain, so our favorites were always TWO'S COMPANY from THE MAGIC SHOW and WE MAKE A BEAUTIFUL PAIR from Shenandoah, but, like everyone else, we were most bowled over by that hidden track that gave everyone just a peek into the real Emily and Alice and their friendship. Iconic.
One year later, the history-making dual Tony Award nominees released UNSUSPECTING HEARTS. Now, this album was a little different because the sisters from other misters switched off doing duets and solos, with each of the duets separated by a solo from, first, one and, then, the other singer. But me darlings, how marvelous it all was because, even though Emily and Alice were already a brand, they were also individuals, and this recording gave each actress a chance to shine on her own. Alice leaned into ballads, like one of her numbers from SUMMER OF '42 (in which she appeared off-Broadway) and MY WHITE KNIGHT, all lush and pretty, while Emily opted for the 'comedy numbers, like THE ALTO'S LAMENT and character numbers, like THE MILLER'S SON, which sort of foreshadowed some of her future roles and the humor she would display when social media became a thing. And on the topic of funny - since the hidden track was the most talked-about aspect of DUETS, the besties made sure to put in another such cut, this one even more irreverent and silly than the first. UNSUSPECTING HEARTS could never hope to capture the lighting-in-a-bottle that was DUETS, but it came super close while standing out as a work on its own. It was wonderful to hear the ladies get so silly, like on their opening FRIENDSHIP number, the groovily ridiculous SOLID SILVER PLATFORM SHOES, and their amazing disco mash-up that took Little Bobby back to his youthful days of Barry Manilow and Barbra Streisand. It was all about the fun until the final track, OLD FRIEND from I'M GETTING MY ACT TOGETHER... which felt one way, back in 1999, but feels completely different, hearing it again in 2023. Oh My Rainbows, how we've all grown.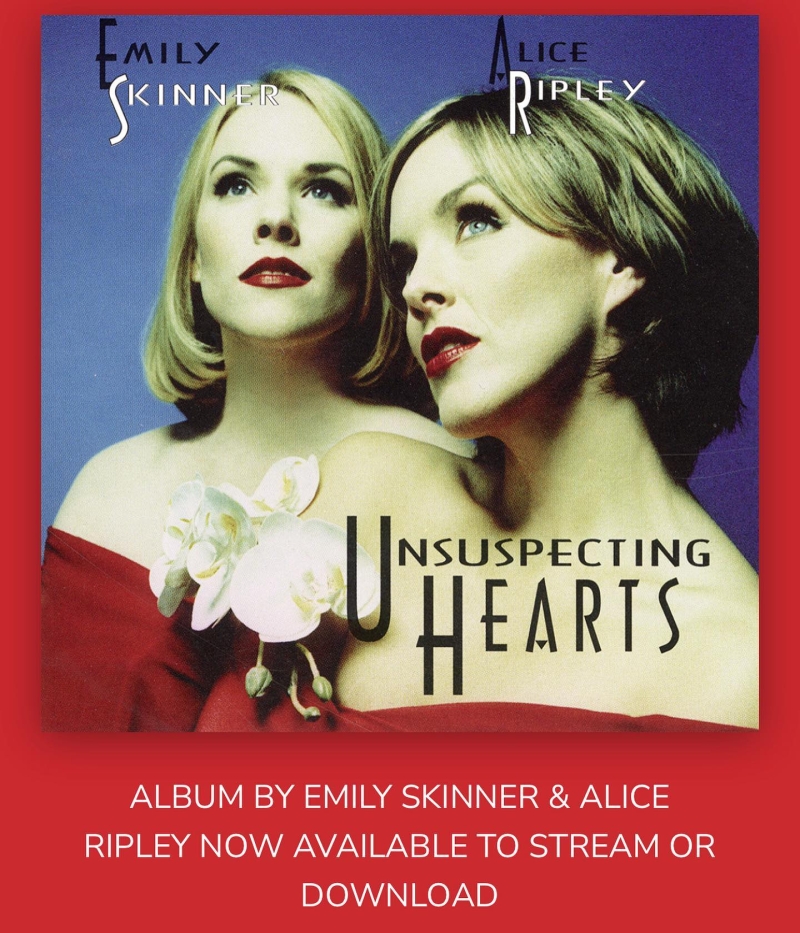 Finally, 2001 brought us Emily Skinner's solo album, simply named Emily Skinner. But surprise! Alice Ripley made appearances on some of the cuts - but of course! The ladies knew where their bread was buttered - it was a savvy move on their part to give the fans some of that Side Show action that they loved so much. Emily's solo album was another example of how an album can showcase a singing actor to their greatest advantage. There are show tunes galore, including roles she should have played (and, hopefully, did, somewhere) like Daisy Gamble, songs she sang in high-profile productions like MY BROTHER LIVED IN SAN FRANCISCO, and numbers that people never sing because other songs from scores overshadow them, like THE MONEY TREE from THE ACT, the show that gave the world ARTHUR IN THE AFTERNOON, CITY LIGHTS, and MY OWN SPACE - but Emily stayed true to herself and went with Money Tree, which Bobby just loves. On this disc Emily put out some serious solo singer fare like SPRING CAN REALLY HANG YOU UP THE MOST and LAZY AFTERNOON - both songs that singers over the decades have loved to take a stab at, and songs that proved Emily belongs in the recording booth, always my angels (#HintHint). It's a good, great, wonderful album made even more fabulous by the marvelous GYPSY mash-up with Alice, and a gorgeous version of I NEVER SAID I LOVE YOU from DEAR WORLD that completely reinvents the mood of the song, making it a little more upbeat and hopeful than the original (and somewhat iconic) cast album recording. The Emily Skinner album is just one of your rainbow boy's favorite albums ever, and we have missed being able to call it up on our streamers - but, fortunately, we still have a CD player and have been able to put in the disc and blast it through the house, all these years, just like DUETS and UNSUSPECTING HEARTS.
But now, thanks to Concord Theatricals Recordings, these albums are among more than 20 older recordings that have been given new releases on every streaming, digital, and downloadable platform. And THAT is a gift worth celebrating! And for that gift, we give all three albums our full...
5 Out Of 5 Rainbows. Put them in your streamers today: HERE
La Skinner has a webbysite! Visit it HERE.
Concord Theatricals Recordings can be explored HERE.