Album Review: THE BIG ONE-OH! (1-0) Cast Recording Is A Child-Ish Delight Of Adolescent Angst & School Yard Antics
Charlie Maplewood Turns 10 With A Bang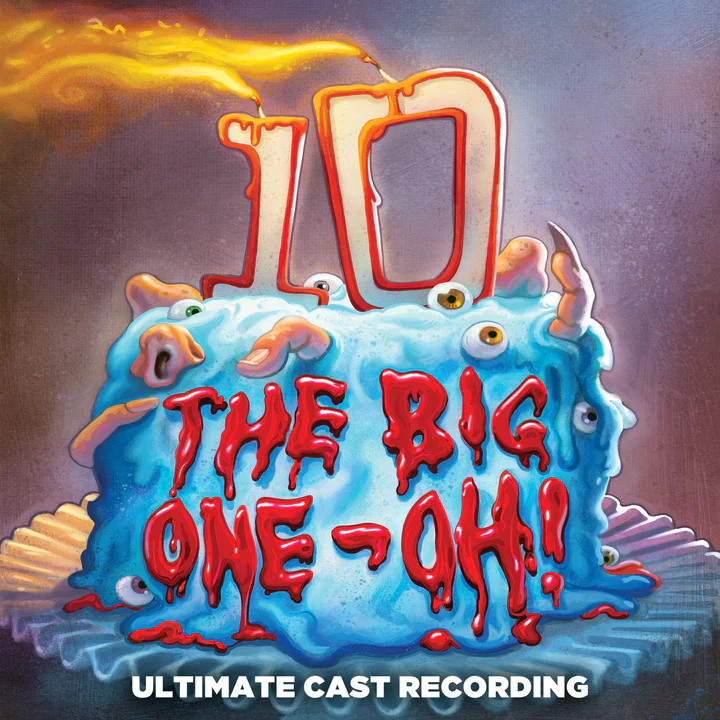 Heigh Ho, dear lovely rainbow tribe, welcome back to Bobby's CD sandbox where we offer our broken-down breakdowns of new music releases. So, strap in and get ready, as Bobby goes on the record ABOUT the record.
This week's album entry in the BobbyFiles comes from the lovely people at Broadway Records (www.broadwayrecords.com). Based on the beloved kids' book, THE BIG ONE-OH!, this new musical features lyrics by Academy Award-winner Dean Pitchford, music by Tony-nominated Doug Besterman, with a book by award-winning playwright Timothy Allen McDonald. Featuring a cast of fine young performers mixed with top veterans of our New York Stages, the album plays and feels like a children's musical written for adults to enjoy too and that is probably why Little Bobby found it quite delightful. Here's why...
From the liner notes: Charley Maplewood has never been one for parties - that would require friends, which he doesn't have. Well, unless you count his monster friends, but they're only imaginary. But now that he's turning ten - the big one-oh - and he decides to throw a birthday party for himself, complete with a "House of Horrors" theme. Of course, things don't work out as he plans. Will Charley be able to pull it together before the big one-oh... becomes the big OH-NO!?
... And that, my dearlings, is all you need to know in order to enjoy this album and to get a real sense of the action of the story from only the songs. As each cut in the album plays, it is clear where we are, where we have been, and where we are going along with Charlie toward his goal of an awesome 10th birthday. This, as Bobby readers will know, is the high water mark for our little rainbow brain, when listening to a cast recording. Is the story of the musical clear and is there a journey to go on with the characters, with very little or none of the book? Well, we are happy to say that the answer is a resounding yes. Opening the show with MONSTERS AND MANIACS, new discovery Jaxon Daniel sings of Charlie's fave comic books - fantasies of zombies, vampires, and swamp monsters. These are this nerd's friends and become the basis for his monster birthday party. Daniel has a strong adolescent voice and acts the spoken word portions extremely well. SO LAME introduces the FAB Brittney Mack as Charlie's terrible teen big sister who expresses her sibling rivalry for her loser little brother by declaring the world to be lame. She's a teen who hates everything, especially her lame little brother. It's a short song, but Mack makes it more with her voice and acting. Michael James Scott Takes on the character number, A PERFECT PARTY, where he offers his expertise on themes and the need for friends. He acts and sings the song wonderfully and, by this track, we're definitely on a build-up to the event. Track 9, BETTER THAN A BOO, is a favorite for Bobby because of Borle... Christian Borle just being Borle is always wonderful. His character gives advice on scaring his sister, using the joke materials he sells. It's a bouncy novelty number that's loads of fun because... Borle... and this is where the Charlie House Of Horrors Birthday Celebration is born. On WE'VE GOT EACH OTHER, Brittney Mack returns, having seen the error of her cynical ways, and comes around to tell her brother of her love for him, and that they are in this together. This is a lovely duet for Daniel and Mack that really touches the heart.
As you can guess, everything comes out all right in the end for Charlie, his new crew, and his family in this musical that amplifies themes of girl power (Emmy Woodard's song THAT COULD BE ME), kid power (the ensemble's THIS IS BIG), and the importance of listening between friends, and between kids and adults, and then adds a bonus track. The final cut here is Brittney Mack (who, actually, is an adult) using her full range to deliver the "I can do anything" opus THAT COULD BE ME. Here, she gets to use her whole womanly voice to present the fullness of this feminist anthem.
Finally, this show is a young show with young themes for young people, and is meant to build them up and give them uplifting tunes to carry with them in their heads, and, for that, and because the album is so good at conveying the story with just the music, Bobby gives this one a healthy
4 ½ Rianbow Out Of 5.
You Can See And Hear Everything About THE BIG ONE-OH! On The Broadway Records Webbysite: HERE


The cast of THE BIG ONE-OH! includes two-time Tony Award winner Christian Borle, along with Derek Klena, Patti Murin, Brittney Mack, Michael James Scott, and introduces Jaxon Daniel (as Charlie) and Emmy Woodard. Rounding out the cast are Claudia Bennett, Hatty King, Scott Nelson, Mason Risser, Amber Trottman, Elle Wesley, Riley West, and Emma Rose Williamson