2018/2019 Is The Best Attended And Highest Grossing Season In Broadway History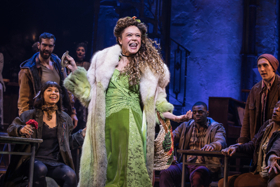 The Broadway League has released end-of-season statistics for the 2018 - 2019 season, which began May 28, 2018 and ended May 26, 2019.
For the 2018 - 2019 season, total attendance reached 14,768,254 and Broadway shows yielded $1,829,312,140 in grosses, making it the best attended and highest grossing season in Broadway recorded history. All new and continuing productions ran a record total of 1,737 playing weeks.
As a point of reference, the 2017-2018, was a 53-week season (most seasons are 52 weeks, but every seventh year, a 53rd week is added to catch up to the calendar year). The 2018-2019 season was 52 weeks. Had last season ended the week prior, this season would have concluded with attendance up 9.5%, grosses up 10.3%, and playing weeks up 9.3%.
Even with one less week, the 2018-2019 season ended with attendance up 7.1% over last season's 53 weeks, grosses up 7.8%, and playing weeks up 7.0%
"The trend is clear, Broadway has never been more appealing to so many different people ranging from kids to grandparents and everyone in between. This substantial growth in attendance clearly reflects the large variety of offerings including long running shows, new hit productions and stories relevant to our society today," said Charlotte St. Martin, President of The Broadway League. "This coupled with the fact that over 50% of tickets are priced below $101, the industry is achieving its goal of being more accessible to everyone."
Broadway attendance in the 2018-2019 season topped those of the ten professional New York and New Jersey sports teams combined. Broadway surpassed the combined sports teams by over 4.6 million in attendance.
During the 2018-2019 season 38 productions opened which included: 13 musicals (11 original, 2 revivals), 21 plays (14 original, 7 revivals), and 4 special engagements.
Related Articles
More Hot Stories For You
VIDEO: MOULIN ROUGE! Drops Music Video for 'Come What May' with Aaron Tveit and Karen Olivo
Moulin Rouge! has released a music video, filmed live on stage, for Come What May from the Broadway production....

Tim Curry and Original ROCKY HORROR Cast Members to Reunite For the Democratic Party of Wisconsin
Tim Curry and some of his fellow 'The Rocky Horror Picture Show' cast members will reunite for a live stream to benefit the Democratic Party of Wiscon...

Alex Brightman, Meryl Streep & More Join Bette Midler's HULAWEEN
Bette Midler has conjured an all-star cast that's sure to get into mischief as they raise funds for New York Restoration Project (NYRP) at her virtual...

Actors' Equity Releases Statement on Walt Disney World Layoffs
Actors' Equity Association has released a statement after signing a memorandum of understanding with Walt Disney World regarding layoffs of most of th...

Eddie Perfect Releases BEETLEJUICE - THE DEMOS! THE DEMOS! THE DEMOS! for Halloween
Ghostlight Records has announced that the new album from Eddie Perfect, Beetlejuice – The Demos! The Demos! The Demos! will be available as a Hallowee...

VIDEO: David Hyde Pierce, Carolee Carmello, Liz Callaway, and Most Perform in BRING BACK BROADWAY: A VOTE BLUE VIDEO
The video stars Cameron Amandus, Bryan Batt , John Bolton, Liz Callaway, Carolee Carmello, Taylor Crousore, Jackie Hoffman, Chris Anthony Giles, Jason...