Review: FINDING NEVERLAND at Popejoy Hall
A glimpse into the life of J. M. Barrie, the author of Peter Pan, or The Boy Who Wouldn't Grow Up is as full of magic, heart, and adventure as the beloved novel - and play - are themselves. Finding Neverland is based on both the Academy Award winning movie of the same name, and the play The Man Who Was Peter Pan by Allan Knee. The musical explores the Scottish playwright and author's friendship with the Llewlyn Davies' family and how spending time with them (as well as writing skits and stories to entertain the Llewlyn Davies children) helped to inspire the creation of Peter Panand its characters.
The touring production of Finding Neverland is directed by Mia Walker with a book by James Graham, and music and lyrics by Gary Barlow and Eliot Kennedy. Emmy Award-winner Mia Michaels created the original choreography.
The cast of the musical are phenomenal, each of them absolutely perfect in their roles, creating a production that helps draw the audience into Barrie's world and keep them invested in what is happening on stage throughout the production. As J. M. Barrie, Jeff Sullivan is able to bring a charm and child-like innocence to the role. He handles both the comedic elements of the production and the dramatic ones with ease, providing the perfect emotional focal point for the audience. Ruby Gibbs as Sylvia Llewlyn Davies gives a powerhouse performance as the mother of four young children who is always trying to find the light in even the darkest situations in her life. Conor McGiffin, who portrays theatre owner Charles Frohman and Captain James Hook, creates two distinct characters that both have a large impact on Barrie's life. Caleb Reese Paul (Peter), Paul Schoeller (George), Ethan Stokes (Jack), and Josiah Smothers (Michael), are phenomenal as the Llewlyn Davies children, never missing a beat.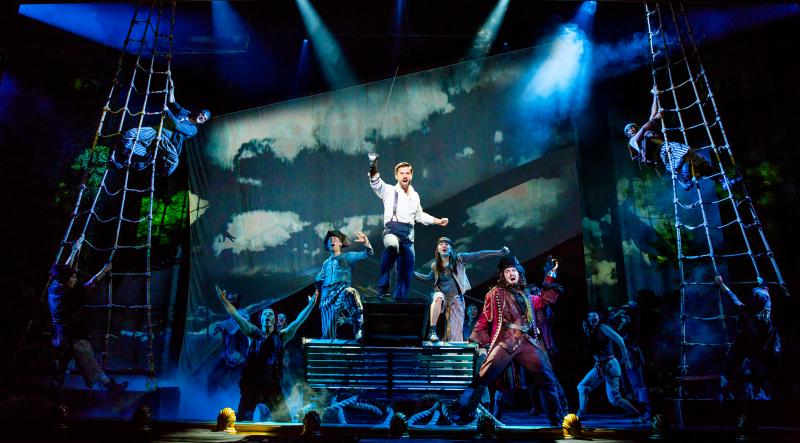 While the entire musical is a visual and auditory feast, several of the scenes are particularly striking. "Stronger," where Barrie and Captain Hook have a heart-to-heart discussion about Barrie's life, "What You Mean to Me," a magical duet between Barrie and Sylvia Llewlyn Davies as they come to terms with their feelings for one another, and "Circus of Your Mind," where Barrie becomes weighed down by the warring aspects of his life - the man society thinks he should be and the person he wants to be - are absolute highlights of the production. The audience interaction - whether it was clapping to bring Tinker Bell back to life or the children waving to show where they were sitting in the audience - made the experience even more charming.
With an incredible cast, breathtaking staging, and wonderful set design, Finding Neverland is a magical production that can't be missed. It runs from Thursday, December 13 - Sunday December 16, with productions at 7:30 pm Thursday, December 13th, Friday, December 14th, 2 pm and 8 pm Saturday, December 15th, and 1:00 pm and 6:30 PM Sunday, December 16that UNM's Popejoy Hall. Tickets cost $43-$83 plus fees and can be purchased at unmtickets.com, UNM Bookstore ticket office, UNM ticket office at Dreamstyle Arena, or by phone at 925-5858 or 877-664-8661.
Image credit: JEREMY DAVIES