White Bear Theatre to Present Fergus Burnand's SAME AGAIN This Month
As the characters come together to untangle their thoughts, the stage becomes a hive of longings and laughter.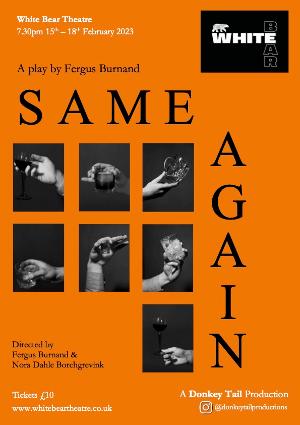 White Bear Theatre will present Fergus Burnand's SAME AGAIN February 15-18.
Fergus Burnand's new play, SAME AGAIN, takes a microscope to an afternoon at the pub. In a series of comic vignettes, punters and bartenders rub shoulders, argue, and generally put the world to rights. A barfly explains extreme wealth using grains of rice. One friend misdiagnoses another. Ex-lovers argue about suncream. Lonely drinkers reflect on the role that sofas played in their love-life. And all the while bartenders work tirelessly in the shadows of overheard conversations.
As the characters come together to untangle their thoughts, the stage becomes a hive of longings and laughter.
WRITER'S STATEMENT
When you work at a pub, after a while it starts to infect your mind. You wake up in the middle of night in a cold sweat, remembering you never gave table 5 their ketchup. As you try to fall back to sleep, half-heard conversations between regulars begin to replay in your mind. Your unconscious, starved of any meaningful experience outside of your job, restages whatever intriguing morsels it can find from the day just gone. And by the time your alarm goes off, finally dispersing all the voices from the day before, it feels like you've already done a double shift.
That's my experience anyway.
But if you're a writer, being surrounded by such a variety and density of voices every day is a kind of blessing. Or maybe not a blessing but it does allow you to listen to the way people actually speak to each other. You see how people try to hide behind certain phrases, what speech patterns they use to assert themselves, how their words carry them away into confusion or passion. You are surrounded by the constant din of people trying to make themselves understood. After a while, you can't help but listen. And laugh.
This play started because I couldn't get certain overheard phrases out of my head unless I wrote them down. Although I started out simply trying to amuse myself by writing comic scenes, a lot of the anxieties I felt at the time about not knowing what I was doing or where I was going crept into the writing. By the time I finished all the scenes, the play had a more complex tone and contained more of me in it than I anticipated. It's funnier and sadder and more ridiculous and more personal than anything I have written.
In the end, the play is a kind of impression of what it is like to work in hospitality. But it also contains the everyday comedies and tragedies that people find themselves in over the course of, say, an afternoon at the pub.