Click Here for More Articles on LES MISERABLES
The LES MISERABLES Experience At The Queen's Theatre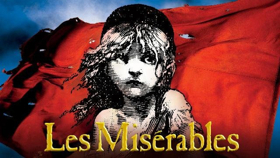 In the autumn of 1985, when Les Misérables opened in London, there was little space inside my head for much beyond football, girlfriends and a nagging sense that I would soon have to write a dissertation and do finals - but, in the meantime, let's have a drink or ten.
By the late Eighties, I was spending a lot of time in Soho, but still mainly preoccupied by girls, football and booze (wine as often as beer now). But some of those girls needed impressing and so, along with restaurants and galleries, theatres became a weekend destination - but not for musicals. Oh no - they were too kitsch, too Lloyd-Webbery, too (whisper it) commercial. After all, A Man About Town does not frequent the same haunts as the hicks from the sticks.
But people told me that this Les Misérables was different, that Les Mis (at it was now being called) was no happy-clappy fare for dollar-wielding Ronald Reagan voters in check shorts and pastel polo shirts. It was, in both senses of the phrase, seriously good.
I took one look at that ingénue on the poster, imagined the sentimental tosh she heralded, and walked past into a underground preview cinema in Frith Street to watch something in Russian with bad subtitles, pausing only to look cool for ten minutes in Bar Italia.
It didn't help that I saw (at my brother's invite) but did not care for, Miss Saigon, scoffing at the famous helicopter scene (not exactly Apocalypse Now eh?) and rolling my eyes at its implausible, manipulative, and, yes, sentimental plot. Does anything feel quite so good as having one's prejudices confirmed?
Then the Les Mis songs start to filter through my consciousness. I also returned to Dickens and saw less the mawkish characterisations but more the social radicalism, and I kept hearing that I should really see Les Mis, you know. I grew older, wiser, fatter and, accepted, eventually, that one can hardly hang at Bar Italia in elasticated waist trousers, can one?
Les Mis edged towards to the top of the bucket list and got its tick (courtesy of the best Secret Santa ever - gratitude to my niece) earlier this week - so how was it?
She's still there on Shaftesbury Avenue, the ingénue, and, though I knew her name by now (elle s'appelle Cosette, n'est-ce-pas?), I couldn't stifle an involuntary inward groan - it may be an iconic image, but it looks so Eighties, like Kylie's big hair or Dallas-y shoulder pads.
As is the case with too many West End theatres, the building felt as much 1880s as 1980s, its upcoming renovation not a day too soon (for all the controversy about the show's re-staging it has provoked). The interval queue for the women's toilets was as long as legend has it, the Wifi was absent, the seats like museum pieces from a Seventies fleapit cinemas.
Around me sat the people I expected to see - tourists (lots from Japan), family groups with reluctant teens looking at phones and wearing earbuds taken by surprise as the show started without adverts like they have down the multiplex, and a five-timer telling a newbie alongside me that it's so much better than Wicked.
Within a minute or two, such thoughts were banished as we were catapulted to post-revolutionary France and to a convict full of righteous anger, an enemy made, an act of kindness and chance for redemption, a love unrequited, an obligation to be discharged. And a lot more religion than expected.
This roll call of themes, more than anything - even the music - overwhelmed any misgivings I still harboured. The themes of Victor Hugo's plot strike at the heart of what it is to be human, corral so many disparate but universal storylines from life and literature into a crystal-clear narrative that leaves anyone wishing to distance themselves from the folderol of musical theatre with nowhere to go.
Valjean, Javert, Fantine, Cosette, Marius, Eponine, Thénadier (Monsieur et Madame) were - are - all of us. Whether we know it or not, we're looking in a mirror.
But that mirror's reflection heightens everything - the music sees to that, the orchestra magnificent, the sound every bit as impressive as one finds in the newest cinemas (and that's very good indeed). It barely felt like musical theatre at all - it felt like opera, Italian opera, Puccini's opera.
Yet - and maybe this was the Hamilton Effect - a nagging sense of a dated approach to staging insistently pulled at me. Despite the famous revolve and lots of flag-waving, too often the cast were left isolated in a largely dark space to sing alone. Perhaps inevitably given the source material, characters circled each other without wholly connecting.
There was pantomime in "Master of the House", but no real dancing. Maybe the music and voices were sufficient, but in a production unafraid to dial things up to eleven, why leave some cards unplayed?
One's reactions to the showstoppers are always personal, and mine were mixed.
Carly Stenson's "I Dreamed A Dream" was all I could have wished for - heartbreaking, poignant, fragile, yet showing us the life she could have lived were she born in different times or in different circumstances. Toby Miles beautifully captured the survivors' guilt of "Empty Chairs at Empty Tables", even if the imagery feels as heavy-handed as ever.
Less successful was the otherwise excellent Dean Chisnall (a noble, physical, sad Valjean) with "Bring Him Home". I love this song (click here to read exactly how much I love it) but I've always interpreted it as a humble prayer, as an alpha male accepting the limits of his capacity to shape destiny, as a lament for the life and loves he lost in his 19 years incarceration.
Now, there's no mileage in trying to out-Colm Wilkinson Colm Wilkinson, but I do not see defiance within this song - but that's what we got. Artistic choices will never please everyone.
If you're lucky enough to get along to as many opening nights as reviewers do, you can get blasé about standing ovations, and a Les Mis stander is about as clichéd as the West End gets. But I was as quick out of my seat as anyone - and not just because it was hurting quite a bit by 10.30pm. The ovation was merited, the legend was delivered, the bucket list tick was wholly justified.
For all the hoopla that surrounds it, the weight of history it bears, and the 20th-century feel to the evening, the grand old lady of Shaftesbury Avenue still makes the spine tingle, the heart dip and soar, the tears prick in the corners of the eyes. That ingénue hasn't aged, but I have, and I'm glad to have witnessed it before I am old and will be gone.
Related Articles