Théatre Lapis to Present Concert of GALAXY TRAIN at The Other Palace in March
The concert runs between the 24th and 26h March 2023.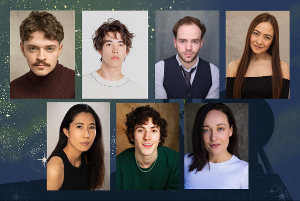 Théatre Lapis will present a concert version of a new musical 'Galaxy Train', which runs between the 24th and 26h March 2023 at The Other Palace Theatre Studio. The musical was created by director Yojiro Ichikawa (My Neighbour Totoro, Urinetown, Pearl and Dagger) and composer-lyricist Eden Tredwell (The Last Nativity, Pearl and Dagger), based on the beloved 1927 Japanese novel 'Night on the Galactic Railroad' by Kenji Miyazawa.
This musical heralds another British-Japanese collaboration. Developed over lockdown, the piece received a Japanese-language workshop in Tokyo to audience acclaim. The song 'Those Stars' also won the Stiles & Drewe 'Best New Song Prize' in 2021. This concert marks the UK and English-language premiere of the show, and the introduction of a piece of famous Japanese literature to British audiences.
It tells the story of Giovanni and Campanella, two boys who find themselves on a mysterious train journey through stars and spiritual realms. Together they must reconcile their friendship, discover the secrets of life after death, and appreciate the meaning of sacrifice.
The show features a diverse cast, including Joey Zerpa-Falco (making his professional London stage debut), Misato Higashijima (Galaxy Train Tokyo, Bye Bye Birdie), Liam Murray Scott (The Shark is Broken, Avenue Q), Saori Oda (The Phantom of the Opera, The King and I), Juna Shai (Pearl and Dagger, Cats), Jordan Broatch (Anyone Can Whistle, LIFT), Sinead Wall (Medusa in Monstersongs, 1446 the Musical).
Théatre Lapis is a theatre company led by artistic director Yojiro Ichikawa, premiered in 2012. The company aims to bridge borders between musical, physical and straight theatres, western and eastern cultures, and other contexts where our differences might enhance our creative expressions. Théatre Lapis is delighted to bring to The Other Palace, another piece created through collaboration between Japanese and British artists following 'Pearl and Dagger' in 2019.