TREASON THE MUSICAL Will Release a Concert Album Ahead of Global Premiere in October
The album, recorded at Theatre Royal Drury Lane last August, will be available to stream from Friday 10 February 2023.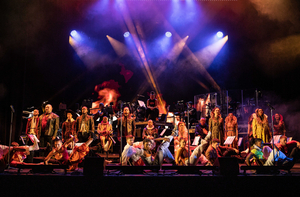 Treason the Musical will ignite this year with an album, recorded from last year's Theatre Royal Drury Lane concert, and finish with a 'bang' in October with the global premiere of the fully staged production.
This autumn will see this highly anticipated musical premiere its first full production in select theatres across the UK. Bringing with it the historic tale of division, religious persecution, and brutality, ending in an ambitious yet fateful plot to bring down both the monarchy and the government. Select theatres for the plot to be announced.
Set to blow you away with stunning original folk and pop songs, this one-of-a-kind show tells one of the most intriguing tales in Britain's history as it's never been seen before.
Garnering a global audience, following its streamed concert from Cadogan Hall in 2021, and two subsequent EPs on streaming platforms; songs from Treason The Musical such as 'Take Things Into Our Own Hands' and 'Blind Faith' have taken Spotify by storm - surpassing half a million streams.
RICKY ALLAN (Music & Lyrics) has said, "we're immensely grateful to those who joined us for our two sold out Drury Lane shows, we hope that 'Plotters' from all around the world will enjoy listening to this latest offering and we can't wait to welcome you to the fully staged show later this year!"
The album, Lighting The Fuse: Sparks From Treason In Concert, will feature a 19-track selection of the show which captivated audiences at Theatre Royal Drury Lane last August. It will be available to stream from Friday 10 February 2023.
The TRDL cast included: Carrie Hope Fletcher (Martha Percy), Bradley Jaden (Thomas Percy), Simon-Anthony Rhoden (Robert Catesby), Les Dennis (Robert Cecil), Emilie Louise Israel (Dorothy Wright), Rebecca LaChance (Ursula Ward), Daniel Boys (King James), Cedric Neal (Earl of Northumberland), Waylon Jacobs (Jack Wright), Adam Pearce (Thomas Wintour) and Debris Stevenson (Narrator).
Music team includes: NICK PINCHBECK (Musical Supervisor), Alan Berry (Musical Director & Keyboard 1), Dr MATTHEW MALONE (Orchestrations), Simon Nathan (Additional Orchestrations), Matt Smith (Music Preparation), Liam Waddle (Keyboard Programmer), London Musical Theatre Orchestra (Orchestra Manager), Livi Van Warmelo (Keyboard 2), Nerys Richards (Cello), Hannah Lawrence (Reed 1), Michael Madigan (Reed 2), Dave Oxley (Horn), Lewis Dunsmore (Guitars), Sandy Suchodolski (Bass), Matt Whittington (Drums/Percussion), Pierpaolo Demarchi (Mix Engineer) and David Preston (Mastering Engineer).
Treason the Musical in Concert was part of three concerts presented in August 2022 at Theatre Royal Drury Lane, which also included Chess and Kinky Boots.
Treason is the explosive new musical about the gunpowder plot. Featuring stunning music by RICKY ALLAN, and book and lyrics by RICKY ALLAN and Kieran Lynn and narrative material for the concert by Debris Stevenson.