Monteverdi Choir And Orchestras To Perform Verdi's Requiem At Westminster Cathedral In Support Of Cancer Research UK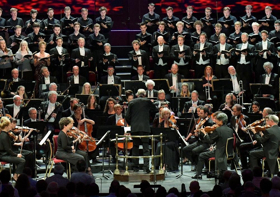 Monteverdi Choir and Orchestre Révolutionnaire et Romantique led by Sir John Eliot Gardiner will stage a special one-off performance of Giuseppe Verdi's legendary Messa da Requiem at London's Westminster Cathedral on 18 September at 7.30pm. This unique concert will be in support of Cancer Research UK and dedicated to the memory of Richard Fitzgerald, Monteverdi Choir & Orchestras' long-standing stage manager who sadly passed away from lung cancer in August 2016.
The Monteverdi Choir and Orchestra will be at full strength for this special performance with more than 140 musicians taking to the stage using traditional and period instruments They will be joined by a stellar line-up of international soloists: American soprano
Corinne Winters
, Swedish Mezzo-soprano Ann Hallenberg, Lithuanian tenor Edgaras Montvidas and Italian bass Gianluca Buratto.
This special concert marks 20 years since the Monteverdi ensembles' last London performance of Verdi's monumental work which took place at St Paul's Cathedral on 13 July, 1998. The performance on 18 September will be the only UK date on the Monteverdi ensembles' European tour that will visit a prestigious roster of major European venues. The tour begins in Wroclaw on 16 September to celebrate the anniversary of the birth of Poland - and concludes at the Concertgebouw, Amsterdam in November.
The Monteverdi ensembles have enjoyed great success in previous performances of this work; in addition, the group recorded the Messa da Requiem for release in 1995, the first recording using period instruments.
Tickets for this special event in support of Cancer Research UK can now be purchased via Ticketmaster www.ticketmaster.co.uk /0844 844 0444.
On his former colleague Richard Fitzgerald John Eliot Gardiner said:
'Richard was one of the most consistently level-headed, collegial and decent human beings you could ever wish to encounter. As stage manager of the Monteverdi Choir and its twin orchestras for fifteen years Richard gave loyal and dedicated service, always with good grace, tolerance and exemplary professionalism'

Claire Cullen, Cancer Research UK's local fundraising manager for London said:
'Monteverdi Choir & Orchestras is an absolutely inspiring organisation and we can't thank them enough for their commitment to helping Cancer Research UK beat cancer sooner. It's going to be a fantastic evening. One in two people in the UK will be diagnosed with cancer at some stage in their lives, but the good news is more people are surviving the disease now than ever before. Cancer survival in the UK has doubled since the early 1970s and Cancer Research UK's work has been at the heart of that progress. However, we have only been able to achieve this thanks to the dedication and generosity of volunteers and supporters like MCO - without whom we would not be able to fund outstanding scientists, doctors and nurses.'
For the past half a century, the Monteverdi Choir, English Baroque Soloists and Orchestre Révolutionnaire et Romantique have set new standards, shaped opinions and breathed fresh energy into both forgotten and established repertoire. Founder and conductor John Eliot Gardiner has devoted more than 50 years to the study of period instrument performance practice from the Baroque to Romantic repertoire.
The Monteverdi Choir was established in 1964 for a ground-breaking performance of Monteverdi's Vespers at King's College Chapel, Cambridge. Ever since, the Monteverdi Choir has proven to be a powerhouse for young choral singers as many former members have moved on to successful solo careers.
Memorable also was their recorded live performance of Monteverdi's Vespers at St. Mark's Basilica in Venice in 1989 marking the choir's silver anniversary. For their 50th anniversary in 2014, the Choir returned to King's College to honour their inaugural concert in a live broadcast on BBC Radio 3.
The Orchestre Révolutionnaire et Romantique was established in 1989 and has been internationally recognised for its interpretations of all the major early Romantic composers, starting with Hector Berlioz. They performed and recorded his Symphonie Fantastique in the hall of the old Paris Conservatoire, where the very first performance took place in 1830. In 1993, together with the Monteverdi Choir, the orchestra gave the first modern performances of the newly-rediscovered Messe Solennelle. In recent years they have focussed again on the music of Berlioz along with a programme of Beethoven, Schubert and Brahms with renowned concert pianist Kristian Bezuidenhout.
A towering achievement for the Monteverdi Choir and English Baroque Soloists was marking Bach's 250th anniversary in 2000 by performing and recording all 198 of JS Bach's sacred cantatas on the appropriate feast day in more than 60 churches across Europe and the USA. Subsequently the Monteverdi Choir & Orchestras set up the company's record label, Soli Deo Gloria, to release the entire cycle which was hailed as "one of the most ambitious musical projects of all time" by Gramophone magazine. In 2014, Sir
John Eliot
Gardiner published a new biography on Bach entitled Music in the Castle of Heaven - a portrait of
Johann
Sebastian Bach
.
All three ensembles have also been a fertile training ground for generations of performers who have gone on to shine internationally. In 2007, the Monteverdi Apprenticeship Programme was established to further develop future generations.
Sir John Eliot Gardiner was appointed President of the Bach Archive in Leipzig in 2014 and recently received the Concertgebouw Award in Amsterdam. MCO received this year's RPS Music Award in Opera and Music Theatre for Monteverdi 450.
Cancer Research UK is the world's leading cancer charity dedicated to saving lives through research.Cancer Research UK's pioneering work into the prevention, diagnosis and treatment of cancer has helped save millions of lives. Cancer Research UK receives no government funding for its life-saving research. Every step it makes towards beating cancer relies on vital donations from the public. Cancer Research UK has been at the heart of the progress that has already seen survival in the UK double in the last 40 years.
Today, 2 in 4 people survive their cancer for at least 10 years. Cancer Research UK's ambition is to accelerate progress so that by 2034, 3 in 4 people will survive their cancer for at least 10 years. Cancer Research UK supports research into all aspects of cancer through the work of over 4,000 scientists, doctors and nurses. Together with its partners and supporters, Cancer Research UK's vision is to bring forward the day when all cancers are cured.
More Hot Stories For You