Hayden Kays Brings DRINK DRAWINGS to London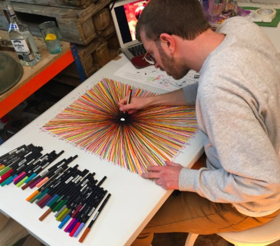 Artist Hayden Kays is feeling hung-over ahead of the opening for his first solo exhibition of 2018.
The clue is in the title "Drink Drawings" - a new show at For.Fuk.Sake on March 29th consisting of a series of intoxicating illustrations, each executed by Kays whilst under the influence.
These works showcase the consequences of Kays "experimenting" with the effects of over-indulging on the nation's favourite drug.
"Drink Drawings" features 15 original artworks in an eclectic mix of styles and materials, all evoking the powerful emotions and hazy memories of drink-fuelled passion, joy, sadness and regret.
They are delivered in pen, pencil, pastel, chalk, acrylic - or whatever is to hand in the studio at the time - often amongst a sea of empty bottles. There will also be a limited print edition for each of the 15 originals.
Kays admits that his relationship with alcohol has occasionally helped him to express himself in a truly uninhibited manner - which has led to some of his most memorable nights, if only he could remember them. He has now captured this effect and combined it with his primary form of expression, art.
Using booze as a catalyst for creative inspiration Kays has produced some of his most open and revealing works to date - his trademark wordplay and love of puns are mixed with familiar references to the British and their unique drinking culture.
He claims we often see things with extreme clarity when drunk - and he has tested this theory by exploring inebriation every time he went into his Margate studio to let his booze-fuelled mind run riot - while his hands played catch-up.
Kays joins a rich tradition between alcohol and artists. From Francis Bacon's notorious binges in the drinking dens of Soho that were an enormous influence on his work. To the abstract artists of early 20th century Paris, expanding their minds on absinthe to help shape the surrealist and modernist movements.
On the night, those arriving early enough will be able to have their "pissed portraits" drawn live by Kays, provided that he hasn't drunk too much...
For.Fuk.Sake on Dalston's Kingsland Road will host the show. It's an intimate venue providing the perfect backdrop for Kays' drunken artistic antics. It blends the two traditional aspects of Japanese nightlife - the finest sake in abundance on the ground floor and neon-lit chaos in the decadent basement below.
Kays work already adorns the walls of several infamous watering holes including The Groucho Club and The Boogaloo.
Kays said: "Sometimes work gets in the way of my drinking so I decided to make drinking my work for a while.
I started drinking around the same time as I started making art. They've been bedfellows ever since.
Drink has been the unsung hero for a lot of my work, inspiring me behind the scenes be it during the highs of a celebration or the brutal lows of a hangover, so I decided to make it the star of the show on this occasion. Give it centre stage and long overdue credit where credit is due.
In Britain we drink to celebrate, we drink to commiserate and we drink when we're bored just to start the cycle again, cheers."
"Drink Drawings" is an Oli Goss Art exhibition running from March 29th to April 12th and is proudly sponsored by Old Blue Last Beer and Tengu Sake.