Guest Blog: Richard Stilgoe On ORPHEUS - THE MYTHICAL at The Other Palace
Older readers - the ones who can remember 40 years ago, but not what happened yesterday - may remember that back in the Seventies, before I got distracted by writing things like Starlight Express and Phantom of the Opera, I used to sing topical songs on television, on Nationwide and That's Life.
Now, if you appear on television you get asked to visit wonderful places you would otherwise never see and meet wonderful people you would otherwise never meet, and so I found myself opening fêtes in special schools. I would always ask whether they did any music in the school, but they never did.
I thought this was strange because the bit of the brain that you use for walking and talking and doing sums - the bit that gets damaged and means you need to go to special school - is miles away from the bit that does music. The bit that's all about imagination is usually absolutely fine and undamaged.
So, I started having a go at working with the musical bits of their brains that worked well, while the excellent special school teachers worked with the bits that had problems.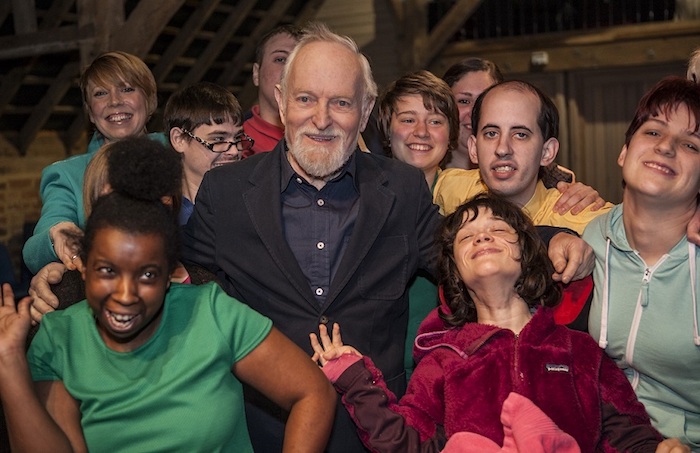 With a remarkable musical doctor from Belfast, I started doing Share Music holidays for young disabled people: we mixed them up with students and volunteers and musicians then spent a week writing songs and making music and stories. By the end of the week the vibrant and united tribe they had become had enough material for a concert and they performed for a delighted and astonished audience.
After a few years of this, I wanted a permanent centre for this work. My family wanted to move house but nobody wanted our house because someone had managed to build the M25 in our back garden, so we sold the house to a charity and we started the Orpheus Centre.
Why Orpheus? Because Orpheus - if he ever lived, which he almost certainly didn't - had the power to make the trees and mountains stop and listen when he sang. He had the same effect as our performers did on the audience.
We began with five students we had met on our Share Music holidays with the idea that if they stayed with us for three years then they could gain confidence by writing songs and performing them. So they moved in.
Twenty years on, we have 26 students living at the Orpheus Centre and 22 day students. They perform their own songs: they all have stories to tell, and somehow singing your story is less embarrassing than telling it.
The students of the Centre often go into prisons, pupil referral units and schools where children are struggling and help other young people bring out their stories by writing songs with them.
The original Share Music courses were always about mixing disabled and non-disabled people together and producing something neither group could have done by itself. They don't do 'disabled theatre'.
The past 20 years have been a wonderful journey for the students, the staff and the many volunteers. And, of course, for me. For this special year, we are performing Orpheus - The Mythical, a musical about the Orpheus story which I wrote for the students in 2009 and have now rewritten.
If I learned anything from Andrew Lloyd Webber, it was that almost every musical is worth going back to and seeing if you can make it better. We have just done this with Starlight, and it's amazing what a difference it's made.
Andrew is lending us his marvellous Other Palace Theatre, and students and graduates of the Orpheus Centre are joining forces with graduates from Arts Educational and a brilliant array of guest stars (including Imelda Staunton, Jim Carter, Rob Brydon, Bertie Carvel and Samuel West) for what will be a series of inspiring and thrilling performances.
Fittingly, Angus Morton, one of the original students in 1998, is coming back to sing the title role. He has a voice like Orpheus and can make the trees and mountains stop to listen. Producing an evening in the theatre with his colleagues, Orpheus - The Mythical will not be quite like any other thing you've seen.