Guest Blog: Director Richard Beecham On 84 CHARING CROSS ROAD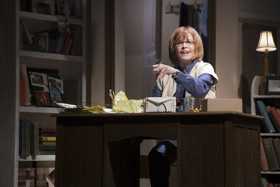 When I was approached by Cambridge Arts Theatre to direct a revival of 84 Charing Cross Road, I was hazily familiar with the title (probably due to the film version starring Anthony Hopkins), but I knew nothing of the story or the stage version.
On first reading the play, I was immediately charmed by its nostalgic evocation of a long-gone world of antiquarian bookshops, a love of the more obscure corners of English literature, and the particular pleasures of both writing and receiving letters (before the advent of email, texts and social media all but sounded the death knell of this most humane and intimate mode of communication).
I was also touched by its quiet celebration of the underrated values of friendship, kindness and decency displayed in the 20-year, epistolary relationship between sassy New Yorker Helene Hanff, ordering her second-hand books from Marks & Company at the titular 84 Charing Cross Road in London, and reserved Englishman Frank Doel, who ran the bookshop throughout the years of their correspondence.
And, of course, I was much amused at the culture clashes that arose in the course of this flowering transatlantic friendship, typifying the famous adage that 'England and America are two nations divided by a common language'.
Perhaps what struck me most forcibly about the play, however, was that it wasn't really a play at all. Helene Hanff and Frank Doel were real people, and the letters they wrote to one another were actual letters intended for private consumption.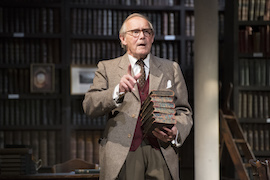 When Helene Hanff, a struggling script-reader/writer, published the collected letters back in 1971 she had no idea her modest little book would become an international publishing sensation.
And she certainly had no expectation that it would find its way onto the West End and Broadway stage, courtesy of the adaptor-director James Roose-Evans, in play form. For Helene Hanff, an ardent theatregoer and failed Broadway playwright, this most unexpected of outcomes must have been a special irony and pleasure.
For me as a director, coming to this play afresh, it was very important to understand that 84 Charing Cross Road is neither a work of fiction nor a play - in the conventional sense of that word - at all.
This meant treating the work with a particular kind of respect, knowing that every word on the page was written by a real person, in a real time and a real place. Paradoxically, it also meant that I had to find a particular theatrical language to help amplify and release the dramatic arc embedded in this collection of letters.
James Roose-Evans had done his work as adaptor and original director carefully and sensitively; his adaptation reproduces the letters in almost exactly the same order as they were published in Helene's book, with only a judicious amount of tinkering with chronology, language, textual interpolation and scene-setting.
What I have brought to the table in this new production, hopefully, is a heightened sense of playfulness and period by casting an ensemble of actor-musicians to play the five shop-workers at Marks & Company.
Their increased role in this production, and the increased role of music and song, brings a theatrical flavour to this epistolary two-hander, complementing the verbal badinage between Helene and Frank, and helping to frame their 20-year relationship and underpin its emotional journey.
84 Charing Cross Road is currently touring the UK
Photo credit: Richard Hubert Smith