Central School Principal Clarifies Comments On #MeToo And Student Diversity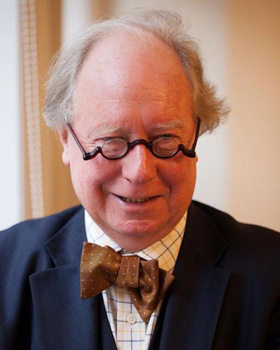 Some students at the Royal Central School of Speech and Drama raised concerns following remarks by Principal Gavin Henderson during a Q&A at a recent event, Dear White Central, set up to discuss equality issues.
Speaking to Steven Kavuma about encouraging more applications from those of black, Asian and minority ethnic backgrounds (BAME), Henderson mentioned "intentions and wishes", but declined to commit to quotas, and noted that less experienced applicants constituted "a risk".
He also said that he felt the Royal Court's code of conduct, developed in response to conversations around the #MeToo movement, went "too far" in terms of restricting the "creative process".
"A similar event was held two years ago, however there were no action points from it, so we thought it helpful to put the event on again to assess if anything had changed," explains Kaleya Baxe, Black and Ethnic Minorities Officer for Central's Student Union.
"Looking at the statistics of BAME students, we found there hasn't been much change in the past five years, so we wanted to use the event to discuss this and assess why this is the case. It is not a secret that the diversity at Central is awful, so we didn't need much else to decide the event was needed.
"For the future I'll be meeting with senior staff to discuss strategy for the future in how we can change this. We will definitely put on another event next year to hold the school accountable.
"Also, a lot of students have expressed a lot of anger and hurt at Gavin's words, so I am requesting a meeting with him to discuss this. If explained, he might hopefully understand why what he said was wrong and ideally publicly apologise to the students he offended."
One former student who saw a video of the event, and prefers not to be named, adds: "Students and academics at Central are some of the most talented in the country, but it's comments like these that lead minorities to believe they won't be welcome or that these places are elitist. It would certainly make me think twice about whether I wanted to go there."
When contacted by BroadwayWorld, Henderson clarified his comments. "We have zero tolerance when it comes to behaviour like bullying, discrimination and sexual harassment.
"What I meant as regards the Royal Court is that what Vicky Featherstone was saying on behalf of the profession became a sort of blanket rubric, but there are of course differences between issues facing a theatre and those facing a college.
"We have to function in different locations, including creating work offsite, and our research students do teach at home. So we have our guidelines as to how things can and should be scheduled, and our own code of practice - just as various theatrical associations, like the Federation of Drama Schools, have responded with guidelines appropriate to their environments."
Central has in fact adopted a key point from the Royal Court's code of behaviour: "Employees must take responsibility for the power they have. Employees must not use this power abusively." There are also complaints and disciplinary processes at Central, with trained Investigation Managers in place.
Henderson adds: "In this post-Weinstein world, we'll certainly be giving our emerging students preparation for these kinds of situations, so they know how to handle it and that there are resources and places to seek advice or, if needed, to report things safely."
On the student side, Baxe notes that Student Union Women's Officer Rachel Vogler has just released a campaign together with Central called #CentralSaysEnough, "which looks at safeguarding students from sexual harassment on and off campus".
As for the issue of diversity - or lack thereof - Baxe says: "We'd like to see more extensive unconscious bias training for all staff and those on the audition panel, and that means for more than just for a day.
"Also, with the situation at Central, I do think quotas are necessary to force them to be accountable to actually doing something. To me quotas doesn't mean simply letting anyone in, it means doing the right outreach work to get more BAME applicants auditioning so that the quotas can be fulfilled."
Henderson defended his use of the word "risk", noting that, with around 6,000 people auditioning for 45 places in acting, taking forward an applicant from the initial panel stage (which doesn't involve Central staff) who is "less prepared than one might wish" is "something of a risk - but it can be a risk worth taking.
"It's a very difficult call to make, when we've charged these panels with producing the very best people for recalls. But of course you do bear in mind that some people applying won't have had the same advantages, and might still have great potential. They're not as polished and prepared, but there is something there."
As regards quotas, "one black student took me aside after the Q&A and said 'You're right - I got in on my own merits. I wouldn't want to have my place because I was filling up a quota'. And we are a world-leading drama school with standards to maintain."
Henderson is more eager to place emphasis on outreach efforts. "We want to work towards ensuring people from diverse backgrounds are in a position to apply successfully. It's very difficult with the Government marginalising the arts - it's outrageous the way this Government pays lip service to the creative industries' success, but then minimises the arts on the curriculum.
"So we're working with youth groups and community groups, running programmes like our projects in Oldham and Leicester, which we hope will expand to other parts of the country."
The former involves Central students putting on a production in Oldham primary schools, with the aim of offering access to the performing arts; and the latter at schools and colleges in the East Midlands, encouraging engagement and applications from those from lower socio-economic backgrounds.
Henderson also acknowledges it can be "tremendously forbidding to cross the threshold of a drama school. We have to make that daunting experience as warm and welcoming as possible - so for open days, we have to be thoughtful about who is here to welcome them, ensuring a diversity of community.
"We also have bursaries to help with audition fees and travel expenses. We can't abolish fees full stop, because we'd go bust, but we do want to help those who most need it. And we'd like to increase our auditioning outside of London."
Although this latest Dear White Central event has provoked a mixed response, to say the least, Henderson is "proud" it took place, and that students have the opportunity to "express themselves. I hope people realise we're very open to all such discussion. That's the best way forward."