Cast Announced For Soho Theatre Run and UK Tour of SAP
Jessica Clark returns alongside Rebecca Banatvala.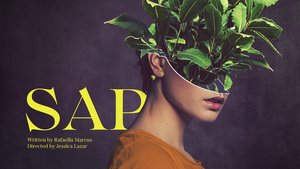 After being awarded a Stage Edinburgh Award for her performance, Jessica Clark (Versailles, BBC2/ Canal+; The Wife of Willesden, Kiln Theatre; Rotterdam, Trafalgar Studios) will return for the Soho Theatre run and UK Tour of contemporary fast-paced thriller SAP. Clark stars alongside Rebecca Banatvala (Much Ado About Nothing, RSC; The Princess Switch 3, Netflix; The Syndicate, BBC).
SAP is the transfixing debut play from Rafaella Marcus, directed by Offie-nominated Jessica Lazar (Anna Bella Eema, Arcola Theatre; Outlying Islands, King's Head Theatre). It became an audience favourite and met with an outstanding critical response at the Edinburgh Festival Fringe, gaining an astonishing 21 four- and five-star reviews. Described by the Guardian as a glorious tapestry of a play, SAP was the recipient of numerous prestigious awards, including The Stage Edinburgh Award (for Jessica Clark), the Summerhall Lustrum Award and the Soho Playhouse Medal of Excellence, and was nominated for an OffFest Award.
SAP is directed by Offie-nominated Jessica Lazar (Anna Bella Eema, Arcola Theatre; Outlying Islands, King's Head Theatre). This debut play by Rafaella Marcus is a queer urban fable about bisexuality and what we allow people to believe. This mesmerising production returns for an extensive UK Tour this spring, including Birmingham Rep, The Marlowe Theatre in Canterbury, and Theatre by the Lake in Keswick, with further venues to be announced.
Rafaella Marcus is a 2021 MGCFutures bursary winner and JMK Award Finalist, whose work focuses on bringing marginalised voices to the stage, especially women. SAP is produced by 11-time Offie-nominated Atticist, whose previous production Life According to Saki won the Carol Tamber Best of Edinburgh Award, and by Ellie Keel, the Founder Director of the Women's Prize for Playwriting, who was shortlisted as Producer of the Year in the Stage Awards 2022, and has added SAP to her roster of hit shows including Collapsible by Margaret Perry, HOTTER and FITTER by Mary Higgins and Ell Potter, and Reasons You Should(n't) Love Me by Amy Trigg. The production is designed by by Rūta Irbīte with lighting design by David Doyle, Composition and Sound Design by Tom Foskett-Barnes, and Movement Direction by Jennifer Fletcher.
Tour Dates
16th - 18th March The North Wall Arts Centre, Oxford
South Parade, Summertown, Oxford OX2 7JN
https://www.thenorthwall.com/whats-on/sap/
23rd - 24th March Birmingham Rep
6 Centenary Square, Birmingham B1 2EP
https://www.birmingham-rep.co.uk/whats-on/sap/
28th - 29th March Mercury Theatre, Colchester
Balkerne Gate, Colchester CO1 1PT
https://www.mercurytheatre.co.uk/whats-on/
3rd - 22nd April Soho Theatre, London
21 Dean Street, London W1D 3NE
https://sohotheatre.com/whats-on/
25th - 26th April Theatre by the Lake, Keswick
Lakeside, Lake Road, Keswick CA12 5DJ
https://www.theatrebythelake.com/whats-on/
9th May Theatre Royal Bury St Edmunds
Westgate Street, Bury Saint Edmunds IP33 1QR
https://theatreroyal.org/shows/sap/
15th May Exeter Phoenix
Gandy Street, Exeter EX4 3LS
https://exeterphoenix.org.uk/events/
25th - 27th May The Marlowe Theatre, Canterbury
The Friars, Canterbury CT1 2AS