Camden People's Theatre Announces Spring Season Including Frankie Thompson, Brian Mullin, and More
Learn more about the lineup here!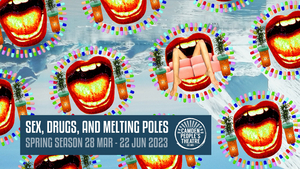 Camden People's Theatre presents a season of refreshing, inventive and bold works this Spring, featuring their flagship festival of brand new, unexpected performance, SPRINT and a roll-call of the most exciting and well-respected names in fringe theatre.
Following a barnstorming Edinburgh Fringe with CAttS, Frankie Thompson returns to Camden People's Theatre with The Sex Party (11-22 Apr) after being developed on CPT's Starting Blocks programme. The show is billed as an electrifying and disgusting dispatch on the scandalous sex lives of politicians which is part performative essay, part clown show and part animal documentary. Directed by Liv Ello (Swarm, Edinburgh Fringe 2022).
Also returning to CPT after festival success is James Rowland (***** - "a riveting, remarkable hour of theatre", The Guardian on Learning to Fly, Edinburgh Fringe 2022) with Piece of Work (23 May). Rowland embarks on a nomadic quest to scour the country for a sense of home and hope, painting a picture of the beauty, grime, pain and kindness embedded in the landscape of our small island in this work-in-progress from the acclaimed storyteller.
Live to Tell: (A Proposal For) The Madonna Musical (4-15 Apr) is a searing commentary on the realities of day-to-day living with HIV disguised as a proposal for a jukebox musical delivered to the Queen of Pop herself! Brian Mullin, writer and performer of Live to Tell, fantasises about reinvention, just like his ultimate idol, Madonna. After living with HIV for over ten years, and the ever-present stigma of the virus impossible to shake, Live to Tell redefines not just what it means to live with a chronic condition, but what it takes to survive. Performance dates also include Clapham's Omnibus Theatre from 7 - 18 February.
Other highlights of CPT's Spring Season include The Queer Historian's My Dear Aunty Nell, which unearths more hidden LGBTQ+ history alongside We Live in a Human Dream, a cheerfully surrealist panic attack about the climate crisis from alternative comedian Siân Docksey. The season also champions diverse voices through innovative modes of theatre in I'm Sorry I'm Not Lucy Liu, a playful and political choose-your-own-adventure work-in-progress from CPT Starting Blocks artist Eden Jun, Ramalama Ding Dong, a darkly funny and experimental multimedia theatre show about real life experiences of racism from Roshi Nasehi, Votive Theatre's immersive audio-theatrescape Choose Your Fighter which allows audiences to follow one of four perspectives of the same Queer story, and Before I Go, a contemporary tale of limbo told through poetry, movement and song which brings Black lived experience to the fore. It is written and performed by Tobi King Bakare, best known for Temple Series 1 and 2 (Sky One), Cursed (Netflix) and I May Destroy You (BBC), who began his stage career at CPT in 2017 with the in-house production Fog Everywhere.
Already announced is CPT's dynamic festival of new and unusual theatre, SPRINT, which takes over the venue's programme this March. Ambitious examinations of mental health and trauma (Landfill of Memories, That's Not My Name, D E S C E N T) sit side by side with explorations of Queer identity (He/He/He, My Dad Wears a Dress) and theatre which defies regular conventions (Seven Strikes, The Final Approach, Doxbox Trustbot). SPRINT also showcases the cutting edge of access-led theatre in Extant Presents: No Future & I Dream in Colour. The two works are created by blind and visually impaired theatre artists, Helen Ascough and Jasmin Thien respectively.
Rounding off the season, CPT celebrates a decade of its landmark feminist theatre festival Calm Down, Dear. This year, the feast of innovative performance is curated by multi award-winning theatre company RashDash (Two Man Show, Oh Mother, Look at Me Don't Look at Me) and spans three weeks from Wednesday 31 May - Saturday 17 June. Full details to be announced soon.
Artistic Director of CPT, Brian Logan, says "Every now and then, CPT life introduces you to an artist who you just know is going to make waves in the world. When Frankie Thompson first brought work to our corner of Camden, then took part in our 2021 Starting Blocks programme, it was clear this was a talent to which the world might as well immediately submit. Her success since - notably with last year's smash Edinburgh and Soho Theatre hit CAttS - has confirmed all our suspicions. Excitement isn't a big enough word to describe how we feel about bringing Frankie's The Sex Party to CPT this spring. This show, developed on Starting Blocks and exploring the grey area where sex and politics meet, looks unmissable.
"There's plenty more where that comes from. Our partnership with the National Student Drama Festival introduced us to Votive Theatre, whose keenly awaited Choose Your Fighter explores the queer experience and parenthood through a polyamorous relationship, and offers audiences a unique narrative experience by choosing which character's story to follow. There's also new CPT-developed work by this year's Starting Blocks artists Eden Jun and Louisa Doyle; a tenth-anniversary 'Calm Down, Dear' festival of feminism, guest-curated by the almighty RashDash and a two-week run of Brian Mullin's long-awaited Live to Tell: (A Proposal For) The Madonna Jukebox Musical, mashing up queer history and pop artifice - and you've got what by any measure is a taste sensation of a Spring 2023 season".