BWW Review: THE LITTLE PONY, Cervantes Theatre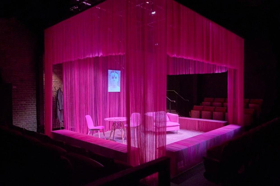 Timmy is being bullied in his school. At ten years old, he commits the greatest sin he can in the eyes of his peer group - he refuses to fit in. As if that isn't bad enough, the Principal, school management and other parents join in, inflicting not the bathroom beatings favoured by sadistic children since time immemorial, but psychological woundings, the round holes under so much pressure these days that square pegs have to be shipped out, and the quicker the better. The "majority" must have its way, must have its path smoothed, must not be discomfited in their smug satisfaction by wreckers. Remind you of anything?
Paco Bezerra based his two-hander on a true story, a boy in North Carolina bullied for carrying a My Little Pony backpack, the school's solution to which was to ban the backpack. I tend to avoid anything "based on a true story" since there is no floor to the level of pathos or sentimentality that may be deployed, but Bezerra is largely restrained - rightly so, as the set up is horrendous enough as it stands.
Paul Albertson and Rachel Sanders play the everyman - everywoman couple caught up in the turmoil. He's a "Let's just get on with it" bloke who realises the gravity of the situation too late and then over-compensates and she seeks the false salvation of "normality", as an existential crisis overtakes her identity as a mother.
In a two-hander, we have to believe in the characters as they are all we have (almost all in this case) and I did - most of the time. I wobbled a little when the mother retreated from her son's agony, but I suspect that was a function of the script rather than the acting, but it was a rare misstep in a play that walks a tightrope of credibility with great confidence.
Director Paula Paz brilliantly uses video (by Enrique Muñoz) to give Timmy a constant, ghostly presence, eerie modifications to his portrait suggesting the kind of lost children one finds in Stephen King's novels or a childlike Dorian Gray, the pain slowly erasing the person.
Bezerra refuses to give us easy answers or handy scapegoats, but he does leave us with the unequivocal imperative to listen to the child, to enter their world, to embrace their emotions no matter how far they may have travelled from "normal". Empathy, a hard won prize at all times, is, as ever, the key that turns the lock into a closed world of suffering and damage.
The Little Pony continues at the Cervantes Theatre until 30 June.
Related Articles View More UK / West End

Stories

Shows
Gary Naylor is chief reviewer for westend.broadwayworld.com and feels privileged to see so much of London's theatre. He writes about cricket at for 99.94 (nestaquin.wordpress.com) (read more...)