BWW Review: THE DOUBLE DEALER, Orange Tree Theatre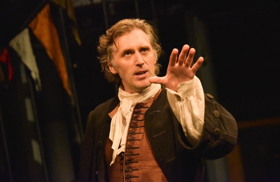 William Congreve's rarely performed Restoration comedy, The Double Dealer, is an interesting choice to be revived at Richmond's Orange Tree theatre and, for some, will be a welcome relief to the pantomimes and doggedly 'festive' productions at this time of year.
Director Selina Cadell is a fan of Restoration comedy and co-writes an amusing prologue to convey to the audience that it doesn't really matter if they do not understand the plot. It is almost admitting that the story is sometimes impenetrable. It is certainly confusing and often comes across as a long series of sketches, rather than a cohesive story.
The action starts at a house party arranged by Lord Touchwood to celebrate the upcoming marriage between his nephew Mellefont and Cynthia. This seemingly happy scene is about to be disrupted by the machinations of others. The double dealer is Maskwell who desires Cynthia for himself. Maskwell teams up with the manipulative Lady Touchwood, his ex-lover, who wants Mellefont. This leads to a comedy of manners where sexual intrigue, betrayal and treachery mean that no-one is who they seem.
The play was Congreve's second and was written when he was only 24. The play was not well received when it made its debut in 1693, perhaps reminding the audience of their own faults and failings, as most of the characters lead lives that centre around deception and hidden motives.
The underlying message of the play is an amusing exposition of vanity and pretension that is often funny, if not always coherent. It is hard to care very much about the story of innocent love being thwarted, as there is so much else going on. There is a lot of physical comedy, large gestures and witty asides to the audience and the cast work incredibly hard without any set to speak of.
Most characters have an obnoxious belief in their own self-importance and knowledge. Jenny Rainsford stands out as Lady Plyant; languorous, seductive and aloof. She manages to make most sense of Congreve's words through her skillful and very funny delivery. She also has some of the best lines, delivered with sass and attitude. A certain scene where Careless, played convincingly by Dharmesh Patel, tries to seduce her is particularly amusing.
The vacuous Lady Froth and the foppish Brisk, played with great wit and energy by Hannah Stokely and Jonathan Broadbent, are particularly inane and amusing in their vacant musings.
It is a strange decision to use Zoe Waites as both the constant Cynthia and the sensual and passionate Lady Touchwell. It certainly demonstrates Waites' versatility, but is also adds unnecessary confusion.
Edward MacLiam doesn't have the opportunity to get under the skin of the character of Machiavellian Maskwell. On paper, he is the most interesting character in the play, but here the brazen audacity and selfishness of the character is somewhat lost.
Overall this is the main issue of the production. It is often great fun, with some strong performances, but in essence it feels as hollow as many of the characters that it satirises.
The Double Dealer is at the Orange Tree Theatre until 26 January 2019
Photo Credit: Robert Day