BWW Review: TARTUFFE, Swan Theatre, Stratford-Upon-Avon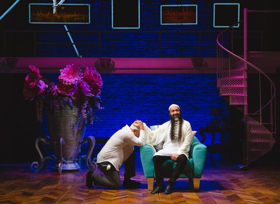 We're in Birmingham, we're in the home of a family with one foot in multicultural British culture and another in ex-pat Pakistani culture and we're in a mess. Imran Pervaiz, head of the household (at least that's what he thinks) has been bewitched by Tahir Taufiq Arsuf (Tartuffe), who wears a long beard, quotes (selectively from the Koran - the "Pakistani" Koran) and may not be quite as devout as he appears.
When Imran, now spouting spiritual mumbo-jumbo all day every day, intercedes between his daughter (a Women's Studies graduate) and her intended, in favour of Tartuffe, all the while channeling money to the faking fakir, the family step in to lay bare the intruder's venality.
It's "After Molière", but very plainly so, which just underlines that great comedy is based on universal human failings, whether they raise their head in 17th century France or 21st century Brexity Brum.
Writers, Anil Gupta and Richard Pinto, share a background in television sitcoms - and it shows. Their approach has its advantages - the pace is unrelenting, the characters easily recognisable and the "trapping" so necessary to situation comedy seamlessly achieved. That said, there's a reason why even the most successful sitcoms feel diluted, somewhat forced, when blown up into feature films or Christmas Specials. Keeping the laughter balloon up for over two hours requires an awful lot of hot air!
Long delayed in his entrance, Asif Khan's Tartuffe does not disappoint in a performance that nods in the direction of Anjem Choudary, a much more sinister charmer of the gullible. Khan is at his best when his face is in repose, his bland statements given weight by the gravitas of his stillness. Of course, he ends up with his trousers pulled down (literally as well as metaphorically), which one feels could have been left unseen, not for reasons of taste, but because Khan had demonstrated exactly what kind of man Tartuffe is with little more than a thin smile and raised eyebrow.
Inevitably, most of the support cast spend much of their time running around in shouty confusion (don't buy a seat at a farce if you don't like that sort of thing) but there's room for some nuance along the way.
Sasha Behar retains an exhausted dignity as Imran's wife, Amira, and pithily summarises the dilemma of the assaulted woman whose word will either be believed (with the ensuing problems) or disbelieved (with different ensuing problems) and so, pragmatically, cruelly, stays stumm as a result.
Michelle Bonnard comes close to stealing the show as a kind of one woman Greek Chorus, her savvy Bosniak cleaner representing a different stream of Islamic culture and, with her devotion to Black Sabbath and an education grounded in street smarts rather than university lectures, a different stream of British culture too. She knows they're all fools, but she can spot the difference between a decent mug and a mendacious one, and knows how to deal with both.
The ending is all a little unsatisfactory, even if it does cleave quite closely to Molière's structure, the Deus ex machina setting things back on an even keel. That said, some of the key plotting elements appeared to be left unresolved - such an absence of internal consistency hurts comedy more than most formats.
And, while we all know Tartuffe is a wrong 'un, is he really the kind of wrong 'un that we are invited to believe as he gets his comeuppance? Maybe it's just a convenience - both for the writers and the British state, which doesn't appreciate it when minorities come with complications.
Tartuffe is at the Swan Theatre, Stratford-Upon-Avon until 23 February.
Photo by Topher McGrillis